Heavy snow gripped Belgium on Friday, paralyzing much of the country as roads are jammed and bus services delayed or even suspended.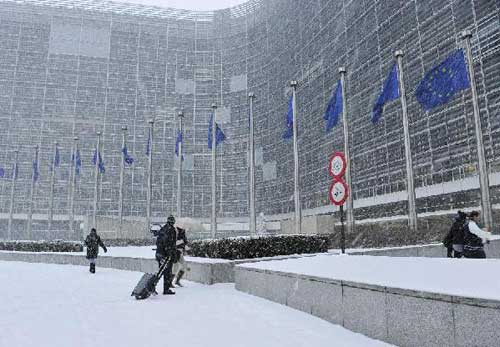 Pedestrians walk in front of the headquarters of European Commission in heavy snow in Brussels, capital of Belgium, Feb. 3, 2012. Temperatures plunged to new lows in Belgium where it has been nearly a week-long cold, slippery conditions and blowing snow led to serious traffic jams on Friday. Weather forecasts warned that the big freeze would tighten its grip at the weekend. (Xinhua/Ye Pingfan)

According to local daily Le Soir, the snow has caused traffic jam on some 1,100 km of roads in central Belgium, where the snowfalls were the heaviest since Friday afternoon.

In the capital Brussels, the ring road is completely paralyzed, with some parts closed. It takes two hours more than usual to leave the city.

Buses in Brussels are not allowed in the city center to avoid the jams. Trams and metros are still working as usual. No flights were reportedly delayed or canceld due to the snow in the Brussels International Airport.

Elsewhere in the country, most of the highways are jammed and several accidents have been reported. Some sections of the roads have been shut to circulation. In total 2,500 cars are blocked on the roads of Belgium, according to Le Soir.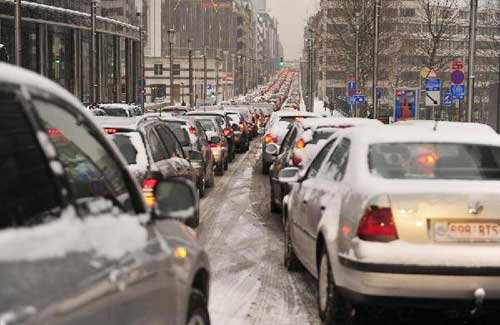 Photo taken on Feb. 3, 2012 shows traffic jam on a main road in heavy snow in Brussels, capital of Belgium, Feb. 3, 2012. Temperatures plunged to new lows in Belgium where it has been nearly a week-long cold, slippery conditions and blowing snow led to serious traffic jams on Friday. Weather forecasts warned that the big freeze would tighten its grip at the weekend. (Xinhua/Ye Pingfan)

A number of Thalys high speed trains running between Brussels and Paris also are blocked next to Antwerp.

Earlier forecasts estimated that one to eight centimeters of snow would fall over the night across the country. Temperatures had dropped to minus 10 degrees centigrade in the central part of belgium, with the eastern town of Elsenborn registering minus 17 degrees.

The Belgian Royal Meteorological Institute said that temperatures were indeed very low, but were still considered "normal" for the season. It added the weather next week will be sunny and dry, with temperatures staying below zero.

A weeklong cold snap has gripped Europe, claiming hundreds of lives across the continent. In Ukraine alone, the cold snap has killed at least 101 people as of Friday. Deaths were also reported in Serbia, Greece and Italy, etc.

No death case related to the cold snap has so far been reported in Belgium, but the Samu Social, a Brussels-based Social Humanitarian emergency service, has opened more shelters for the homeless across the country.

VietNamNet/Xinhuanet