VietNamNet Bridge – The organizing board of the Vietnam's Got Talent, the first season, told the media on February 17, that they did not take advantage of contestant Le Nguyen Quynh Anh to lure the public's attention.
Vietnam's Got Talent suspected of being arranged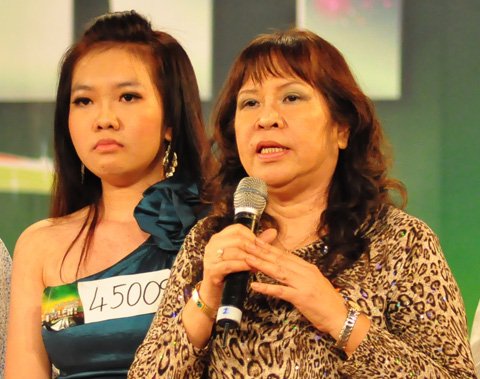 Contestant Le Nguyen Quynh Anh and her mother.
In the 7th episode, which was aired on February 12, the mother of a 15-year-old contestant – Le Nguyen Quynh Anh – "robbed" the microphone to protest the jury on the stage. She said that her daughter is more talented than many other contestants, but the jury rejected the girl.
This case has immediately become a hot topic on the local media and online forums. Many people criticized the 15-year-old contestant and her family of "deluding themselves." Many others showed their sympathy to the schoolgirl, saying that the mother feeds her daughter on illusions.
The mother, named Ngo, then told the media that the show producer and the organizing board arranged the show for commercial purposes at to attract the audience. She said that the director arranged the show, told her and her daughter what to wear and to say.
After that, the online community raised doubt of the organizing board's "arrangement" in the show.
However, the show organizing board affirmed that they did not use the case of Quynh Anh to draw the public.
"Vietnam's Got Talent is a reality show. We have to respect what really happens in the show. That's a miniature world with happiness and sadness of contestants and their friends and families. In addition, contestants of reality shows allow the organizing board to use their image and stories," the organizing board said.
The organizing board explained that the Quynh Anh's story and stories of other contestants are filmed the same way.
The organizing board called fans of the Vietnam's Got Talent show to support Quynh Anh and help her forget the sadness and be more courage to realize her dream.
Ly Hoa