VietNamNet Bridge – Originating from downgraded infrastructure and overworked doctors and nurses, Vietnamese patients do not enjoy their minimum rights: being examined and taken care considerately.
Minister of Health, Nguyen Thi Kim Tien (Deputy Minister at that time), told Deputy Prime Minister at a meeting between the Deputy PM and the Ministry of Health on July 2, 2011 that Vietnamese people spend around US$1 billion per annum for healthcare treatment at hospitals in Singapore.
The number of Vietnamese patients who go to Thailand, South Korea and other countries for treatment is also high, according to the Ministry of Health. Therefore, Vietnamese people spend much more than $1 billion for overseas healthcare services.
According to the Ministry of Health, Vietnamese patients are not fully aware of achievements and progresses of Vietnam's healthcare sector, while the country's health sector has strongly developed to reach the regional and world level, as the Health Minister says.
Whether Vietnamese patients are not aware of this fact? Why do they go overseas for treatment?
VietNamNet analyzes the facts in our series of reportage on healthcare services in Vietnam.
Ass.Prof, Dr. Le Thanh Hai, deputy director of the Central Pediatrics Hospital, confirms that some Vietnamese are fond of foreign products and services, but this is not the main reason. "Let's see the situation at Vietnamese hospitals and you will find out the answer," he adds.
The first reportage is a photo story of the overload at Vietnam's biggest hospitals in Hanoi, including Bach Mai, K and Central Pediatrics Hospital.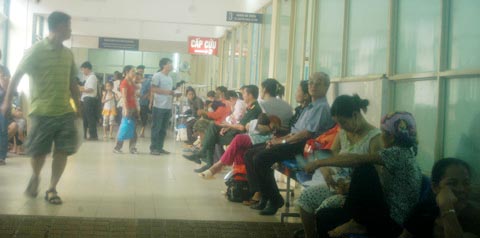 Patients began a new day by waiting and waiting. Since the Central Pediatrics Hospital
changed its working time, starting from 6.30am instead of 8am, the situation has not changed.
Patients still have to wait.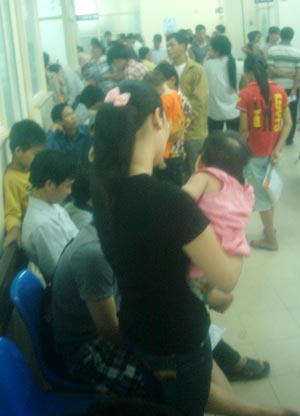 This woman and her child have waited for three hours, from 6.30am
 to 9.30am but she had to wait further.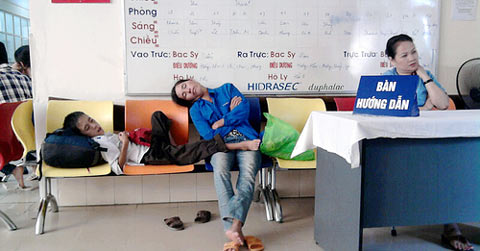 This woman and her son, from the central province of Nghe An, also waited from 6am
to 10am already. Too tired, they slept on the chair.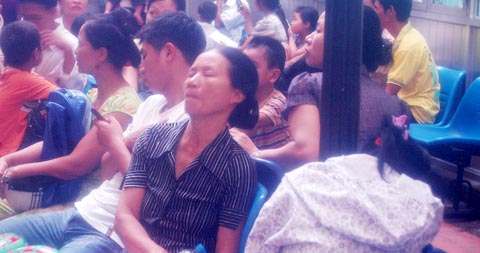 "Dropping off" is a popular scene at the consulting room for patients who use health
insurance. According to the Central Pediatrics Hospital's statistics in 2009, patients saw
doctors within 40 minutes per consultation time on average. To have 40 valuable
 minutes, they had to wait 300 minutes (5 hours).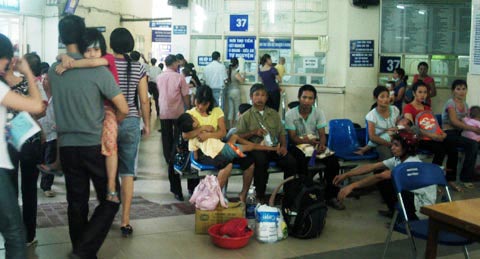 Who can image that this is a hospital? Amazingly, the leading hospital for children in Vietnam.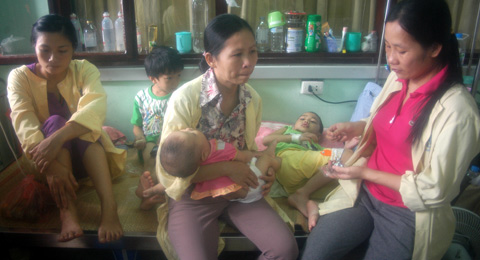 This is the tumor ward for children at the K Hospital. Each single bed is for three
patients or even four. In the photo is Phan Nguyen Huyen Trang, 7, a cancer patient.
Trang has been living here for half of a year. On August 2, the Turmor Ward had
25 beds, but up to 66 patients.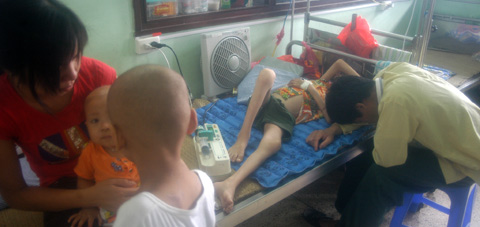 Each child patient is taken care of one or two people. Sometimes this 10sq.m room
hosts nearly 30 people. At night, kids sleep on the bed while their parents lie on the floor.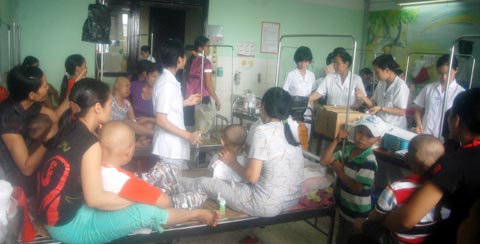 Doctors perform examinations and injection at patient rooms. Each doctor at the
Central Pediatrics Hospital examines 60-70 patients a day, and 100 in peak days.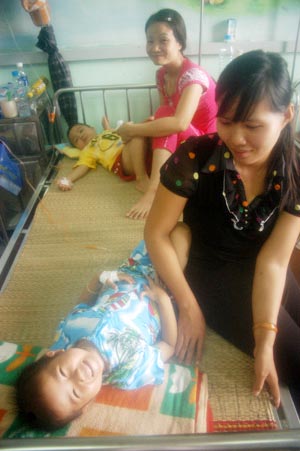 Phan Tran Ngoc Bao, 4, has lived here for 3 months. She shares
the bed with two other kids.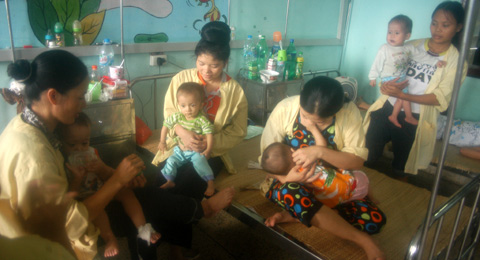 The cardiovascular ward is also overloaded.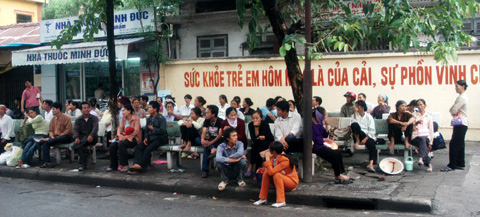 Hundreds of people wait outside the hospital. Going to the hospital is not only
 the obsession of patients but also of their families.
This is the consulting ward of K Hospital, the hospital for tumor and cancer patients.
Around 600-700 patients come here each day, sometimes up to 1,000 while there are only ten consulting rooms.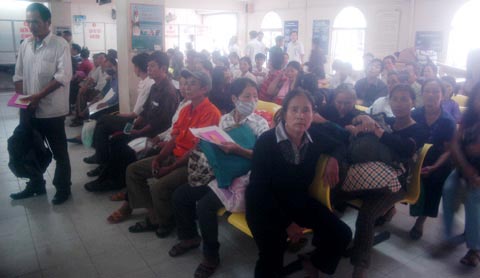 The consulting room at the first floor of K Hospital is also terribly crowded.
A doctor here has to examine 60-100 patients per day.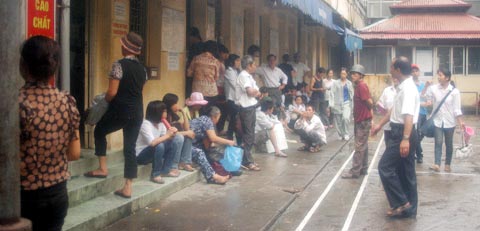 Some people could not stand the stuffy atmosphere in the consulting room, so they
got out of the room to stand outside.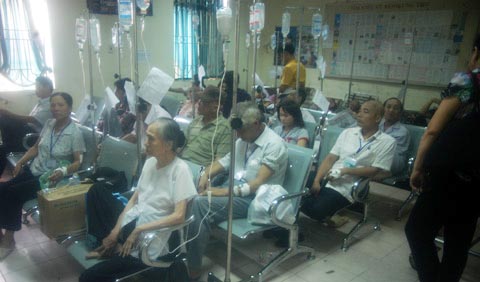 The injection room for non-resident patients. As the room is very crowded, old patients
had to sit for water transfusion.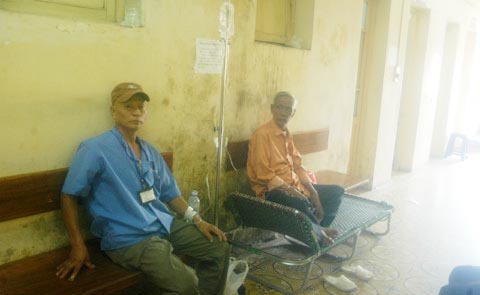 Mr. Pham Trong Hien (blue), a resident patient, said that there was no space
 for lying so he sat on the chair.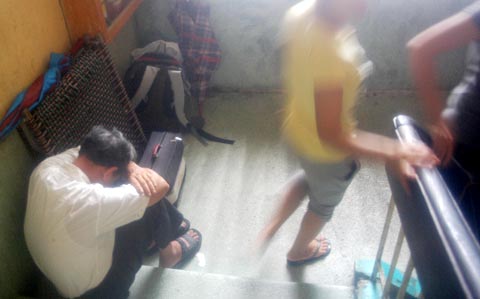 This elderly patient "prepared" carefully for his hospitalization. Waiting for so long,
he dropped off at the stairs. The hospital's official Tran Hong Kien said that
 the hospital wanted to expand but it could not.
At Bach Mai Hospital.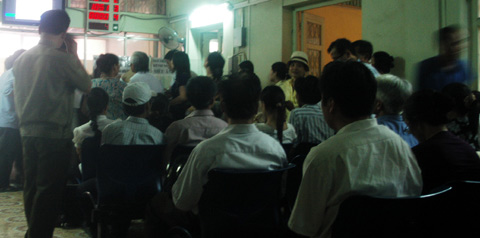 The scan and x-ray zone is also overloaded.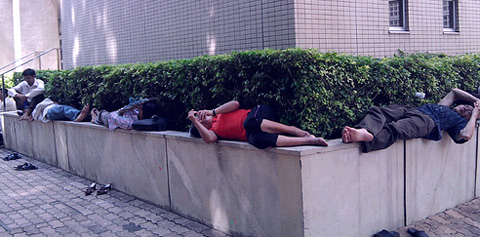 Patients' relatives lie along the corridor. Patients have different diseases and circumstances
but they have the same thing: the "fright" of being hospitalized into a public hospital.
Cam Quyen