VietNamNet Bridge – If you are on a journey from the South to the North, when passing Tuy Phuoc District in Binh Dinh Province at Ba Di Bridge, you are fortunate enough to witness the stunning Cham Towers in the distance highlighted with the recognizable red bricks amidst the endless green mountains.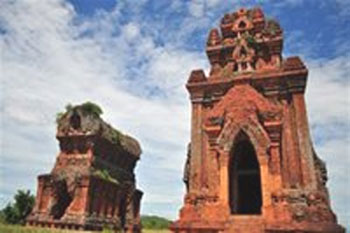 A view of the main tower in the Banh It Cham towers complex in Binh Dinh Province. (Photo: SGT)
They are the complex of Banh It Towers, an old tower cluster of Champa people. Standing under the foot of the towers or on the peak on a high mount, tourists can sense the immenseness of the universe and never-ending of time.
The complex includes four towers built on a peak of a hill in Dai Loc Hamlet, Phuoc Hiep Commune, Tuy Phuoc District, about 20 kilometers from Quy Nhon City.
This is the most striking and best-preserved towers in the seven complexes of Cham towers in Binh Dinh Province. The Banh It Tower has got specific architectural characteristics and is one of the great temple-towers of the Champa Dynasty, which draw the attention of researchers and tourists.
The name of the complex comes from the shape of the tallest tower with its peak which looks like a banh it (three-cornered glutinous rice cake filled with green been paste and meat). Each tower has been built with different design and architecture and varied shape, creating diversity in the complex.
The main tower is 22 meters tall and the architecture bears the Binh Dinh sculptural style of the 12th century with small, embossed lines on the walls. Leaf and flower-shaped motifs are only found on the edges of the roofs, and dancing girls are found on false gates.
To get to the towers, tourists need to conquer a small sloping road paved with bricks and lined by tree shapes. On the peak at a few dozen meters above sea level, not only can you sense the boundless of heaven but also can take a panoramic view of scattered houses, green farms in the villages and winding rivers and streams below.
Inside the ancient buildings are splendid bas-reliefs – which are a great example of Cham craftsmanship.
Among the silence, tourists can just about hear the twitters of birds and bats nesting in the main tower.
Carvings of dancing girls and many valuable sculptures such as the stone statues of Siva, Ganesa, goddess Uma and bronze statue of Bhahma, were discovered in the French colonial period. Several fine bas-reliefs of dancers from Banh It are displayed in the Cham Museum in Danang City.
VietNamNet/SGT