VietNamNet Bridge – Mr. Phan Cu's childhood was on the Huong River. He has earned his living by many trades but now Cu is known as the man who advertises tourism of the ancient capital city of Hue.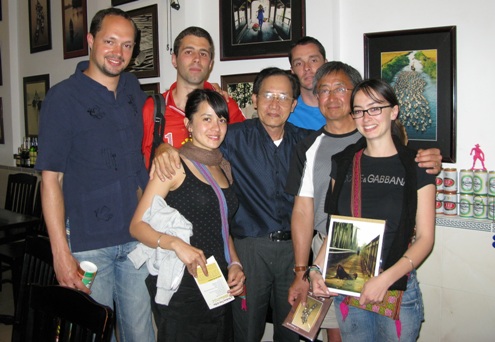 Cu takes photo with foreign tourists at his shop.
Hue is in the rainy season now but Cu's coffee shop at 24 Tran Cao Van, Hue city, is always crowded with customers who come to take breakfast, lunch, to sip a cup of coffee and admire pictures about Hue and Hue's boatmen, which were captured by the shop's owner.
Sitting in a small corner, Cu, 66, was talking with foreign visitors about Hue and about boatmen on the Huong River through his photos. Story was told after story in Hue's prolonged rains.
Cu said that it is his fate to involve with tourism.
Cu's father was born in the central province of Quang Tri. He moved to Hue city to work as a rickshaw driver. Working very hard but the man could not afford to buy just a tent. He had to live in a small boat on the Huong River. He got married and six children were delivered on the boat.
"At that time, there were up to 11,000 boat families in Hue. I was born in Truong Do fishing village, in front of Thuong Tu Gate of the Hue royal citadel," Cu said.
The boy named Cu was luckier than his friends in the fishing village because his parents sent him to a primary school which is now the Phu Hoa Primary School in Hue city. When Cu was 8, his parents were obsessed by the death of kids in fishing villages, so they left their boat to resettle on the shore. Eight years living on a boat was not very long but it was enough for Cu to experience a floating life.
Cu quitted school when he was an 11th grader to work as an adult man to assist his family. He did many jobs, including a bookseller and a mechanical worker.
"In the 1990s, my wife sold coffee in front of a hotel on Le Loi Street. I often picked up my wife every evening. I studied English myself to speak with customers. More visitors came to our coffee shop to listen to my stories about Hue and Hue's people," Cu recalled.
As Vietnam opened its door, more foreign visitors came to Hue. Seeing many foreign visitors called at Cu's coffee shop, the hotel's manager invited Cu to open a coffee shop in the hotel. Cu began involving in tourism since then.
Cu's coffee shop became well-known among foreign visitors. A journalist of the New York Times "advertised" Cu's coffee shop in his newspaper with many good words. Other foreign newspapers also wrote about Cu's coffee shop but they "forgot" the name of the hotel where Cu's coffee shop is located, only mentioning his name. Thus, Cu had to leave the hotel.
He opened the new shop at least in five locations to serve foreign visitors. In 1991, his family opened Mandarin coffee shop. The shop was named by a foreign friend, meaning that Hue is the capital of the last feudal regime in Vietnam. The coffee shop is also the venue for foreign charity societies to help the poor in Hue.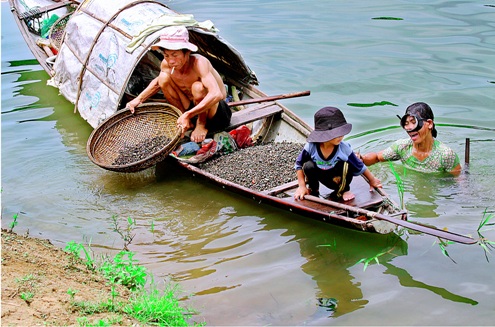 Postcards with Hue's pictures that Cu often gives to tourists at his coffee shop.
"I've worked hard for myself and my family and now I wish to spend my remaining time to work as a bridge spanning charity organizations with poor children and disadvantaged people," Cu said.
In 1995, Thua Thien-Hue province implemented a project to resettle boatmen on the shore. Being afraid of losing his memory of childhood, Cu took thousands of photos of fishing villages. Though he was not trained of photography, his pictures had nice lay-out thanks to Cu's working experience at a cinema, where he specialized in painting film posters, before 1975.
He developed films into photos to hang at his coffee shop. His truthful and simple pictures attracted visitors. The more he took photo, the more he loved photography. He began to travel throughout Hue to take picture of cultural festivals.
At the beginning, he only displayed these photos at his coffee shop. He then printed them on small postcards as gifts to visitors. "A small postcard is very cheap but it can transmit Hue's images to the world," Cu said.
Opened in 1991, Cu's Mandarin coffee shop was named in the guide book for foreign tourists to Vietnam in 1993. In 1998, the Italy-based Gruppo di Volontariato Civile organization held a photo exhibition for Cu in Italy. In 1999, Gérard Amigues, who is in charge of cultural activities of France-based Lot organization brought nearly 100 photos by Cu to France to organize an exhibition entitled "Phan Cu – A Look of Vietnam". Since then, Mandarin coffee shop and Cu's photos have been mentioned as a destination of tourists in Hue.
The life of boatmen on the Huong River:
Small boats are the home to several generations of many families.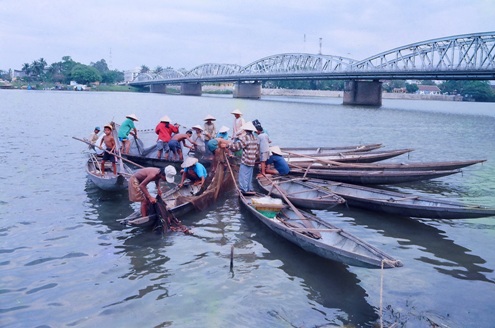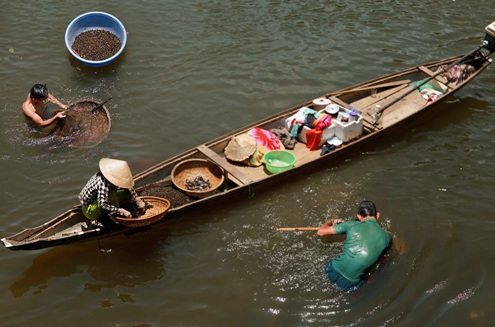 They live by catching fish, snail and mussels in the Huong River.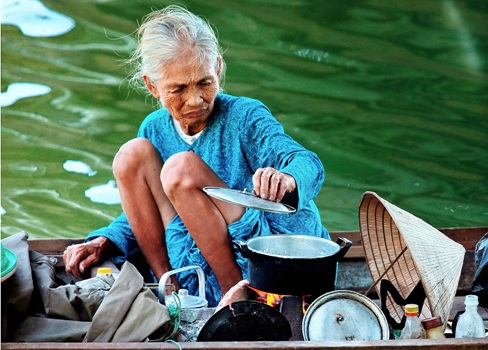 All daily activities take place on small boats.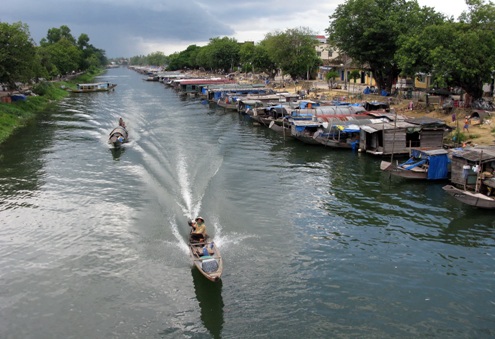 In the flood season.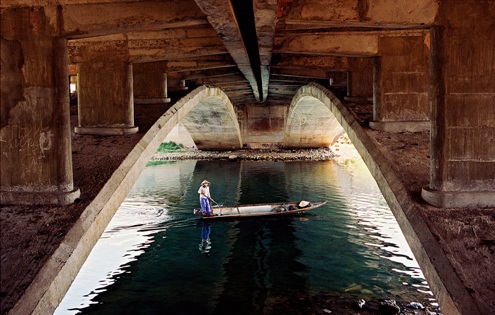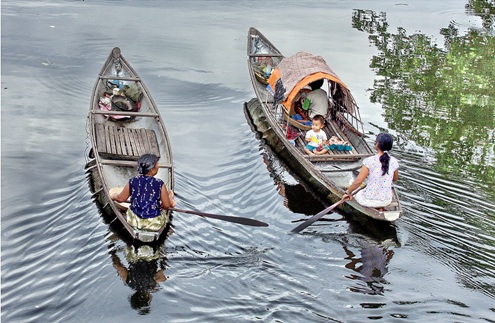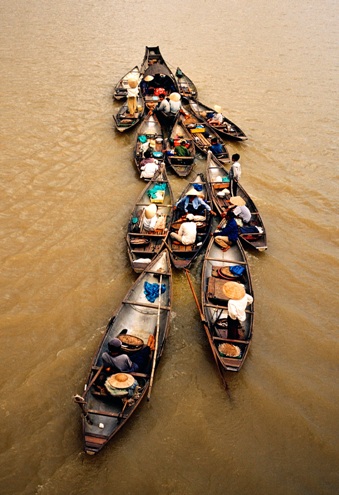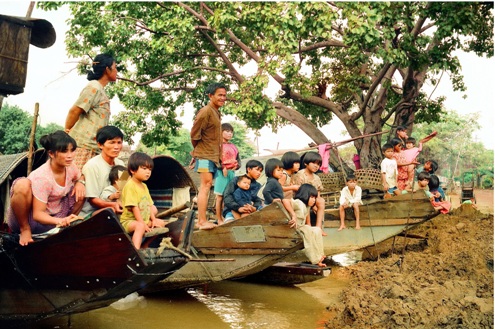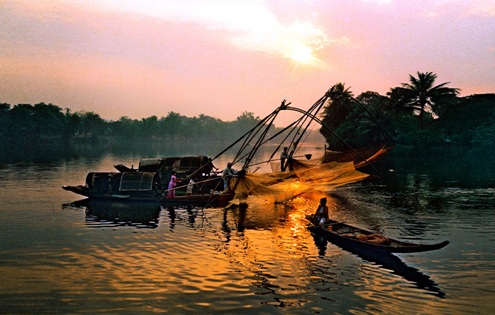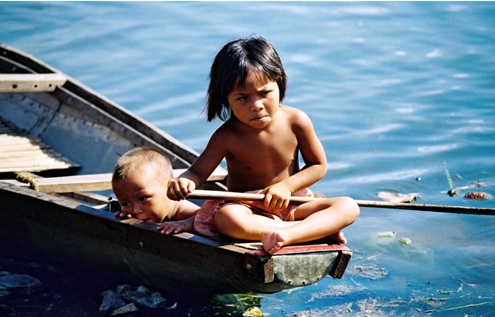 The hard life is reflected on the faces of kids.

VNE