VietNamNet Bridge – Having just married, the only female volleyball player in Vietnam, Ira – Le Kim Nhung, has returned to his team – Vietsovpetro – to prepare for the new season.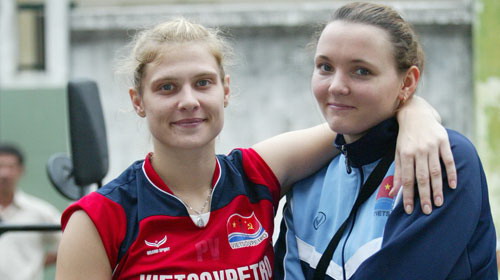 Ira Le Kim Nhung (left) and her teammate Katya.
One year ago, the national volleyball championship welcomed the second foreign player who was granted the Vietnamese citizenship. 1.88m tall, the blonde striker named Ira Merliakova is a sharp weapon of Vietsovpetro club.
Ira had played for Vietsovpetro club for years before. She is known with her Vietnamese name Le Kim Nhung. So far, she has worked in Vietnam for seven years.
The 21-year-old girl said she loved the coastal city of Vung Tau from the first day. Cool weather, sunlight, a stable job and a community of 4,000 Russian there have helped ease Nhung's homesickness. Before joining Vietsovpetro club, Ira was a member of the student volleyball team of Leningrad city.
Whenever her club does not participate in any tournament, Ira – Nhung works as an office employee. In the volleyball season, she practices with her team.
After five years with Vietsovpetro, Nhung and her teammate won a ticket to the national championship in 2010. She impressed fans at the VTV Binh Dien International Volleyball Tournament 2011 by her outstanding performance. She helped bring her club to the semifinal.
After Vietnam opened doors for foreign volleyball players, Vietsopetro recruited a Russian coach and another Russian player named Katya. The club also asked for the Vietnamese citizenship for Ira.
Waiting for one year, Ira was recognized as a Vietnamese citizen in 2010, with the Vietnamese name Le Kim Nhung.
Earlier, the first foreign volleyball player who was granted the Vietnamese citizenship is Jitjumroon Supachai, former captain of Thai national volleyball squad, who is now a player of Trang An Ninh Binh club of Vietnam.
In 2011, Ira – Le Kim Nhung was summoned to the national team to prepare for the Southeast Asian Games.
Nhung has returned to Vietnam to practice with her team in Vung Tau. She has got married with a Russian who also works at Vietsovpetro in Vung Tau.
This season, Nhung is still a key player of Vietsovpetro. Her team has had the third Russian player, named Lasitya.
Nhung said she and her Russian teammates really love Vietnam and they want to play volleyball in Vietnam for a long term, in order to contribute to raise the quality of professional volleyball in Vietnam.
S. Tung