VietNamNet Bridge – Indonesia, with over 10,000 islands totaling 2 million square kilometers, has absorbed various civilizations and cultures. After Vietnamese 'pho,' Indonesian has practiced Vovinam (Vietnamese martial art).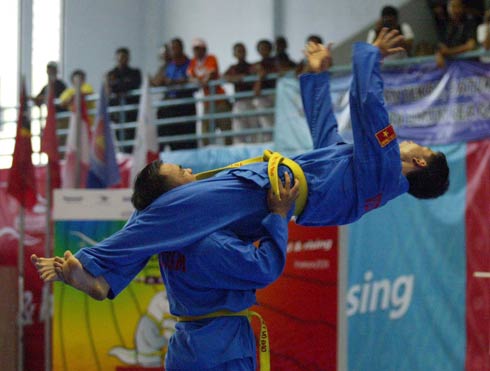 Vietnam's Pho 24 is a new brand in Indonesia but Pho 24 restaurants have become one of the 18 ideal destinations in this country.
Visiting the most coffee shops in Jakarta, waiters always offer customers a cup of Vietnamese coffee. A small café near the hotel which welcomes most Vietnamese reporters, who go to Indonesia for covering the SEA Games 2011, has "coffee-Vietnam" as its wireless Internet password.
After Pho 24 and Vietnamese coffee, Vovinam is the third Vietnamese product which is welcomed by Indonesian.
Created in Hanoi in 1936 by Master Nguyen Loc, Vovinam can be performed with or without weapons for self-defense. It is a combination of different Vietnamese and foreign traditional martial arts and wrestling techniques.
After nearly one century, Vovinam has been practiced in over 40 countries in the world. The Vietnam Vovinam Federation and International Vovinam Federtion were established in 2008. The Asian Vovinam Federation was formed in 2009, the European Vovinam Federation in 2010.
Vovinam was accepted at the 3rd Asian Indoor Games 2009 and became an official sport at competitions organized by the Asian Sports Council. Indonesia, the host of SEA Games 2011, also agreed to add Vovinam to this year's SEA Games.
Vovinam event is held at Tangjung Priok Sport Centre in Jakarta from November 14 to 16. Four countries – Vietnam, Laos, Cambodia and Indonesia competed for 14 sets of medals. However, there are eight Southeast Asian countries practicing Vovinam at present.
In the first day of competition, November 14, Vietnam won three gold medals, by Vo Nguyen Linh, Tran Khanh Trang and the four-member team of Nguyen Binh Dinh, Phan Ngoc Toi, Nguyen Van Cuong and Huynh Khac Nguyen. The host had two gold medals and Cambodia got one.
Vietnam's coach Nguyen Tan Thinh was disappointed because he expected four gold medals for Vietnam on the first day. Thinh said that Cambodia, Indonesia and Laos made fast progress.
According to Thinh, the goal of the national Vovinam team at SEA Games 2011 is ranking first and advertising the sporting spirit of Vovinam.
The International Vovinam Federation is campaigning for the acceptance of Vovinam at the SEA Games 2013 in Myanmar.
Thanh Tung