VietNamNet Bridge – Top-ranking General Le Duc Anh talked with bee.net about recent incidents in the East Sea.
Top-ranking General Le Duc Anh was born on December 1, 1920 in Thua Thien – Hue province in central Vietnam. He was Vietnamese President from 1992 until 1997. He was also the top-ranking general of the Vietnam People's Army and the Minister of Defense from 1987 to 1991. He retired in 2
Some incidents occurred in the East Sea over the past few weeks, for example Chinese patrol ships cut cables of Binh Minh 02, Chinese ships attacked Vietnamese fishing ships in Vietnam's waters, etc. Do you know these incidents?
Yes, I've head the news from the radio.
In such cases, what do we have to do to benefit many parties?
We have to take the country's sovereignty as the top priority. At the same time, we have to live friendly with the people of all countries in the world.
The interests of all parties will be respected if all countries respect sovereignty and defend friendship with others.
For the East Sea disputes, we have to consider our sovereignty and the sovereignty of other countries in the region. We have to consult international law to keep our sovereignty.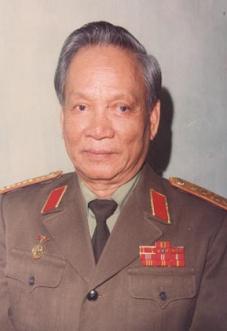 Top-ranking General Le Duc Anh

If we respect international law but neighboring countries don't, what should we do?
We have to negotiate with them before bringing disputes to the international court. We have to try our best to avoid armed conflicts, except for the case that we have to defend our sovereignty. Defending our sovereignty must be the top priority. Maintaining friendship with them is the second priority. In general, we have to keep peace and stability to develop. If we talk with them but they don't listen to us and intentionally violate our sovereignty, we have to self defend to keep our sovereignty.
It is said that something that is small is also weak. As the citizen of a small country that is located near a big one. What is your opinion?
Small doesn't mean weak. Compared to India or China, Vietnam is a small country. Compared to the US and the European Union, Vietnam is also a small country.
But a small country that loses its home and sovereignty, it will have nothing to live.
In the past you battled against the US. Did you think that you were fighting against a big country?
Yes, I did.
Did you frighten?
No, I did not. If we frightened, how could we win? The final victory is fighting to cast out American soldiers, not to destroy them. That victory shows the spirit to defend our sovereignty and to triumph foreign invaders.
You were the Minister of Defense in a difficult period of time. Could you share your experience?
That was a difficult process. If we don't frighten, we will understand and can solve all matters. If we frighten, we will lose. We will lose the places where they want to occupy. If we don't frighten, we will have ways to struggle to both keep our sovereignty and friendship. We have to learn from history, including the most recent history.
The Top-ranking General gave recommendations to Vietnamese fishermen: "Vietnamese people only catch fish in Vietnam's waters. Don't let clashes happen. If anything occurs, people have to quickly report to relevant bodies and to avoid armed clashes. The State must tell fishermen the border of our waters".
About the experience of a small country besides a big one, what chapters in our history do you like the most, the Ngo Quyen, the Ly, the Tran or Quang Trung dynasties?
All times are good. But the times of Ho Chi Minh is the pinnacle. We have to learn from history to defend our country without getting big losses. It is very important.
What do you think about the East Sea dispute at this moment?
I believe that reason belongs to us. The world is open now. Nobody can hide information, especially stories in the East Sea. Countries with dark designs have to respect reason.
Thus, we have to tell the whole world about the East Sea incidents. Not only Southeast Asian countries but the entire world will support us. Even Chinese people will support us if they know the truth. Chinese people understand, support and respect reason. They also want friendship, stability and peace.
We have to trust our people to persistently struggle publicly. Making public information is the way to show agreement and the people's power.
Source: Bee.net