VietNamNet Bridge – Tamed elephants are exhausted serving tourists, the living space for wild elephants is shrinking while the elephant preservation project is still on papers only.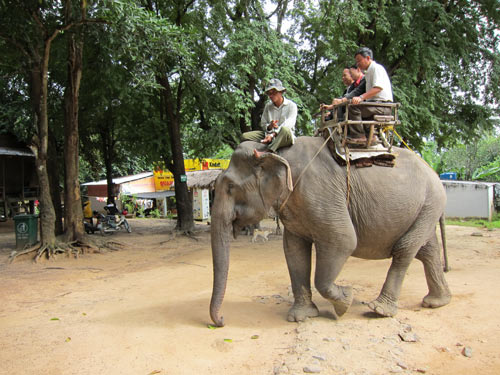 The number of elephants in Don Village, Dak Lak province, famous for hunting and taming wild elephants, is going down. According to research, only 0.6 percent of tamed elephants have been reproductive in the last 30 years.
Recently, the rate is nearly zero percent because male and female elephants don't have favorable environment to meet and copulate since they are managed by different people. Moreover, they are overexploited for tourism purposes.
Tamed elephants worn-out
Elephant tourism is a specialty of the Central Highlands province of Dak Lak. As a result, tamed elephants are being overexploited as tourist attractions. On average, each elephant has to make 5-7 tours and more during holidays.
The food for them is very poor, with only sugarcanes and bananas while elephants need diverse food. According to experts, a tamed elephant in Don village needs around 300kg of grass and hundreds of liters of water a day. Elephants eat all the time, around 70-80 percent of the daytime.
According to Dak Lak authorities, four tamed elephants died in 2010 due to disease and old age. This province now has only 56 tamed elephants, including merely three of less than 15 years old, 43 that are 15-45 years old (14 female and 29 male), and the remaining are  old and weak elephants.
In recent years, Dak Lak didn't have any baby elephants because elephants don't have appropriate environment for copulating. Senior elephant hunters and tamers said that elephants need secret places to meet and copulate. In fact, elephants are owned by individuals and tourism firms so they don't have opportunity to group up and copulate.
Moreover, there is not an interest sharing mechanism between elephant owners so the owners of male elephants don't want to let their elephants see male elephants. At present, the owners of male elephants earn nothing from elephant reproduction and they even have to compensate if their elephants hurt female elephants during the copulation process.
Experts said that if the situation continues, Dak Lak will not have any more tamed elephants in the next ten years.
Seeking good environment for elephants
In 2006, the Prime Minister approved the urgent program to preserve elephants in Vietnam. However until 2010, the project to preserve elephants in Dak Lak in 2010-2015 was ratified by Dak Lak authorities with the funding of VND61 billion ($3 million).
The project aims to manage wild elephant in a sustainable manner, develop tamed elephants and maintain the history and tradition of ethnic minority groups, who are closely connected with taming elephants, building a hospital for elephants and a research facility for elephant reproduction, protection of wild elephants, maintaining and developing the elephant festival, etc.
This project has not been implemented.
Do Ngoc Dung, chief of the Nature Preservation Division under Dak Lak Forest Protection Department, said that to preserve and develop both wild and tamed elephants, the first thing is giving them a living environment that is similar as the wild environment. In that condition, elephants have necessary conditions to maintain normal reproduction.
For tamed elephants, a preservation center with a specialized hospital, a reproduction research facility, a grass garden which has grass species suitable for elephants, etc. will be a significant foundation to preserve and develop tamed elephants. However, it is very difficult to persuade elephant owners to bring their elephants to the center. It is also very difficult to raise capital to build such a center.
As for wild elephants, the top priority in preservation is creating a safe living environment for them through protecting the jungle. This is the job of not only the local government but also the people.
As their living environment is encroached upon, elephants have become fierce. Some people have been killed and injured by elephants in recent years.
Tamed elephants used as "motorbikes"
Mr. Y Thiem Bya in Tri A village, Buon Don district, Dak Lak province is still sad about the death of his elephant named Pac Ngui. The elephant died in 2010 because it was overexploited by Bya's family. The elephant was used as a motorbike!
Mr. Y Thiem Bya said in the night time, Pac Ngui was hired to pull illegal timber. During the day, it had to carry tourists, with 26-34 tours a week.
"How could my elephant have survived! So it collapsed and never stood up again. That was the first tamed elephant in Buon Don that died that way," said Mr. Y Thiem.
The family organized a big funeral for the elephant. Y Thiem thought that local people would have realized the situation and changed their behavior but they didn't. According to Y Thiem, they have broken the rules in treating elephants of Buon Don.
"They must treat elephants like members of their community. Elephants must have time for rest at night. When they cry, it means that they have contracted diseases. At that time, elephants must be left in the forest for a month or more. That's the time for them to seek wild leaves in the jungle to cure their own diseases. Though elephants cry, people still force them to work for money," Y Thiem said.
In two years – 2009-2010 – six tamed elephants died like Pack Ngui. The latest pitiful case was that of Pak Cu.
Researchers of the elephant preservation project in Dak Lak province said that of the 56 tamed elephants, all of them are injured, especially their tales. Some elephants lost their tales, which seriously harms their health and their reproductive health.
Elephants lose their tails because their tail hairs are used to make souvenirs.
Researchers also said that in Dak Lak, tamed elephants are not under the control of local authorities. With the profit sharing rate of 5-5 between elephant owners and tourism firms, elephants are overexploited.
In the Elephant Culture Week in March 2010, Dak Lak officials had to call for the change of behavior amonglocal people toward  both wild and tamed elephants. However, that message has not been welcomed.
The death of elephants: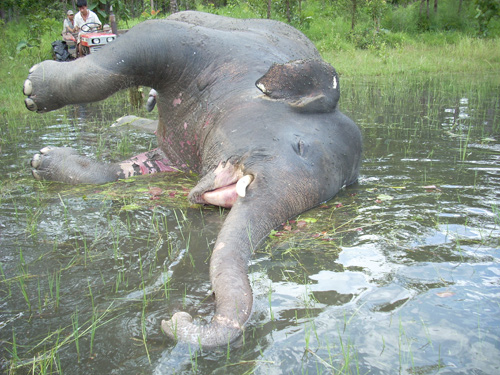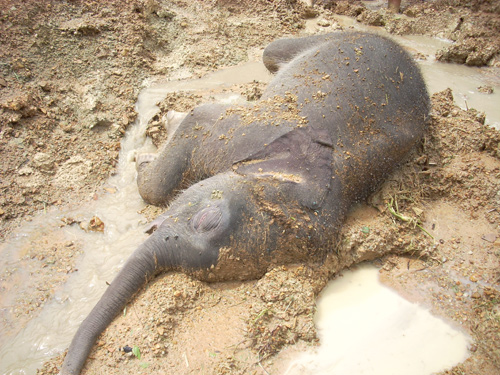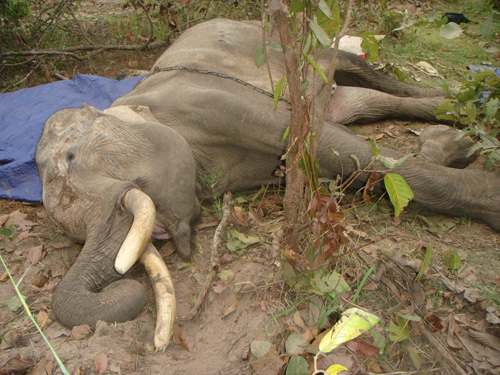 On January 6 2011, an elephant named Pak Cu died with hundreds of wounds on his body. Earlier, some men attacked the elephant to cut its tusks and its tail. Its death has stirred up public angriness. Below are photos of Pak Cu's death.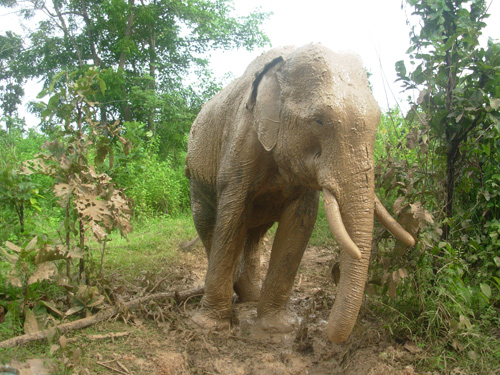 Pak Cu after the attack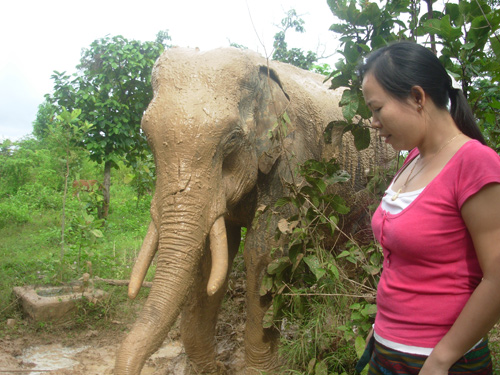 The owner spent several thousands of USD to treat the elephant.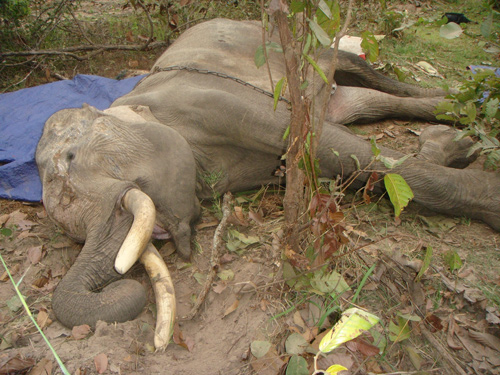 He died after a short time after the attack...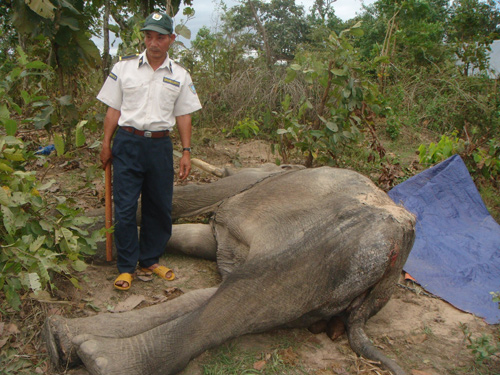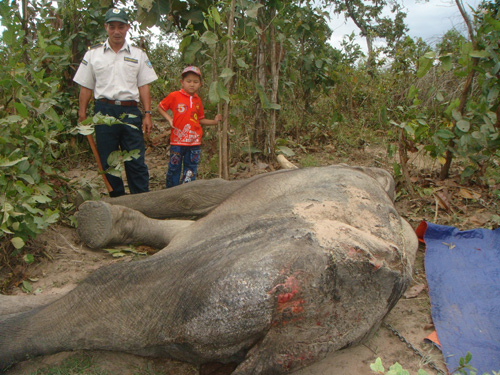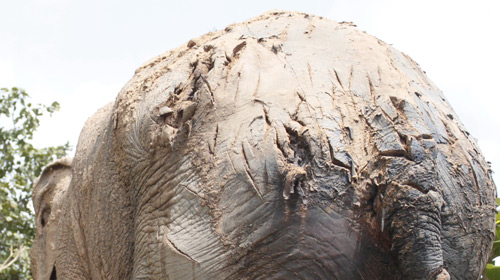 ... with hundreds of wounds on his body.