VietNamNet Bridge – When a draft regulation on photographic art was put forward for comment, management over nude photos and paintings has again become a hot topic on local newspapers.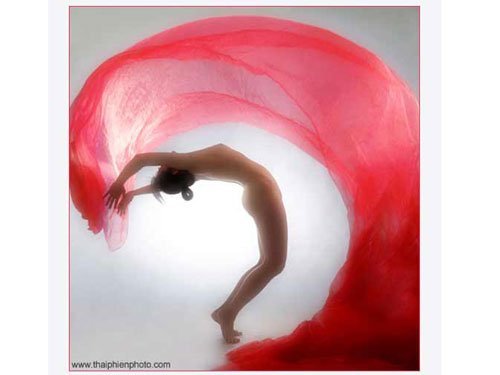 "Red wave" by Thai Phien.
Some say that management over artistic nude photos and paintings should be "open," while others are worried of corollary.
There is an absurdity in the current cultural life of Vietnam. Nude photos and paintings which are approved by art councils are not exhibited, while nude pictures which are criticized by the public appear rampantly on the Internet.
"Xuan Thi" (Spring Time), a nude photo book by Thai Phien, is an example. This book is welcomed by the public and has been re-printed several times, but Thai Phien has not licensed it to organize any exhibition.
In late 2007, the Hanoi culture management agency – Department of Culture, Sports and Tourism, set up an art council to evaluate Thai Phien's works and grant a license to the photographer. But finally, the exhibition was canceled because it was organized not in "the right time" and it was still "inappropriate."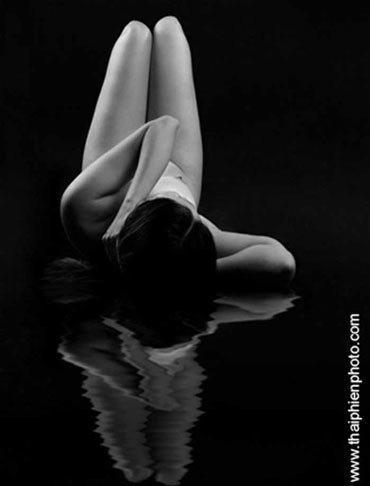 "Reflection" by Thai Phien.
Luong Xuan Doan, an official from the Central Committee for Information and Education, recently verified at a meeting in Hanoi that no exhibition of artistic nude photos has been held in Vietnam because of management agencies' discretion.
It is similar to nude paintings. Three years ago, the authorities of Hue city refused to grant a license to Nguyen Kim Dinh's exhibition of 12 nude paintings because "the quality of some paintings is poor and they are unsuitable to Vietnam's custom and habit". Meanwhile, these paintings had been approved by the Art Association of Thua Thien – Hue province.
The failure of photographers--Tran Huy Hoan, Nguyen Kim Hoang, Thai Phien and painter Kim Dinh in getting an exhibition license has showed the confusion of management agencies over nude artworks.
Thai Phien complained that the phrase "custom and habit" used by state agencies is very abstract, and it makes these agencies confused. "Custom and habit" is the "chain" for photographers of artistic nude pictures.
"To control grass, we first grow flowers. If nude artworks are restricted, we unintentionally prevent the public from having good understanding of the nude art. Many think that nude photos are pictures of unclothed people," Thai Phien said.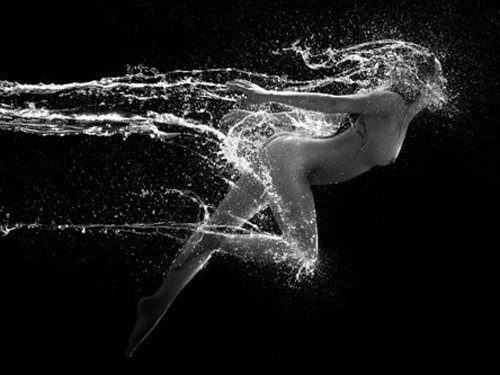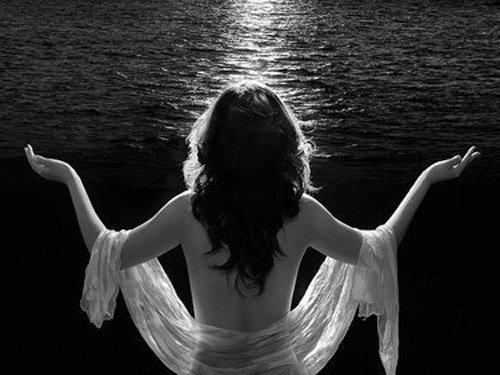 Nude photos by Duong Quoc Dinh.
While nude artworks cannot come to the public officially, 'rude' pictures are dispersed  rampantly on the Internet.
Some models took nude photos with beautiful names, like "photos to protect the environment, to protect the sea, etc.," to seek fame. These pictures, which were criticized for their obscenity, spread very fast on the Internet. Typical cases are model Ngoc Quyen, beauty queen Mai Hai Anh, actress Le Kieu Nhu, model Nguyen Thanh Hang, etc.
Vi Kien Thanh, head of the Agency for Art, Photography and Exhibition, said that the draft regulation would cover the dissemination of photos on the Internet. However, he said that this is a difficult task.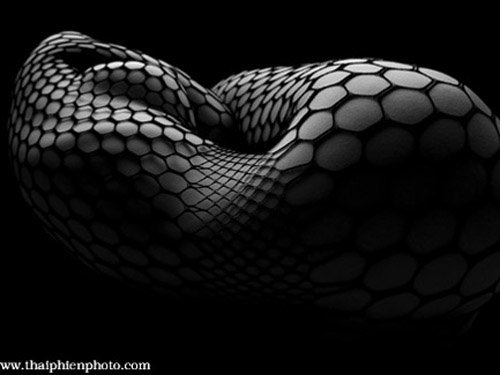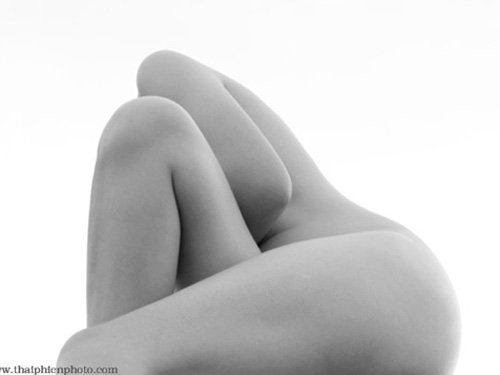 Nude pictures by Thai Phien.
The official said that there is a fine line between art and eroticism. He added that some photographers said that their nude photos were artistic products but because of their unqualified skill, viewers considered their photos as erotica pictures.
To differentiate between artistic and erotic pictures, the public opinion and experts are very important in assessing the professional qualification of photographers.
Painter Luong Xuan Doan, from the Central Committee for Information and Education, emphasized that the boundary between eroticism and art is decided by the sense of beauty.
Photographer Thai Phien said that because of the fine line between eroticism  and art, the Association of Vietnamese Photographic Artists, the top specialized photography agency must assess and decide which nude photos are artistic products.
Photographer Viet Van, who has won many international awards, agreed that it is difficult to differentiate between artistic and erotic photos. He said that the knowledge of nude pictures of some people is limited so their view of the beauty is superficial. As a result, they show off their nude pictures since they think that the pictures are beautiful but actually they are very bad.
Viet Van said that managers should not allow dispersion of nude photos which show sensitive parts of body. Nude photos which are considered as artistic works must be assessed by a council of expertise.
How to manage?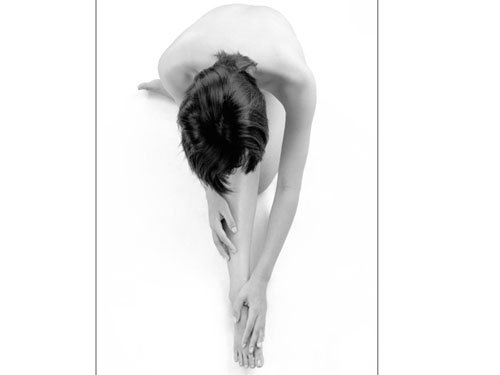 A nude picture by Thai Phien.
To deal with outdated content of the rule on photography which was issued 12 years ago, the new regulation which is being compiled by the Ministry of Culture, Sports and Tourism, stipulates that exhibitions of nude photos will be licensed with one condition: photographers must sign contracts with their nude models.
Chief of the Agency for Art, Photography and Exhibition Vi Kien Thanh said that the contract must cover the following issues: content of pictures, the level of nudity, pictures to be make public or not, where they are made public, with what purpose.
Thanh said that such a contract would help photographers and models to be aware of the purpose of nude photos from the beginning.
But many photographers do not agree with this because most of nude models want to be anonymous. Thai Phien said that it is enough if photographers commit to have contracts with models and they will take legal responsibility.
Chu Chi Thanh, former chair of the Association of Vietnamese Photographic Artists, said that the above condition is a hindrance for photographers and it does not help protect nude models.
Thanh said that the most important thing is to have an assessment council, which gathers prestigious experts. He suggested the Ministry of Culture, Sports and Tourism to meet with photographers to consult their opinions to issue practical regulations.
However, how to enable the public to have access to artistic nude works while successfully prevent dispersion of erotic pictures in the name of art is a big problem for state agencies.
Thanh admitted that the draft regulations cannot control nude photos on the Internet because the Ministry of Information and Communications is in charge of controlling Internet-related fields.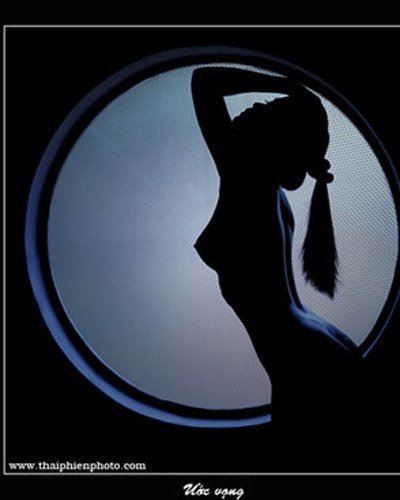 A nude photo by Thai Phien.
Photographer Pham Hung Cuong suggested that state agencies strictly punish and even close websites that post obscene photos. "I believe that if this regulation is applied, websites will be cleaner," Cuong said.
Thanh said that the Ministry of Culture, Sports and Tourism will combine with the Ministry of Information and Communications to implement post-inspection of nude photos.
Some artists propose the Ministry of Culture, Sports and Tourism to have a website on artistic nude photos to recommend artistic products to the audience.
Thu Nga