VietNamNet Bridge – Last October, Mr. Tran Van Tiep, 97, paid VND500 million ($25,000) as deposit for exploring a "gold warehouse" in Tau Mount in Tuy Phong district, Binh Thuan province. Below is the sensational story about the old man who has kept searching for the "4,000 ton gold warehouse" for dozens of years.
97-year-old man searching for 4,000 tons of gold (part 1)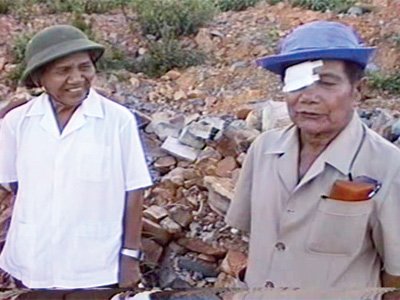 Tiep and Le Van Hien on the Tau Mountain in 1994.
Japanese return to Tau Mount?
In the talks with reporters, Mr. Tran Van Tiep always showed his worry that Japanese are seeking way back to the Tau Mountain to seek the "treasure."
According to Tiep, on January 15, 1995, a Japanese named Hakamura made a survey on Cu Lao Cau, a small island in Vinh Tan commune, around 10km from Tau Mountain. "This man came here for only one goal: searching for the treasure on Tau Mountain," Tiep said.
Tiep said that local people reported to the authorities the Japanese visitor's mysterious acts and he has not returned since then.
On June 26, 1995, Tiep's friend in HCM City sent a fax to a Japanese man named Ichiro Hakamura (the content is unknown). The next day, the Japanese man sent back a fax from Tokyo, which wrote "I'm very interested in the information that you sent me."
In 1999, the Binh Thuan Newspaper reported on the establishment of a Singaporean-owned company in the province in July. This is a joint venture between Singapore and Vietnam but all officials were Japanese. This firm produced animal feed and bred shrimp in Tuy Phong district. However, it withdrew from Vietnam in 2004.
In 1999, a Japanese woman met with the geological engineer cum "telepath" that Tiep hired before in Hanoi.
On December 31, 1999, two Malaysian boats encroached into the sea of Phuoc The commune, Tuy Phong district, Binh Thuan province. The boats were timely detected and seized by Vietnamese authorities. Binh Thuan government imposed fines of VND70 million on them. A foreign company named TOMTEC paid fine for them. Tiep doubted why the two boats enter the sea near Tau Mountain. "It is for sure that they did not come here to catch fish," he said.
Tiep said that the above events show that Japanese want to return to Tau Mount to seek their gold.
In early 2010, Binh Thuan authorities licensed the Binh Thuan Material and Mineral Company to explore construction rock on Tau Mountain. Tiep has fiercely protested because he has not finished the treasure exploration there. He sent a letter to the local police, saying that many people intend to appropriate the treasure that is firstly discovered by him.
Finding a "comrade"
In the early 90s, Tiep unexpectedly met with an official of Binh Thuan province, who shared the trust on the existence of the treasure on the Tau Mountain. That was Mr. Le Van Hien, former member of the Central Committee of the Vietnam Communist Party, former Party Secretary of Binh Thuan, who died in 2009.
Two former Chairmen of Binh Thuan province, Mr. Dang Van Hai and Tran Khan, who licensed Tiep to explore gold on Tau Mountain, said that the authorities licensed Mr. Tiep at the suggestion of Mr. Hien.
Hien joined Tiep in searching for the treasure for several years. On November 26, 2002, Tiep authorized Hien to guide the search. During the search, locals were not allowed to approach to the mountain.
A video clip features Hien was instructing the search in the early 90s. Hien told his co-workers: "With modern methods, we will surely find out the treasure." His trust on the treasure was deep as Tiep's.
Hien spoke in a video clip that he had met with officials of the Government Office at that time to ask for technical assistance to search for the treasure on Tau Mountain.
"At that time, without Mr. Hien's assistance, Mr. Tiep would have been unable to conduct the search," a former official of Binh Thuan said.
"Mr. Hien passed away. I searched for the treasure on the Tau Mountain. It is not only for the national treasure, but also for the wish of my friend – Mr. Hien. If I find the treasure, my friends in heaven will smile," Mr. Tiep said.
TN