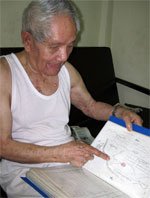 Mr. Tran Van Tiep, 97.




VietNamNet Bridge – Last October, Mr. Tran Van Tiep, 97, paid VND500 million ($25,000) as deposit for exploring a "gold treasure" in Tau Mount in Tuy Phong district, Binh Thuan province. Below is the sensational story about the old man who has kept searching for the "4,000 ton gold" for dozens of years.
"He was very happy recently because the state permitted him to explore the treasure in Tau Mountain," an assistant to Mr. Tiep said.
Tiep said that in the late 1950s, he had collected accurate information about this "treasure."
"During the two wars against French and American, I had to keep secret the information. After the country's unification, I did not find out anyone who could join me to search for the gold warehouse until I met Mr. Tam Hien (Le Van Hien, former member of the Vietnam Communist Party Central Committee, Party Secretary of Binh Thuan province, who died in 2010,) my plan became reality," Tiep said.
According to this man, in late World War II (around 1943), after surrendering to the Allies, Japanese general Yamashita led a fleet of 84 warships carrying gold to Ca Na Bay (between Binh Thuan and Ninh Thuan provinces in central Vietnam). The Japanese army hid around 4,000 tons of gold at a mount near the sea.
However, 66 Japanese warships were scuttled by the Allies in Ca Na Bay. The remaining 18 ships ran away. There was a ship which completely sank in the bay in 1945.
After the World War II, Japanese went to Vietnam many times to search for this huge warehouse of gold but they failed. Tiep confirm: "The Japanese army buried gold near the sea of Binh Thuan because transport convenience in this area, which has a sea route, road and railway. Moreover, the Japanese gold warehouse is near another gold warehouse left by a Champa King."
Material evidences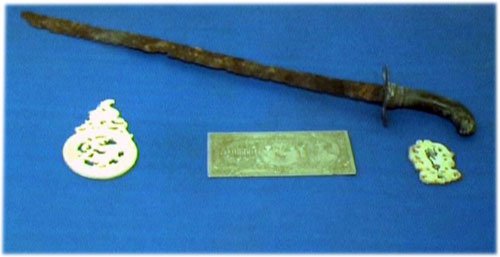 The "proofs" that Mr. Tiep found on the Tau Mount.
Before getting Binh Thuan authorities' permission to explore in the eastern Tau mountain, Tiep and his assistants showed many material evidences, which Tiep said that he had collected from surveys on Tau Mount.
With negligible information, Tiep has pursued the so-called "The treasure on Tau Mountain" for over five decades. He has spent his life and hundreds of taels of gold (equivalent to millions of USD) to only one job: searching for the treasure. Despite failure, the old man has not lost his heart for this job. His trust on the treasure on Tau Mountain is also burning.
"These antiques are undeniable proofs of the presence of the treasure on the Tau Mountain," Tiep insisted, showing an old Japanese sword and sheath, a 10,000 yen coin, a broken metal-made pipe, two black dragon logos, and some other things.
For the first time, he disclosed a map of the "treasure". Tiep said that only he and the top official of Binh Thuan province could see the map.
The trust on the treasure was strongly enhanced on the 97-year-old man when some local people gave him some more information: men who worked as coolies for the Japanese army told their descendants that before withdrawing, Japanese had hidden gold in cellars in the Tau Mountain.
10 years on Tau Mount
On October 16, 1993, Binh Thuan province's Chairman Dang Van Hai licensed Tie to "search for metal" on Tau Mountain. Tiep hired a geological engineer named Hoang Van Truong, who is also a "telepath" from the northern province of Phu Tho to help him find gold.
Since early 1994, Tiep hired bulldozers and excavators to explore the eastern part of Tau Mountain. After three months using mechanical vehicles, Tiep thought that he "approached" the cellar door.
After digging 3m deep into the rock, workers reported to him about the cellar door of 24m in width, and 80m in length, made by rock. Rocks are stuck together by a layer of lime. The information was similar to the information that he got in 1969. According to Tiep, the treasure is possibly 40m deep under the eastern rock layer of Tau Mountain.
To approach the treasure, Tiep paid billion of dong to hire workers and equipment to dig the mountain from 1993 to 2003.
Tiep has become very familiar to local people. They call him "The son of Tau Mount."
However, the man has not found out the treasure yet.
TN