VietNamNet Bridge – The economic panorama of Vietnam in 2011 was not very bright, but it is acknowledged that the Government exerted its effort to overcome difficulties when the global economy did not surpass the crisis yet.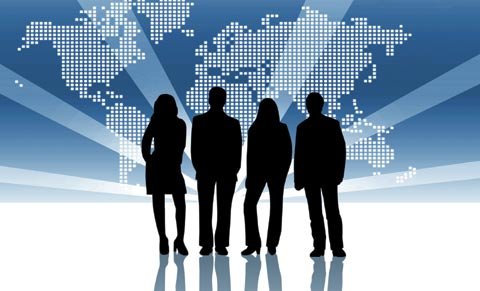 The Government issued Resolution 11, which is said the clearest message about the Government's goals: controlling inflation and stabilizing macro economics. Notably, the Government had often focused on two targets, both curbing inflation and speeding up growth. But in 2011, it gave priority to cooling inflation.
The Government's package of solutions, including tightening the monetary and fiscal policies, cutting down government spending, releasing pressure on the forex market, worked quite well.
Another noteworthy point is the Government confirmed that stabilizing macro-economics would be not only the mission of 2011, but also the mission of the middle and long-term reform process.
At the first session of the new National Assembly in late 2011, Prime Minister Nguyen Tan Dung made positive comments of the Vietnamese economy in 2011. The PM's remarks are convincing if one only looks at the industrial production index, the import-export turnover, foreign currency reserve or the trade balance. However, the key problem – inflation – was still high and unpredictable.
The government's goal in 2012 is achieving GDP growth of 6-6.5 percent. This goal is not high because Vietnam will have to give priority to controlling inflation. However, it will be very difficult to attain this target because many enterprises are struggling with difficulties, such as high inflation, high interest rates and high inputs.
The world situation in 2012 seems to be not bright when forecasted growth rates for big economies like the US, the European Union, and Japan are lower than those of 2011. Vietnam's economy will be affected by these factors because Vietnam highly depends on exports and the foreign investment flow.
In that situation, how will the Vietnamese economy be in 2012?
The government has confirmed to pursue the flexible monetary policy and the tightened fiscal policy in order to control inflation. However, when controlling inflation, Vietnam will have to adjust its investment and credit structure to support the small and medium enterprises (SMEs) and exporting firms because these enterprises highly grew in recent years.
Vietnam's export of agricultural products, seafood, textile and footwear was good in recent years. These products are considered to be the country's key export items in 2012, especially rice because Thailand, the world leading rice exporter, will be still in difficulty after the historical flood in 2011. Other Vietnam's export items, which are similar to Thailand's, are expected to increase sharply in the first half of 2012.
Vietnam's exports to major markets like the US and Europe in 2012 may reduce because 2012 is predicted to be a difficult year to these economies. However, the country's export to other markets, particularly Japan and China, is forecast to keep growing.
Enterprises hope that the monetary policy in 2012 will be more flexible so that they will have access to capital more easily.
This year the government will reduce and grant an extension of corporate income tax to enterprise and slash administrative procedures as the way to assist businesses to overcome current difficulties.
Foreign investment needs to be cleared this year. According to experts, global economic instability, especially in Europe, and economic growth reduction in Vietnam, will make foreign investors worry.
However, this will not be the only reason that makes foreign investment in Vietnam to reach deadlock. The reduction and restriction of investment is partly due to difficulties in having access to lending capital. In attracting investment, irresolute administrative reform is seen as one of major barriers.
To ensure macro-economic stability and sustainability, the government must solve the above issues and Vietnam will early benefit from it, said international experts.
Discussing challenges of Vietnam's economy in 2012, domestic and foreign experts said that inflation is still the decisive unknown for macro stability.
The leader of the Standard Chartered Bank's Southeast Asian research division, Tai Hui, said that Vietnam's biggest concern in 2012 will be still inflation. Pressure from the VND devaluation, the increase of electricity and gas prices and the strong demand of the local market will contribute to high inflation.
According to Tai Hui, the forecast inflation rate for Vietnam in late 2011 stood at around 18.7 percent, which is nearly equal to the Vietnamese government's anticipated rate, the rate may remarkably fall in 2011 thanks to the government's strong measures.
He said that Vietnam's inflation may drop from 17 percent in the first quarter of 2012 to 10.9 percent in the second quarter, 8.9 percent in the third quarter and only 7.9 percent in the forth quarter.
Tai Hui's forecast is very optimistic but the forecast has its firm ground. Vietnam is still considered as a potential economy but it develops slowly owing to mistakes in macro-governance.
Dr. Vo Tri Thanh, Vice rector of the Central Institute for Economic Management, said that Vietnam is highly appreciated for economic growth potential because: Firstly, it is located in a dynamic region; Secondly, the Vietnamese economy's starting point is very low and it has learnt valuable experience from its 20 years of renovation; Thirdly, Vietnam has rather young population and politic stability.
"The biggest potential is Vietnam's reform process is irreversible. Vietnam's economic growth is a little below its potential," Thanh said.
In late 2011, the government showed its determination in order to bring into play the hidden potentials, including:
- Restructuring the economy is now a big policy which requires a practical and objective look on Vietnam's forte, which is the dynamic private sector. This sector contributes up to 48 percent of the country's GDP but preferential policies for this sector is in shortage, particularly the policy that facilitates the sector to capital.
- Restructuring the banking system to take advantage of all sources of capital and make the banking sector be healthier.
- Restructuring the State-owned sector through checking and addressing the operation of State-owned groups and quickly privatizing State-owned enterprises.
- Thoroughly performing administrative reform to recover foreign investors' trust in Vietnam.
These are expectations for 2012.

DNSGCT