VietNamNet Bridge – Many Thai documents and websites state that Thai ridgeback dog is the ancestor of Vietnam's Phu Quoc dog breed. Is it true?
Characters of Phu Quoc ridgeback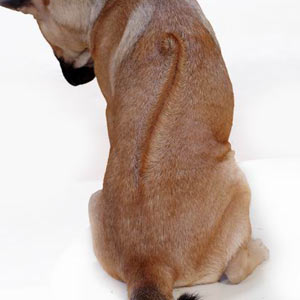 This is a dog breed originating on Phu Quoc Island off southern Kien Giang province. It is one of only three breeds that has a ridge of hair that runs along its back in the opposite direction to the rest of the coat (the others are Rhodesian Ridgeback and Thai Ridgeback).
According to old people on Phu Quoc Island, the dog was traditionally four main colors: spotted, black, yellow, and striped; however now the colors have become more varied.
A mature dog is about 20-25 kg, with a small head, long neck, quite a long snout, thin yet long ears and dark speckles on the tongue. The body of tapering belly, straight legs and webbed feet, this allows Phu Quoc dogs to swim and run exceedingly well.  
An important sign to recognize a true Phu Quoc dog is the whorls on its back, together with short, thin hair. When facing competitors or running after prey, the whorls become erect, making the dog look brave and strong. Now, it is quite difficult to find purebred Phu Quoc dogs, as they have mixed with other breeds.
Phu Quoc dogs are famous for hunting and protecting houses, for their friendship and loyalty to owners, and their fearlessness against competitors. They excel in swimming and running and are able to leap over high fences.
Recently, more and more visitors come to Phu Quoc in search of the dogs, giving rise to four breeding camps on the island, which now raise about 600 dogs.
Vuong Trung Son Co, a company operating a farm in the Mekong Delta province of Hau Giang has started a breeding program to protect the breed, starting with 44 Phu Quoc dogs collected on Phu Quoc Island. The company has kept profiles for all Phu Quoc dogs at the farm and prevents cross-breeding to avoid hybrids.
Seeking the origin of Phu Quoc dog
Many documents and websites of Thailand state that Thai ridgeback is the ancestor of Phu Quoc ridgeback. Is it true?
On July 28, 1993, Thai ridgeback was recognized by the Fédération Cynologique Internationale (FCI) or the World Canine Organization in the world canine list, in group 5 – branch 7 (hunting dog with original features).
On December 10, 1996, Rhodesian ridgeback was recognized by the FCI, in group 6 (hunting dog by smell and related breeds, in the same group with Dalmatian).
Phu Quoc ridgeback was registered with the FCI in group 5 (original breeds and spitz) – branch 8 (original hunting dog with ridgeback).
Many Thai historians agreed that Thai ridgeback originated from eastern Thailand from over 300 years ago. However, according to website www.ianimals.com, there is no ancient document verifying its origin. Genetic analysis of 300 DNA samples of Thai ridgebacks in Thailand, conducted by the Fresno Veterinary University of California University (USA) in 2001-2002, shows that Thai ridgeback is the sole breed, which is not related to both Rhodesian or Phu Quoc ridgebacks.
But many Thai websites still confirm that Thai ridgeback is the "ancestor" of Phu Quoc ridgeback. They cite a painting on Tum-Pra Toon cave in Uthai-Thani province in Thailand, which are said to be over 3,000 years old that describes a dog which looks like today's Thai ridgeback.
These websites also say that in the ancient time, a Vietnamese king drifted to Thailand. When he returned home, he brought back a Thai ridgeback and this dog might be the ancestor of Vietnam's Phu Quoc ridgeback. From that supposition, Thai have developed a story about African travelers who brought Phu Quoc ridgebacks to their home countries to cross with their native hottentot breed to create the Rhodesian ridgeback.
Prof. Du Thanh Khiem, Rector of the Woluwe-Saint-Pierre Education Institute in Brussels, an expert of Phu Quoc ridgeback for over 30 years, did not agree: "All adventures and the history of Thailand are described in the book Abrégé de l'histoire générale des voyages by Jean-Francoise de la Harpe, a member of the French Academy. I confirm that Thai's supposition is not in that book."
Two American scientists, Merle Wood and Merle Hidinger, agreed with Thai, to say that in the past only Thai and Rhodesian ridgebacks have a ridgeback, so "Phu Quoc ridgebacks must originate from Thai ridgeback breed." They also said that at least 400 years ago, Thai fishermen brought Thai ridgebacks to Phu Quoc, which were ancestors of Phu Quoc ridgeback.
Researching Thai documents and Thai websites, Tuoi Tre daily reported that most of documents quoted were published since 1978.
Jack Sterling is the pioneer in importing Thai ridgeback into the US in 1994. He was interviewed by famous newspapers like The New York Times, Los Angeles Times, Esquire and Newsweek. In Thailand, he is called "Khun Jack Sterling" with respect. Thai people consider Khun Jack Sterling as on of the most famous Thai ridgeback breeders.
However, Khun Jack Sterling and the Thai Canine Association (DAT) had a controversy about the real origin of Thai ridgeback. The controversy began when a dog breeder named kimquiufc post photos of his Phu Quoc ridgebacks on Jack Sterling's Thai Ridgeback website. Jack Sterling emailed kimquiufc to ask him why he posted pictures of strange dogs on his website, which is only for Thai ridgeback. He also asked him about the strange dogs, which are very nice.
Jack Sterling then allowed kimquiufc to join his website to tell stories about Phu Quoc ridgebacks. According to this man, Thai ridgeback does not a dog breed of thousands of years. This is a cross breed between Vietnam's Phu Quoc ridgeback. Phu Quoc ridgeback may be the purebred breed that Thai used to create Thai ridgebacks by cross-breeding with Thai hybrid breeds many years ago.
To be continued
...
Part II: Phu Quoc ridgebacks go to the world