VietNamNet Bridge – When well-off patients are turning their backs against local hospitals, the Ministry of Health is seeking to "attract" them by diffusing Vietnam's medical achievements to the people, but...
Vietnamese hospitals extremely overloaded
Tragedy at public hospitals: having money, can't spend
Patients "blackmailed" at hospitals
$1 billion runs to Singaporean hospital/year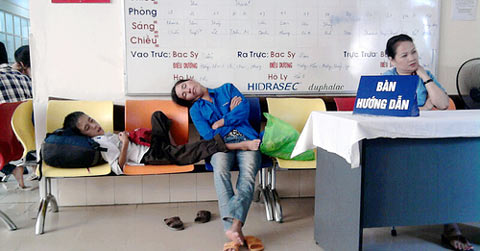 Speaking at a meeting with Deputy PM Nguyen Thien Nhan on July 2, 2011, Minister of Health, Nguyen Thi Kim Tien (Deputy Minister of Health at that time), said that Vietnamese patients spend around $1 billion per annum for treatment at hospitals in Singapore alone.
The number of Vietnamese patients who go to Thailand, South Korea and other countries for treatment is also high, according to the Ministry of Health. Therefore, Vietnamese people spend much more than $1 billion for overseas healthcare services.
According to the Ministry of Health, Vietnamese patients are not fully aware of achievements and progresses of Vietnam's healthcare sector, while the country's health sector has strongly developed to reach the regional and world level, as the Health Minister says.
Whether Vietnamese patients are not aware of this fact? Why do they go overseas for treatment?
Officials of big hospitals in Hanoi said that though Vietnam's medical techniques are not inferior to that of other Southeast Asian countries, Vietnamese people still flock to overseas hospitals because the quality of medical services and the attitude of health workers at overseas hospitals are so good in comparison with Vietnam's.
A woman who took her mother to the Raffles Hospital in Singapore said: "Before going to Singapore, I and my mother were very worried because we are not good at English and we do not have any connection there. But our worries quickly disappeared when we arrived at the hospital."
According to her, the Singaporean hospital was very clean, beautiful and patients were taken care very thoughtfully, as the true meaning of "taking care".
She said she did not have to wait for doctors. Health workers were very friendly and very eager with their job.
"The biggest difference between Singaporean and Vietnamese health workers, is that they did not menace and constrain patients to do this or that. They only gave consultations and patients make their choices," she added.
She said before going to Singapore, her mother was treated at a big hospital in Hanoi. The Vietnamese doctor told her that the disease could not be cured but her mother could prolong her life by using specialized medicines. These medicines however, were supplied by that doctor only.
"We had to pay high fees but they (Singaporean doctors) did a good job and they were deserved for the payment. In Vietnam, even when you pay highly, you cannot expect to receive worthy services," she said.
Thorny problem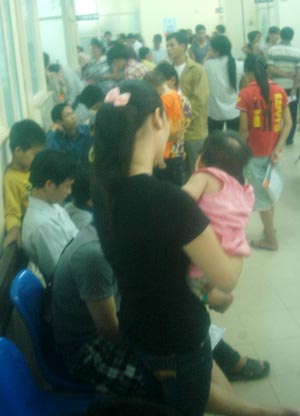 Dr. Nguyen Tien Quyet, director of the Vietnam-Germany Hospital in Hanoi, said that only a small part of patients who use overseas treatment services are fond of foreign products, the remaining patients go to foreign hospitals because of the imbalance of the supply and demand of medical services in Vietnam.
Ly Ngoc Kinh, former chief of the Medical Examination and Treatment Agency under the Health Ministry, said that many people in Vietnam have got rich and they do not satisfy with the local medical services.
"Our clinics face a contradiction: those that have good doctors cannot afford development and expansion and vice versa. This is a matter of policy and it cannot be solved overnight," Kinh said.
According to him, the quality of health services in Vietnam is too poor. "Foreign hospitals are similar as five-star hotels. They provide five-star services and they collect five-star fees. But in Vietnam, the best hospitals are similar as inns. If our big hospitals like Bach Mai and Vietnam-Germany have land and money to build five-star hospitals, Vietnamese patients will not go abroad."
While there is no land for building hospitals, many hotels, shopping malls and golf courses are mushrooming.
"The plan to upgrade district and provincial level hospitals has been canceled due to inflation," Kinh disclosed.
Cam Quyen