VietNamNet Bridge – While many poor patients don't have money for treatment, some rich people cannot spend money at public hospitals.
Vietnamese hospitals extremely overloaded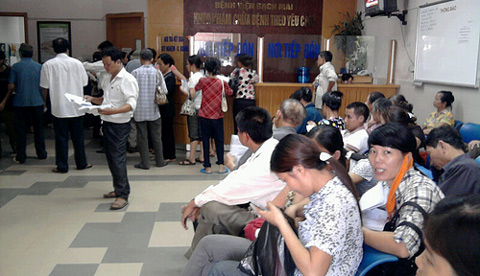 At a voluntary treatment ward.
This article doesn't aim in describing the need for healthcare services of the rich and not support the trend of socializing healthcare services to only benefit the rich, but reflects the fact: the ability of Vietnam's health sector fails to meet the people's diverse demands.
The poor have to accept poor healthcare services and facilities, while the rich are willing to pay highly to enjoy good healthcare services at public hospital but they are not satisfied.
Many public hospitals in major cities in Vietnam like Hanoi and HCM City open on-demand consulting rooms to serve the increasing demand for healthcare services of Vietnamese people. Though these consulting rooms quote very high prices for all services, they are always crowded with patients.
At the voluntary treatment ward of the Central Pediatrics Hospital in Hanoi, one patient who books check-up service in advance, via phone, has to pay VND390,000 ($18.5) of medical examination fees (not including charges for tests), and up to VND580,000 ($28) without booking in advance.
The fees for specialized medical examination is VND580,000 and VND680,000 ($32) for booking and not booking, respectively.
Meanwhile, the normal medical examination fees is VND80,000-90,000 ($3.8 – 4.2) and only VND30,000 ($1.2) for patients who have health insurance cards.
Similarly, the charges of testing services at the voluntary examination ward of the Central Pediatrics Hospital are 3-4 times higher than normal. The prices for patient rooms are also towering, from VND1.2 million ($57) per day for three-bed rooms, VND1.5 million ($71) per day for 2-bed rooms, VND1.88 million ($90) per day for one-bed room and VND2.3 million ($110) per day for one-bed room for post-surgery patients.
It is estimated that a patient has to pay VND20 million ($950) for seven days of treatment at this ward.
The Vietnam-Germany Hospital in Hanoi also has the on-demand examination and treatment ward. The room prices at this ward is between VND1-1.5 million ($47-71)/bed/day.
Though the services at these voluntary treatment wards are expensive, these wards are also overloaded.
Dr. Nguyen Tien Quyet, deputy director of the Vietnam-Germany Hospital, said that all patient rooms of VND1-1.5 million/patient bed at the hospital's voluntary treatment ward are never empty. Patients have to book in advance to get a bed there.
Doctor Tran Thanh Tu, chief of the voluntary treatment ward at the Central Pediatrics Hospital, told VietNamNet that his ward has to deny receiving more patients because it is out of patient beds. "These are on-demand services and patients have to pay a lot of money to enjoy the best services, so we cannot combine two patients in one bed," Tu said.
The medical examination fees at voluntary examination ward are very high but consulting rooms are overloaded all the time. The Central Pediatrics Hospital's on-demand consulting rooms welcome 130-200 patients a day. On average, each doctor has to serve 20 patients per day.
The appearance of on-demand healthcare services has exposed the tragedy "having money but cannot spend" of the rich with medical services in Vietnam.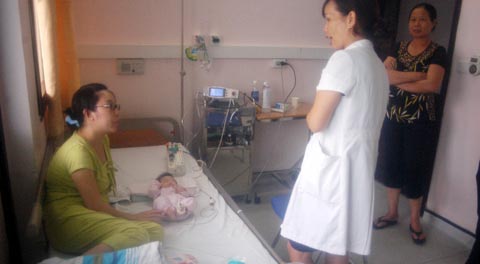 Mrs. Vuong, who brought her two-year-old son to the voluntary treatment ward of the Central Pediatrics Hospital for examination, said: "the doctor refused my son's hospitalization because there was no bed left. I told them that if normal rooms were full, I would hire the most expensive room, but they said all VIP rooms were full. My son was only examined there and had to hospitalize to a normal room to share a bed with two other kids."
At the Bach Mai hospital's on-demand treatment ward, the examination fees is quite low in comparison with other hospitals, only VND50,000 ($2.4) and VND100,000 ($4.5) if the doctor is a professor.
This ward is also overloaded and it does not offer resident services. If patients are billionaires, coming to this hospital, they have to share beds with several patients. Bach Mai is the largest and most prestigious hospital in Hanoi and Vietnam so even rich people have to except its poor facilities.
Cam Quyen