VietNamNet would like to introduce the third part of our round-table talks with Dr. Nguyen Chu Hoi and Dr. Tran Dinh Thien about Vietnam's marine economy.
Deep water, U-shaped line and marine sovereignty enforcement
How to turn marine strategy into reality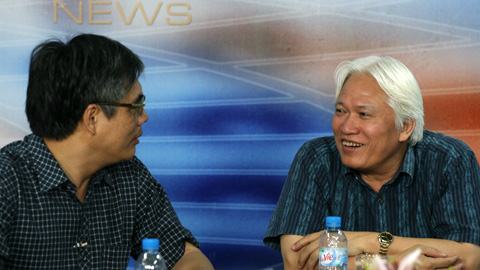 Dr. Tran Dinh Thien (left) and Dr. Nguyen Chu Hoi.
VietNamNet: Let's switch to coastal economic zones. At the forum on marine economy in Hai Phong last year, you said that because Vietnam's ability to conquer the sea is poor, it has to take coastal economic zones as pedals. What could we learn from current 15 open economic zones to develop coastal economic zones?Dr. Tran Dinh Thien:
Briefly, developing coastal economic zones is one way to develop marine economy. These economic zones must be connected with sea ports. Vietnam has 15 coastal economic zones but most of them operate unsuccessful. We do not take advantage of capability and advantages of these zones.
Normally, economic zones operate under specialized policies and institutions but in Vietnam, These zones do not have necessary factors to prove their level of development, in both policy and technology. For example, the Hai Ha economic zone in Quang Ninh province or Chu Lai in Quang Nam province has nothing much, though a lot of money has been invested in these zones.
The approach to economic zones, in my opinion, must be reconsidered seriously and be changed fundamentally. Coastal economic zones are not only economic zones. They must have special characters related to the sea. Our current economic zones are somehow similar to industrial zones. That is the waste of natural resources and advantages.
If we see these economic zones as a "bases" to develop marine economy and the most importance co-ordinates, we have to change our vision and our actions. We have to give priority to research and concentrate investment in these zones. I want to emphasize that the vision on sea economic zones must be clear.
Why we open marine economic zones? To attract the best resources and from these zones, we can develop the surrounding areas.
How to attract the best resources? The best here means the best of the world and then the best of Vietnam. To lure the best, the institution and policy of these zones must be the best. The rules must be clear, transparent and open the most. Conditions for talents to develop must be clear. The policy to encourage creativeness must be at the highest level.
We should pay attention to the development of Shenzhen in China and Inchon in South Korea. They are the typical examples of the concentration of the best institution and most power resources.
Another factor is the strategic position of economic zones. Whether they are linked with international sea routes? Not all sites where have big sea ports are good for building coastal economic zones.
For example, Hai Phong is located deep inside the Tonkin Gulf while Van Phong is near the international sea lane. Therefore, Van Phong is the best for building an international transit port. Van Phong has good connection to the outside but not to inside because on the mainland it is connected to mountains. Van Phong is not suitable to build an economic zone right now but in the future. Hai Phong, Cai Mep – Thi Vai are better choices.
Besides this, good policies and institution, huge investment, joining the world production chain is also very important for economic zones.
We must choose some economic zones to develop because we are unable to develop such many economic zones, plus over 200 industrial zones.
I suggest developing three marine economic zones, which must be free economic zones, including one in Hai Phong, one in Da Nang and one in Vung Tau. These are major co-ordinates to form centers of development.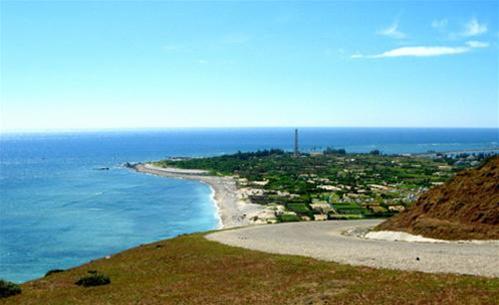 Ly Son Island.
Dr. Nguyen Chu Hoi:
Some people think that developing a chain of coastal economic zones is the breakthrough solution to implement Vietnam's marine strategy to 2020. But they are not special at all. They are similar to 200 industrial zones throughout Vietnam. Actually, without the sea, these zones are still built and now we have the marine strategy so these zones are linked incidentally with that strategy.
Developing coastal economic zone is just an idea. To consider it as a breakthrough solution, we must weigh it carefully. As Dr. Thien said, we have industrial zones and economic zones. What is different between them?
Coastal economic zones are high-class models of the world, so we can't develop all of them at the same time. We should learn from lessons of building beer, tobacco factories and deep-water ports everywhere. It is unwise for a developing country to develop coastal economic zones en massive.
Designing a policy to attract high-profile investors into these zones is also the top priority.
We have to change our thought, particularly rubbing out the localism. If we choose Hai Phong to build coastal economic zone, northern provinces should not be jealous with Hai Phong because Hai Phong's development will promote their development. They must understand that it is not investment for only Hai Phong but for the entire northern region. It is similar for the central and southern regions.
It is a tragedy of development when all provinces develop industrial zones on a large scale. These industrial zones attract all kinds of industries and use poorly-trained human resources. We need to do different with coastal economic zones.
Investors not only make comparison between locations of investment in Vietnam, for example between Vung Tau and Da Nang, Hanoi and HCM City but between Vietnam's locations and Thailand or China's locations of investment.
Competition is fierce so we must see to the world. This is the issue of vision and approach to development institution.
In addition, human resources are the key. The human resources at industrial zones and economic zones must be well-trained.
VietNamNet: Both of you have mentioned the fact in Vietnam: implementing development projects in a large scale and wanting to implement them very quickly. That thought is showed clearly through the pilot program to establish state-owned economic groups. When the law did not define what is a State-owned economic group, when we had had 8 economic groups already.Dr. Nguyen Chu Hoi:
Another example is the building of a series of economic zones. Notably, the management body of economic zones – the highest form of development – is provincial governments. It is a paradox because a highly-developed economic model is managed by an administrative mechanism which is sometimes very backward.
How should this experience help us in developing coastal economic zones?
Dr. Tran Dinh Thien:
That's right! A very obvious example is large port cities always have port authorities, which are different from the authorities of mountain provinces.
To absorb the world's best resources, such economic zones must have institution and human resources that approach the world's best. For example China's Shenzhen: the average age of Shenzhen people is 26-27 because the elderly cannot live there. Only creative people who can sustain violent competition and high pressure can live there.
TVN