VietNamNet Bridge – High-ranking General Vo Nguyen Giap is a legendary general of Vietnamese people and international friends. The country is about to celebrate Mr. Giap's 100th birthday, which will fall on August 25.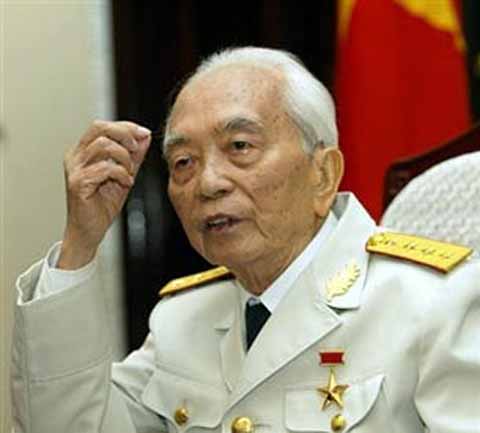 High-ranking General Vo Nguyen Giap
On this occasion, Colonel Nguyen Huyen, who has been working for the general for nearly 40 years, including 20 years in charge of the general's office, told reporters about the current situation of the legendary general.
You have just visited the general at the Army Hospital 108. Could you tell us the recent health situation of the general?
I visit the general three or four times a week. His health is stable now. He is of sound mind but we still need to conserve his health so visits are restricted.
Today I asked him "Do you feel painful?", he shook his head. Several days ago, when I asked him that question, he pointed his finger to his stomach. When I came, he shook my hand and when I left, he held my hand tightly.
What were your first impressions of General Vo Nguyen Giap?
In 1975, I was assigned to work at the office of the Ministry of Defense. After that, I was appointed as an assistant to the general, in charge of news. At that time the general needed someone who collected daily local and international news.
The general was a man of work, with high intensity. That was my first impression. He always worked until midnight. His mind had no time to relax. He even worked during meals. He was always ready to work. When I started working for him, he was 65 years old already.
In the morning, the general did exercise while listening to my report. I was present at 5 or 6am to follow him to tell him the news.
There was a time the general's office had 17 staffs, including 8 majors, lieutenant colonels and colonels who were his assistants. Each of them was in charge of one field, for instance military, economic affairs, politics, sci-tech, education and the Party and State's tasks. Sometimes all of them focused on one task assigned by the general.
The office had to work day and night to meet the general's requirements. Research staffs had to keep an eye on their field of research and made daily reports to assist the general to prepare for his meetings with officials, agencies, etc.
In the 1980s and 1990s I saw the general worked non-stop, even during the weekend. Once I proposed: "You should stay at home to relax this Sunday." He immediately answered: "You think that staying at home is relaxation? I'm more tired if I do not have any new information."
Since then I have never asked him to take a rest. And all of us were always willing to work with him on weekends.
The general always wants to get and process information. At the age of 70 to 80, he regularly paid visits to many localities, army units and agencies to learn about the real situation.
What is your second impression of General Vo Nguyen Giap?
He has a great mind. He is very intelligent. To make daily reports, I had to read many bulletins. Sometimes I had to read a bulletin twice to thoroughly understand them. But I only had to read reports once while he was doing morning exercise. When I was managed to read it again, he said "okay, I've got it" and he told the core of the news.
Sometimes, he was walking in his office and read for me to take notes of over 20 pages.
Before meetings or workshop, he often dashed his ideas, never prepared ready-made speeches.

How was the general's behavior to his inferiors and his family?
As a high-ranking official, a general who led the army but he still pays attention to his inferiors. He regularly inquired after our families. When he had free time, he paid visits to our homes. We always serve him wholeheartedly, not for responsibility but for our love and respect to him.
He is an exemplary husband. The general and his wife are always interested in educating their children and grandchildren. His family is very happy. That is an important factor to facilitate the general to fulfill his missions and is long-lived.
What does the general hate most?
He hates flattering most. He does not like anyone who is obsequious and tries to please him. I still remember that once a high ranking official who had just returned from a foreign trip visited the general and said "In that country the one like you would have been cast a statue a long time ago". He answered "What did you say? That's their job!"
General Vo Nguyen Giap is a brilliant general. Is he strict in matters of principle?
He is very serious at work but he is flexible. He is also humorous. For example, when we were concentrated at work, I had an unexpected affair so I asked his permission to take a break for ten minutes. He told me "You can take a break for up to 11 minutes!"

In case others have different opinion from his, does the general accept and how does he accept that opinion?
He loves honesty and straightforwardness. He told us to keep our opinions if we feel them right. The general always listens to opinions of others, though he may not agree with it. That's why wherever he visits, people want to tell him their matters.

Once I interviewed a military officer, he said that the rumor that the general hangs a "Nhan" word in his office is wrong. Could you make clear this rumor?
It is an entirely made-up story! The general does not hang that word in his office. Once a person told me his intention to present the general with a calligraphic work which features the word "Nhan". I said that word can be understood two ways.
The first is patience and the second is resignation. The general has never been a resigned person. I advised him to not present it to the general because others may have misunderstanding of that word.
A newspaper published a poem entitled "Nhan word" and noted that it is written by the general, but the general does have such as poem and that newspaper had to make correction. That poem has the following line "Sometimes you have to be resigned to succeed in life" but our general has never been like that.
He always takes initiative in everything. He can also stick to his opinion without causing disunity and is able to convince others.
What do you feel about yourself after many years working besides the general?
Working beside the general, my mind has been broadened. I've learnt a lot from the general: morals, knowledge, working method and behavior.
I'm very happy to have opportunity to work and have a strong attachment for such a long time to Mr Giap – an outstanding general of benevolence and righteousness who always gives himself to the country and the people.
TTXVN