VietNamNet Bridge – Many families got exhausted, faced lawsuits, etc. because they had blind confidence in telepaths.
Reality and myth about Phan Thi Bich Hang
Nguyen Thi Nguyen's "supernatural" ability
Portraits of famous Vietnamese telepaths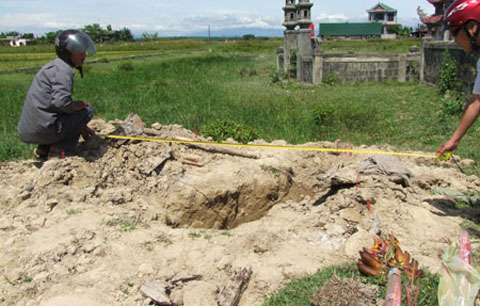 The tomb of Mr. Le Van Thanh disappeared.
Wrong remains
This is a true story happened for Mr. Le Van Thoi's family in Gio Linh district, the central province of Quang Tri. Normally, people lose valuable assets, but Thoi's family lost a tomb – the tomb of his elder brother. Thoi had to report the case to local police and asked them to find the remains.
Thoi related: on June 8, 2011, he discovered that the tomb of his elder brother – Mr. Le Van Thanh who died in 1999 – disappeared. There was a deep hole left at the site.
Two days ago, some locals saw a seven-seat car with a banner "Searching for tombs of martyrs" in the cemetery.
Local police investigated and found out that the tomb of Mr. Thanh was removed to the cemetery for martyrs in Tan An commune, Tan Ky district, the central province of Nghe An by Mr. Hoang Van Tung's family.
Tung told police that under the instruction of a telepath in Nam Dan district, Nghe An province, he dug up the tomb of Mr. Thanh and removed the remains to Nghe An province because he believed that the remains belong to his relative, martyr Hoang Van Vinh who sacrificed in 1967 in southern Vietnam.
Having blind confidence in the telepath, Tung's family still brought the remains of a stranger to their home cemetery though they saw many abnormal phenomenon; for example the coffin looking very new, the dead wearing a suit, with a cigarette pack and a lighter, etc.
Tung's family returned the remains and built a new tomb for Mr. Thoi's family.
In fact, many families asked for telepaths' assistance to search for lost tombs, but they were not sure that the remains they found are the true remains of their relatives.
The newspaper of Nghe An province published many stories that thanks to telepaths' assistance, families of some martyrs found out the lost remains but finally the remains were not true.
When trust becomes fanaticism, some people broke houses and roads to search for lost remains, ignoring consequences.
On February 16, Mr. Nguyen Dinh Long from An Nhon district, the central province of Binh Dinh hired dozens of workers and machines to dig up the road to Go Da Trang industrial zone in Dap Da town, An Nhon district to search for the tomb of his father, at the instruction of a telepath from Hanoi.
Long dug up a long section of road but did not find out the lost remains. Local authorities asked Long to stop digging the road and fined him for destroying public works. The telepath, at that time, ran away.
Mr. Tran Van Tien in Duy Xuyen district, the central province of Quang Nam asked for telepath Doan Thi Anh Tuyet, 43, from Duy Xuyen district to help search for the lost tomb of his relative.
The 'telepath told Tien that the remains were under the ground of Mr. Le Ban's house in Nam Phuoc town, Duy Xuyen district. Tien and his family members dug up Ban's house to find remains but they did not find anything.
When police officers came, a deep hole was dug on the ground of Ban's house. A new coffin was placed near the hole. 'Telepath' Tuyet said that the coffin contained the remains that were found under the ground of the house. Police checked the coffin and saw only soil in it.
The 'telepath" confessed that she is a farmer. To earn more, she worked as a tomb searcher. She 'helped' many families search for lost tombs. Many of them did not find lost tombs. Many officials and teachers asked for her "help" though they had to pay million dong for the service.
Going crazy because of telepath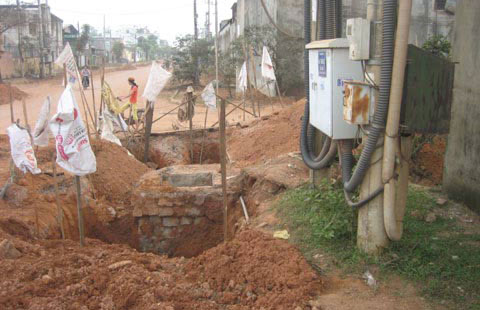 A road was dug up to find lost remains.
According to Dan Viet newspaper, at least 13 people went to hospital for mental illness after searching for lost tombs by telepathy in the central province of Nghe An.
Mr. Phan Suu in Hung Nguyen district, Nghe An has his son Phan Trong Truong as a martyr whose remains is missing since 1971. In early 2011, a woman named Pham Thi Thuong opened a center to search for lost tombs of martyrs by telepathy. Thuong said that the soul of a martyr named Pham Khac Viet incarnated into her to search the lost tombs of other martyrs.
Suu went to this center to ask for help. After three consecutive days attending a séance there, Thuong told Suu to went to the central province of Thua Thien-Hue to seek the tomb (though Suu's family was informed that his son satisfied in Gio Linh district, Quang Tri province).
The family did not find out the lost tomb after several trips to Thua Thien – Hue. Telepath Thuong blamed the family to be "mean" because they placed only several tens of thousands of VND on the altar at Thuong's house, which is "not enough for the soul of martyr Pham Khac Viet to buy a breakfast, so he could not be incarnated."
After a month searching for the lost remains at the instruction of Thuong, Suu's brother (who was incarnated by the soul of martyr Pham Khac Viet, as telepath Thuong said) had symptoms of mental disease.
Doctor Nguyen Duc Toan, from the Nghe An Mental Hospital, said that many people suffered from mental diseases after searching for lost remains by calling for the assistance of "souls", with the assistance of telepaths. Some of them are treated at home. Toan mentioned a patient who was beaten by their relatives during séance because the telepath told his relatives to hit him strongly to urge the incarnation.
Many people got into a state of panic and had to go to hospital after joining séances at a telepath named Mr. Hong in Duy Tien district in the northern province of Ha Nam.
Phap Luat Viet Nam newspaper quoted the story of Mrs. Nguyen Thi H, 48, from Thai Binh province. Wishing to search for the remains of her brother, who sacrificed in the war of resistance against the US, H and her family met with Mr. Hong.
After a séance, "H" exposed abnormal symptoms. She was paranoid. Sometimes she called others "comrades," she walked in military style, etc. The woman was brought to a hospital in Hanoi for treatment. She recovered after two months.
Nong Nghiep Viet Nam newspaper published another story of Mrs. Nguyen Thi Xuan in Vinh city, Nghe An province.
Xuan's uncle Nguyen Van Nguyen is a martyr who's remains is missing. In early 2011, a man named Ho Xuan B in Hung Nguyen district, Nghe An province called himself a telepath who can search for lost remains of martyrs. Xuan's family saw this man to ask for help.
After several séances at the 'telepath's' house, Xuan went crazy. Coming home, she screamed, insulted her husband and her children and beat them. Xuan's husband told the 'telepath' about the phenomena. The telepath said that the soul 'incarnated' into Xuan and he sent his disciples  to "save" Xuan, but the woman was still in madness. The woman was hospitalized to the Nghe An Mental Hospital. After several months, she has recovered.
Minh Anh – Lan Chau