VietNamNet Bridge - An editorial headlined "American shadow over East Sea" in the Global Times, a newspaper viewed as a mouthpiece of China's Communist Party, stated that "China will never waive its right to protect its core interest with military means."
Security environment in the East Sea and efforts for managing the disputes
The East Sea disputes
China's "core national interest"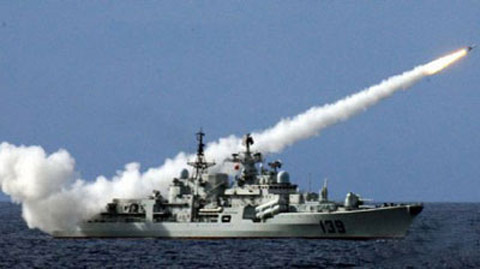 The most significant development in the East Sea is that in March 2010, senior Chinese officials told U.S. high-ranking visitors that China had put the East Sea into its "core national interest" category of non-negotiable territorial claims—in the same level as Taiwan and Tibet. It possibly means that Chinese authority has to defend its newly categorized national interest in the East Sea by all costs, including the use of force.
An editorial headlined "American shadow over East Sea" in the Global Times, a newspaper viewed as a mouthpiece of China's Communist Party, stated that "China will never waive its right to protect its core interest with military means." If this position is adopted officially by Beijing, it clearly goes against spirit and text of the DOC. However, China never officially denies of confirms its position regarding elevation South China Sea in to "core interests" category.
Several factors contributed to explain why China has come back to an assertive approach in the East Sea in recent years. First, China for decades has accumulated its power, economically and militarily, to the level that make it become more self-confident and assertive in external behaviors, especially during and after the world financial crisis.
Second, stabilizing the relations between China-Taiwan has diverted Chinese priorities, capability and resources to other issues, notably to the East Sea issue.
Third, rising nationalism and increasing role and activities of PLA and competition of interest groups (law enforcements agencies, energy corporations) have complicated the process of policy formulation and implementation of China toward the East Sea issue.
Fourth, actions taken by other claimants forced China to react and overreact.
Fifth, the lack of workable mechanism in managing the disputes in the East Sea, especially in regulation the conduct of parties, including China.
ASEAN's concern, US involvement and China's softened tone
Chinese increasing assertiveness in the East Sea in recent years worried ASEAN countries and created opportunities for United States to "come back" to Asia. At the 43rd ASEAN Foreign Ministers Meeting in Hanoi on July 19–20, 2010, ASEAN Ministers 'stressed the importance of maintaining peace and stability in the South China Sea,' 'reaffirmed the importance of the DOC,' 'underscored the need to intensify efforts to ensure the effective implementation of the Declaration,' and 'looked forward to the Regional Code of Conduct in the East Sea (COC).'
ASEAN Ministers also tasked ASEAN Senior Officials to work closely with their Chinese counterparts to reconvene the ASEAN-China SOM on the DOC at "the earliest opportunity."54 In response, at the ASEAN-China Foreign Ministers Meeting, China's Foreign Minister Yang Jiechi agreed to implement the DOC, but declared that an ASEAN-China SOM meeting on DOC will be held in an "appropriate time".
At the 17th Asian Regional Forum (ARF) on July 23, thirteen foreign ministers (including five from ASEAN countries) brought up the East Sea issue and supported the ASEAN-China DOC. For the first time in this level in an official meeting, U.S. Secretary of State, Mrs. Hillary Clinton, delivered a long statement on US position on the East Sea issues. She said that the United States has a national interest in freedom of navigation, open access to Asia's maritime commons, and respect for international law in the East Sea. Clinton said the United States supports a collaborative diplomatic process, supports the 2002 ASEAN-China DOC, encourages the parties to reach agreement on a COC, and is 'prepared to facilitate' initiatives and confidence-building measures consistent with the DOC.
In response, China's Foreign Minister Yang Jiechi highlighted the ability of the DOC to enhance mutual trust and to create favorable conditions and good atmosphere for final solution to the disputes. But he insisted that the East Sea issues should not be internationalized, that the DOC should not be viewed as between China on one side and ASEAN on the other, and that disputes should be handled on a bilateral, not multilateral, basis. He also pointed out that there have been JWG consultations on DOC, and "when the conditions are ripe", a SOM can also be held.57 An article released immediately after ARF 17 in the website of Chinese Ministry of Foreign Affairs considered that Clinton's remarks were in effect "an attack on China".
Similarly to situation in the final stage of COC/DOC negotiation aforementioned before, the intervention of the United States into the East Sea and increased US cooperation with ASEAN countries possibly exerted influence on China's calculations. China's strategy has been concentrating on preventing the East Sea issue from being multilateralized and internationalized, especially from US interference. In July 2010, response to Clinton's remark at ARF 17 in Hanoi, Chinese Foreign Ministry warned that turning the East Sea issue into an international or multilateral one will "only make matters worse and the resolution more difficult". In September 2010, China has also tried to prevent the ASEAN-US Summit from discussing the South China Sea issues by voicing its opposition to the U.S. proposals on the East Sea.
In China the strength of the Clinton's statement and responses of a number of other countries has created a debate over whether the claim is wise with elevating the " East Sea " to be "core interests". According to article in August 27th , 2010 of columnist Li Hongmei in People Daily, an official news paper of China's Communist Party, said that some Chinese military strategists and scholars believed that incorporating the East Sea into the package of China's core national interests is, at least currently, "not a wise move". They considered that the claim would "upset and enrage the US" and could "strike a nerve with China's neighboring countries". The claim could "facilitate the US to bring its carrier close to the Chinese home and make the regional issue (East Sea) international …to strengthen US leadership and its economic, military, and political presence in East Asia". Some even recognized that "the claim is not in accordance with the international standard practice".
On July 27th, 2010 the Global Time suggested that "Clearly stating China's intention (in the East Sea) and easing the concerns of other countries remains a challenge for China in the future. As the largest country in the region, China has the responsibility to reduce the divergence and build a consensus." The Global Times also said in an editorial in November 3rd that China "needs to consider holding back a little bit" on territorial issues (in the East China Sea and the East Sea) if the country wants to ensure sound development in East Asia without allowing U.S. intervention in regional affairs. "What China needs to do is not simply to get tougher,". "It should work toward a practical solution to end the disputes". "If this is hard to achieve, China should at least try to avoid developing a situation that caters more to U.S. interests than to Asia's." The editorial said China has to acknowledge the fact that disputed islands "cannot be taken back in a short period of time."
Signaling increased efforts at maintaining peace in the region, in a press briefing in Manila at the end of September 2010, Chinese Ambassador to the Philippines Liu Jianchai said China and Southeast Asian countries have initiated discussions at the working level to "draw up a code of conduct". "(China) is ready to work with the other parties concerned on this document" and
now "open to different formulas and initiatives in preserving peace, prosperity and stability in this region".
At forum of Asian defense ministers ADMM+ in Hanoi in October 2010, although the East Sea issue was not in official agenda, representatives of seven nations raised the issue of how to guarantee maritime security for all countries surrounding East Sea. US Defense Secretary Robert M. Gates reiterated Clinton's comments in ARF in July 2010 that competing claims in the East Sea should be "settled peacefully, without force or coercion, through collaborative diplomatic processes, and in keeping with customary international law". He said that "US have a national interest in freedom of navigation; in unimpeded economic development and commerce; and in respect for international law".
Contrast to Yang Jiechi' reactions at ARF 17, the Chinese defense minister, Liang Guanglie, called for "mutual trust" throughout the region. He said neighbors needed not fear his nation's military. "China pursues a defense policy that is defensive in nature". "China's defense development is not aimed to challenge or threaten anyone, but to ensure its security and promote international and regional peace and stability". He did not describe the East Sea as a region of "core interests".
According to the Plan of Action to Implement the Joint Declaration on ASEAN-China Strategic Partnership for Peace and Prosperity (2011-2015) released after the ASEAN-China Summit in November 2010 in Hanoi, China committed to work with ASEAN "push forward the full and effective implementation of the DOC in the East Sea" and "toward the eventual conclusion …of a code of conduct in the East Sea".
In November 4, 2010, Chinese Assistant Foreign Minister Hu Zhengyue said China is making efforts to establish a new security concept that China remains committed to playing "a constructive role" to address important regional and international issues, including to peacefully resolve disputes on territory and marine rights through friendly negotiations with neighboring countries.
Chinese softened tone in diplomatic front seemingly corresponds partly with activities taken by China on the sea in recent time. Just before ADMM Plus Meeting in Hanoi in October, after a number of diplomatic protests from Vietnamese side, China informed Vietnam that it would unconditionally release the trawler and nine fishermen detained near Paracel islands more than a month before. In 17th August, U.S. deputy assistant secretary of defense Robert Scher said in a press conference in Hanoi that the Pentagon had not seen any "recent" Chinese intimidation of global oil and gas companies operating in the East Sea.
New round of tension?
However, the question remains that whether China have softened its tone in recent months after ARF 17 reflects a shifting in policy or just tactics in dealing with the East Sea issue. Most recent development occurred on November 2, 2010, when the Marine Corps of the Chinese People's Liberation Army staged a military drill in the disputed East Sea massing 1,800 troops and more than 100 ships, submarines and aircraft for a live-fire display of a growing military power. Li Jie, a Beijing-based naval expert, denied that it was a special signal, but he commented that China chosen the East Sea theater to show naval capacity and strength. Li said "Some countries intervene in the East Sea in recent years, jointly conducting military exercises with our neighboring countries, so it's time for us to oppose these interventions with power politics,"
This unpredictability in China's policy on the East Sea partly also reflects on the table of negotiation on the implementation of the DOC. At the fifth meetings of ASEAN-China JWG in Kunming, China in December 2010, China just came back to its previous position of bilateralism by proposing to delete the point 2 of the Guidelines and to consider that the Guidelines are guiding principles for implementing only the "agreed joint cooperation activities stated in the DOC", not for implementing the Declaration at whole. China refused to agree on organizing ASEAN-China SOM on DOC implementation by arguing that the SOM can not be held until JWG reached a consensus on the Guidelines.
Most recent incidents underscored China's continued assertive approach in the East Sea disputes. On March 2, two Chinese patrol boats aggressively harassed the seismic survey vessel operating by Energy Forum company, which had been awarded a contract by the Philippine government to exploration of gas field located inside Reed Bank, an area 80 miles west of Palawan. The Aquino administration has protested at least six incidents, including Reed Bank incident, involving alleged Chinese intrusion into waters within the Philippines 200 nautical miles exclusive economic zone.
Other serious incident relating to report of the Philippine military in June 2011 that a Chinese surveillance vessel and navy ships were seen unloading building materials and erecting posts in the vicinity of Iroquois Reef and Amy Douglas Bank – an uninhabited undersea hill claimed by the Philippines about 230 kilometers from southwestern Palawan province. If report of Philippine military is correct, it is clear that China seriously violates the DOC 2002, in article 5 of which states that "The Parties undertake to exercise self-restraint in the conduct of activities that would complicate or escalate disputes and affect peace and stability including, among others, refraining from action of inhabiting on the presently uninhabited islands, reefs, shoals, cays, and other features and to handle their differences in a constructive manner."
On May 26, 2011, other incident, in this time between China and Vietnam, took place in an area just about 80 miles off the south-central coast of Vietnam, within Vietnam exclusive economic zone, when three Chinese patrol boats harassed a Vietnamese ship Binh Minh 02 exploring for oil in the East Sea, damaging equipment and warning the ship that it was violating Chinese territory.                                                            
Similar incident occurred on June 9, 2011, when a Chinese fishing boat, with support from Chinese fishing patrol vessels, rammed the survey cables of the PetroVietnam ship Viking II, which was conducting a seismic survey in Block 136-03, an area within 200 miles exclusive economic zone of Vietnam and more than 622 miles from China's Hainan island. Vietnam MOFA spokesperson Nguyen Phuong Nga said "these acts are tailored in a very systematic way by the Chinese side with the aim to turn undisputed areas into disputed areas,". The Viking II incident took place only four days after Chinese Defense Minister Liang Guanglie reassured neighbors at Sangri-la Dialogue in Singapore that China poses no threat.
Conclusions
As the most powerful country, China sets the tone for the dispute in the East Sea. As Beijing adopted a more accommodating stance in the East Sea disputes the Declaration on the Conduct of Parties between China and ASEAN was reached in 2002.A relatively 'softer' China's policy toward the South China Sea might stem from certain factors, including: i) ASEAN's consensus and solidarity; ii) an increasing engagement from outside forces, especially the United States, in the South China Sea issue; and iii) China's need to project a good image and promote its relations with other countries in the region.
Since 2007, as Beijing corrected its policy toward the East Sea issue with more assertive approach, the situation was tense again. Opportunities have been created for United States to intervene into the issues and strengthen their position in the region. In last months of 2010, Beijing has voiced a softer tone on the issues to ensure neighboring countries and to gain back partly damaged image in the region. However, China have softened its tone in recent time reflects just tactics in dealing with the East Sea issue. In the near future, China likely will continue pursue its assertive approach in dealing with other smaller claimants in the East Sea disputes.
To promote regional security and cooperation, China and ASEAN should successfully implement the DOC and Beijing should accept a legally binding regional COC, which would ensure smaller parties from being intimidated and making them more confident to proceed with the cooperative activities in the East Sea.
Dr. Tran Truong Thuy
(Dr. Tran Truong Thuy is Director of the Centre for East Sea Studies at the Diplomatic Academy of Vietnam)