VietNamNet Bridge - A rise in the number of strikes at Vietnam-based, foreign-invested enterprises has sparked calls for an overhaul of the current salary regime.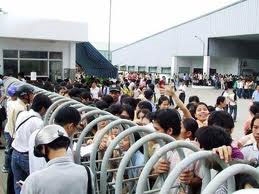 Workers strike back to prompt wage move Khoi Nguyen A rise in the number of strikes at Vietnam-based, foreign-invested enterprises has sparked calls for an overhaul of the current salary regime.
More than 1,300 workers making footwear at Taiwanese-backed Sun Jade Vietnam Co., Ltd at central Thanh Hoa province's Le Mon Industrial Park last week staged a two-day strike demanding a pay rise and improvements to their working environment. The workers are said to receive a basic salary of VND1.15 million-VND1.25 million ($57.5-$62.5) per month.
This was not the first strike by Sun Jade's workers. On October 15 last year, over 1,000 workers from the firm downed tools. And in early January, 2009, workers also staged a similar strike.
In a similar development, workers at Haiphong city's Taiwanese-backed shoe maker Tan Nguong Company went out on strike in early April this year. Thousands of workers launched a nine-day strike, leading to $40 million in losses to the company and forcing the company to revise its salary four times.
Southern Dong Nai province's Department of Labour, Invalids and Social Affairs (DoLISA) director Le My Phuong said such strikes were common now because many foreign-invested enterprises (FIEs) refused to boost their worker pay packets. Dong Nai is one of Vietnam's foreign direct investment hubs.
"If FIEs persist with their current salary regime, they will face more and more strikes and lose their workers," Phuong told VIR.
Statistics from Vietnam General Confederation of Labour (VGCL) show that Vietnam has played host to over 3,840 strikes since 1995. There were 424 strikes in 2010 and over 220 strikes in the first three months of this year. Over 80 per cent of these strikes involved FIEs.
Dong Nai saw over 100 strikes in 2010 and there have been over 60 strikes so far this year. Most were triggered by workers at FIEs. Meanwhile, northern Hai Duong province's DoLISA reported that there had been some 20 strikes in the province since early 2010, all involving workers at FIEs.
The VGCL said that salary issues were largely responsible for 90 per cent of strikes in Vietnam. According to governmental Decree 107/2010/NDCP dated October 29 stipulating region-based minimum salary levels for Vietnamese workers at FIEs, foreign agencies and organizations, the minimum salary is VND1.55 million ($77.5) in urban areas and VND1.1 million ($55) in rural areas.
Cao Ba Khoat, director of Hanoi-based K&Associates law firm, said current minimum salary levels for FIEs were "insignificant". "Given soaring inflation, a revamp in salary levels is a must," Khoat said.
According to a recent Ministry of Planning and Investment report on the impacts of inflation on public life, in 2010, the average salary for workers in all types of enterprises in Vietnam climbed 10.3 per cent against 2009. The average monthly salary at FIEs was VND3 million ($150), up 11 per cent year-on-year. However, last year's consumer price index (CPI) rose 11.75 per cent against December 2009. The CPI in May this year was up 19.78 per cent against May 2009.
Thus salary hikes had failed to help workers make ends meet and relations between employers and employees were becoming tense, the report said.
Source: VIR