VietNamNet Bridge – It is a fact that many Chinese ships have penetrated deep into Vietnam's sea to make threats against and rob Vietnamese fishermen these days.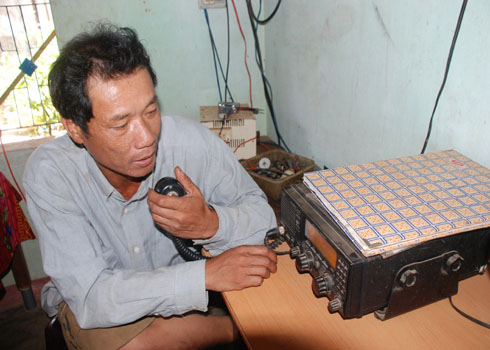 A switchboard operator talked to captains of fishing boats in Hoang Sa on the phone.
The ship PY92134 landed at the Dong Tac fishing wharf in Ward 6, Tuy Hoa city in Phu Yen province in central Vietnam on the morning of May 30, with four other fishing boats. Captain Nguyen Thanh Hiep, who has worked as an ocean tuna catcher for 15 years, said: "Many ships with Chinese flags and Chinese scripts appear in the sea of Vietnam. I see them everywhere."
Captain Nguyen Dinh Nha, also from Phu Yen province, said that since the lunar New Year, he has seen a lot of Chinese squid catching ships in the sea of Vietnam. Each group includes 8-10 boats, which are as three to four times bigger than Vietnamese ships.
Vietnamese fishermen said that Chinese boats often hinder and threat Vietnamese fishing boats from catching fish in the sea of Vietnam. In some cases, they seized all of Vietnamese fishermen's catch in Vietnam's exclusive economic zone.
Captain Tran Van Thoa from the central province of Quang Ngai, has just returned to the mainland after a one-month trip in the sea. He recalled: "After two days in the sea of Hoang Sa, we caught around one ton of fish. But in the morning of May 6, a big ship with Chinese flag got close to our boat and overwhelmed us with guns."
According to the captain, the Chinese ship forced two Vietnamese sailors to shovel fish from their ship to the Chinese ship. After that, they searched the ship to rob some assets and chase the boat out of Vietnam's Hoang Sa sea.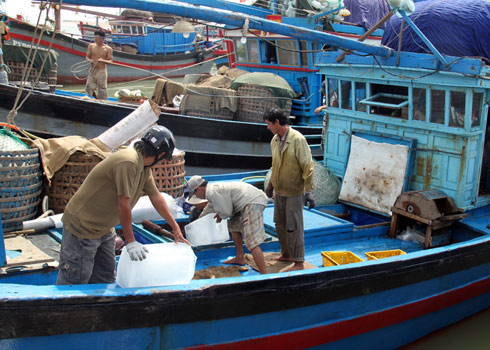 A group of fishing boats in Phu Yen province prepare for a new trip.
"During this trip, we saw many Chinese fishing boats in the sea of Vietnam. Some group of ships worked only 40 miles from the sea of Ly Son, Quang Ngai province," said fisherman Tieu Viet Thach from Quang Ngai province.
From April to June, the weather is very convenient for offshore fishing. However, China has banned catching in the East Sea, even in the sea of Vietnam.
Nguyen Thanh Nam, an operator at the information station based in Binh Son district, Quang Ngai province, said that many captains reported that their boats were chased by Chinese battle ships. Some ships were even robbed of equipment and food.
"Previously, Chinese ships used to catch our ships and fishermen and hold us in custody in Phu Lam Island and asked for ransom. Now, they chase Vietnamese ships. Any ship that runs slowly will be robbed," said Captain Nguyen Thanh Bien by phone.
"However, we will hold on the Hoang Sa Sea anyway. This is our traditional fishing ground," he said.
Fishermen in Phu Yen province now go to the sea in groups. A fishing ship-owner, Pham Van Dung, said: "Though Chinese ships disturb us, we are determined to hold on our fishing ground. This is the sea of Vietnam. We have the right to catch fish there!"
However, fishermen are worried that their boats are small so they are easy to be infringed by Chinese big ships.
Captain Nguyen Thanh Hiep suggested that Vietnamese naval ships should be present in the sea of Vietnam to protect fishermen. "We have determination to hold the sea because foreign ships are illegal violators," he said.
Tran Ngoc Nguyen, Chairman of Ly Son Island district in Quang Ngai province, confirmed: "As China unilaterally bans catching in the East Sea, we have asked fishermen to go to the sea of Hoang Sa and Truong Sa as normal. Whenever anything happens, they need to make contact immediately via Icom stations to have timely intervention of competent agencies."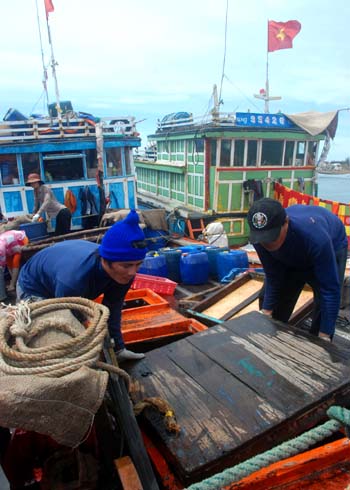 Fishing boats of Quang Ngai province.
Colonel Bui Phu Phu, second in command of the Border Guard forces of Quang Ngai province, said: "In recent years, the border guard forces have detected and dealt with many Chinese fishing boats which illegally entered the territorial waters of Quang Ngai. Normally, our patrol ships used loudspeakers to ask them to leave Vietnam's sea immediately. Ships that did not leave our waters were fined under Vietnamese law".
Colonel Nguyen Trong Huyen, commander of the Border Guard forces of Phu Yen province, said that he reported to the superior the violation of Chinese ships in Vietnam's sea.
Phu Yen has organized over 100 groups of offshore fishing boats. "Through Icom stations, we always ask fishermen to firmly struggle against foreign ships to affirm Vietnam's sovereignty," Colonel Huyen said.
According to the April report of border post 328, which is based on Ly Son Island, Quang Ngai province, since 2006 China has performed many oil exploration activities in the sea to the northeastern Ly Son Island. Many Chinese ships penetrated deep into Quang Ngai's sea to catch fish.
VNE