VietNamNet Bridge - Researchers call for greater public awareness about the consequences of homophobic discrimination.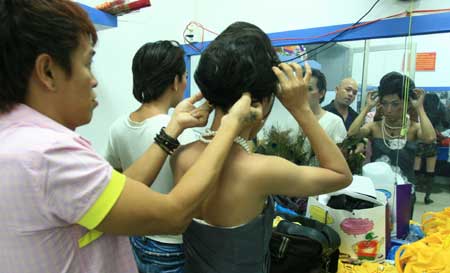 Gays and trans-genders at a beauty contest in Ho Chi Minh City. The gay

community is looking for more tolerance from the society.
A 20-year-old homosexual in Hanoi told researchers that discrimination from his classmates and parents had driven him to attempt suicide three times since the age of 14.
"The only thing I could think of doing was to die," he said.
He made his first attempt in the 8th grade, after his classmates mocked him and his parents beat him.
The young man told researchers that he ingested rat poison but recovered from the effects the following morning.
"I did not know anyone like me and was so lonely and hurt because of what my family and classmates did to me," he said.
Next time, he tried sleeping pills, he said, — only to vomit them all up.
In his third and final attempt to take his own life, the young man went to a quiet spot near the Nga Tu So underground tunnel. He took sleeping pills again and hoped to die alone.
But someone discovered him and took him to the police who later transferred him to hospital assuming he was a drug addict who had overdosed.
Cases like his are not rare in Vietnam.
On Tuesday (May 17), experts called for renewed action against sexual discrimination at a forum in Hanoi. The event coincided with the International Day Against Homophobia and Trans-phobia.
"A significant proportion of homosexuals suffer violence in their family because of limited awareness and social prejudices," said Huynh Minh Thao, communication and service manager of ICS – a volunteer group working to foster a positive image of homosexuality in Vietnam. "If everyone was better informed, we could help avoid some of the anger and confusion that occurs when parents discover their child is homosexual."
"Changing such perceptions is a big job but it is possible if it's done step-by-step at the familial and community levels," she added.
In 2008, the Institute for Studies of Society, Economy and Environment (ISEE) surveyed 3,000 gay, lesbian and transgender Vietnamese.
Twenty percent of the respondents said they had been beaten by their family members.
Nguyen Thi Thu Nam, a senior researcher at ISEE, said that administrative prejudices have hindered international organizations from providing assistance to Vietnamese homosexuals.
"There have been major barriers from medical workers—not just doctors but administrators and other officials working at medical facilities," she said.
Nam said 25 medical workers in Ho Chi Minh City and Hanoi were trained by Family Health International (FHI) about how to detect and diffuse discrimination against homosexuals.
However, the trainees have reported that the practice continues to exist in their hospitals and clinics.
According to a joint report by the United States Agency for International Development (USAID), ISEE and FHI, discrimination against men who have sex with men (MSM) persists among medical workers.
The findings, entitled "How stigma and discrimination drive HIV: A review of the regional and global evidence" were presented at the forum by authors Chris Fontaine of the UN's AIDS-fighting agency UNAIDS and Caroline Francis of FHI.
Francis explained that such stigmas go beyond medical facilities.
"It doesn't matter where you go, this stigma exists in different forms," she told the forum.
The qualitative research was collected with help from eight participants in HCMC and nine in Hanoi.
Their findings indicate that homosexual discrimination has pushed some gays to drug use, pickpocketing, unsafe sex, fighting, suicide, stress, depression and dropping out of school.
The report also presented ample evidence that homophobic attitudes continue to exist in Vietnam's healthcare system.
"Sex between a man and a woman is normal but sex between two men or two women is not normal… I think it's something sick. Many people in society think it's not healthy; I do too," a 22-year-old officer at Hanoi Community Health Care told the researchers.
The report quotes one homosexual as saying: "My friend sought treatment for a sore anus and the doctor yelled at him: 'the anus is for bowel movements, not for having sex.'"
Vietnam is the second country in the world and the first in Asia to ratify the Convention on Child Rights, but the recent study found that 13 out of 17 participants in the research reported suffering violence from family, teachers and friends during their formative years.
Vietnam's HIV epidemic is concentrated among people who inject drugs, sex workers and the MSM. The Vietnamese Health Ministry estimates there will be around 280,000 people living with HIV by 2012, including 5,670 children.
The researchers urged Vietnamese leaders to develop and implement comprehensive communications programs that target police, education practitioners and the intimates of homosexuals to help them better understand the consequences of violence and discrimination.
They also called for the creation of psychological, health, employment, education and legal counseling services for MSM.
"Action should be taken to create a positive image of homosexuals," Buu, a gay man in HCMC, told researchers. "Society shouldn't think of a gay couple as being any different from a straight one. We wish society would recognize that true love exists between homosexuals."
Source: Thanh Nien