VietNamNet Bridge - The Hanoi traffic police's suggestion to ban xich lo or cyclos from traveling on the capital city's streets has created a controversy among experts and travel firms.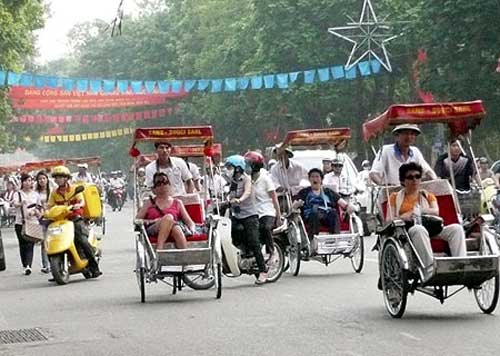 The plan is to inspect the operation of cyclos and seize illegal cyclos, and finally eliminate cyclos from now to the end of 2011.
Hanoi authorities have licensed over 300 cyclos of four travel firms: Culture, Tourism and Trade Company, Huy Phong JS Company, Lam Anh Trade and Tourism JS Company and Sans Souci. However, the real number of cyclos is up to a thousand.
Speaking at a recent meeting, Hanoi police voiced their concerns about cyclos, saying they appear to be chaotic in the streets and hold up traffic.
However, according to many local travel firms, almost all foreign tourists take cyclo sightseeing tours around Hanoi. The tourist companies have proposed that local authorities manage cyclos more effectively or forbid the traditional vehicle from traveling during rush hours instead of issuing a prohibition.
Do Anh Thu, Director of Sans Souci company, said that Hanoi cannot ban cyclos in its old quarter and other tourist sites in the city, because if foreigners don't take cyclos, it means that they have not come to Vietnam.
Thu confirmed that all cyclo drivers of Sans Souce are trained about traffic safety and they always obey traffic law.
He added that cyclos are not the major reason for traffic jams in Hanoi. "Traffic infrastructure cannot catch up with the growth of personal vehicles, that's the reason," Thu said.
At present, cyclos are banned from the streets during the peak hours, 7 am to 8.30 am and 4.30 pm to 7 pm.
Thu said if Hanoi bans cyclos, he will retrofit 264 cyclos into electric vehicles to serve tourists.
Ung Trong Tu, deputy president of Hanoi Travel Club, said the cyclo is a traditional cultural tourism product of Hanoi, like the auto rickshaws, or tuk tuks, in Thailand and Cambodia; although he admitted that some cyclo drivers deliberately drive slow to avoid losing strength, which causes traffic jams.
Tu also suggested local authorities ask cyclo drivers to travel in accordance with a proposed speed and itinerary.
"Authorities have to impose heavy punishments to make cyclo drivers carry out their business in order," he said.
Le Hong Thuong, deputy director of Vietsky Travel Company, said many foreign tourists really enjoy cyclos. The traditional vehicle is often listed in sightseeing tour to ancient houses or to watch water puppetry shows.
"There are not many tourist attractions in Hanoi. So, if we cut the cyclo program in our tours, they wouldn't be attractive to visitors," he said.
Nguyen Thi Hien, deputy director of Vietran Tour, said many tourist parties have asked to include a cyclo tour in their itineraries so they can see and take pictures of Hanoi's Old Quarter.
"If the government eliminates cyclos, it means we will lose a traditional cultural feature, and it would be very difficult to restore it," Hien said.
However, Luu Duc Ke, director of Hanoi Tourist Company, said cyclos on the streets cause more chaos than ever. Tourists say they don't feel safe or comfortable anymore when they sit on them in blocked streets.
"We had to cut cyclo tours in Hanoi after receiving many complaints from foreign tourists," Ke said. "I think we could ban cyclos if the service doesn't have a good quality, or it's difficult for local authorities to manage the three-wheeled vehicle."
Cyclos are Hanoi's unique character and they are also the means of support of many families. Experts said that Hanoi should carefully consider its plan to not rub out Hanoi's culture.
VietNamNet/Tuoi Tre/VNE