VietNamNet Bridge – A sinkholesuddenly appeared in a village in Hanoi on December 21, swallowing the kitchen of a local family.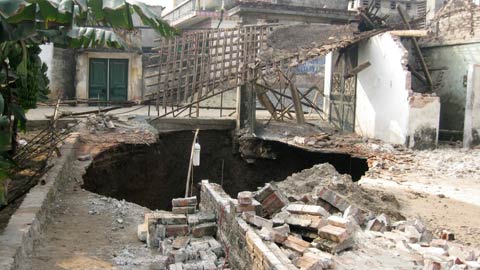 The sinkhole unexpectedly appeared at 3 pm, December 21 in the kitchen of a family in Ang La village, My Duc district, Hanoi, startling the family and locals.
A member of the family, Nguyen Thanh Binh, told VietNamNet that his family drilled a well that day. After a while, workers put down three pipes and the water suddenly didn't run out anymore. They left the site.
Immediately after they left, the area around the well sank. The family's nearby kitchen also collapsed into the hole. Luckily, nobody was injured.
The hole is around 6 metres deep and 6 metres wide.
The family reported the phenomenon to the local authorities. Experts from the Hanoi Department of Natural Resources and Environment came to inspect.
Locals are very worried waiting for the experts' conclusion.
This is the first sinkhole reported in Hanoi so far. Meanwhile, many have appeared in HCM City causing big problems in Vietnam's largest city.
HCM City authorities have recently tried using modern equipment to find sinkholes. At the same time, scientists are researching possible reasons for the appearance of sinkholes.
PV