To have a broad view about the thinking, morals and lifestyle of a group of young people in Vietnam, VietNamNet reviews "trends" and scandals caused by youngsters who were born in the 1990s (9x) in 2010.
Taking sexy pictures to post on blogs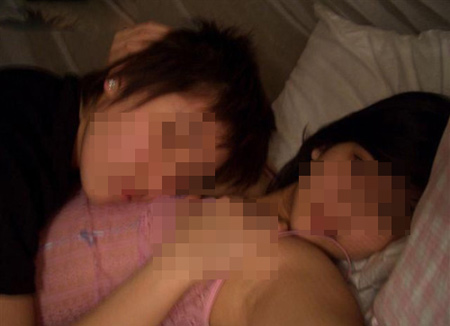 This trend appeared in recent years but it was strictly condemned by the online community and the public after an 8th grader in the northern coastal city of Hai Phong posted sexy pictures of herself on her blog. In these pictures, she wore an unbuttoned school uniform.
After this scandal, the trend "developed". When "showing off breasts" was outdated, teen girls tried to attract public attention by taking nude pictures in groups. There are many photos of 4-5 schoolgirls who showed off their nude bodies in sexy poses.
Teen couples also uploaded their own pictures to their blogs, in which they were nude and in suggestive poses. Being protested, they deleted the pictures but they were already copied and posted on many other websites. Notably, these couples were very young and their bodies aren't fully developed.
This trend seems to be still favored by part of modern youth.
In late July, the online community was stirred up by a 1.49 minute clip in which a young man, wearing a mask carried a pink cuddly toy on his head. Immediately, a young girl approached, kneeled down and prostrated continuously. Other young people appeared around the girl and also kneeled down to prostrated the toy.
These youngsters explained that they "taped" a group named "Improve Everywhere" in the US, which improvises harmless but funny jokes in public. However, this clip was protested on the Internet as a bad joke.
Not long after that scandal, hundreds of teens wore red T-shirts, carried banners and big portraits of Korean actors to join a parade to send the best wishes to their Korean idols.
This odd parade was strongly protested by the public.
Another trend is "selecting boyfriend/girlfriend for one night". The "trend" is initiated by a 9x girl who posted an advertisement online seeking a boyfriend for her birthday night. According to the advertisement, the "winner" must be handsome, stylish, rich and must have a SH motorbike (luxurious motorbike).
The advertisement was criticized strongly but it has been quickly used by other teens. Before holidays, online advertisements to seek boyfriend/girlfriend for one night were posted on many websites.
Shooting shocking and strange clips to post on teen blogs to attract visitors is also a trend. Among the most shocking clips is the clip in which a 9x girl spoke obscene words for up to nine minutes.
Another shocking clip is the one named "How to seduce a boy" in which a girl called herself "Kem" introduces how to have sexy pictures.
After that, a series of clips produced by teens shocked viewers, including "9x girls dance sexily", "high-school couples make love on the roof", etc.
Teens also posted clips that they furtively shot others in sensitive circumstances. Two clips that filmed a group of girls beating another girl caused public turmoil. Police investigated these clips and solved the cases.
Cao Thuy Thom