VietNamNet Bridge – Vicente, the fourth storm in the East Sea this year, is heading to the northern coast of Vietnam very quickly. It is forecast to enter Quang Ninh and Haiphong on the afternoon of July 24.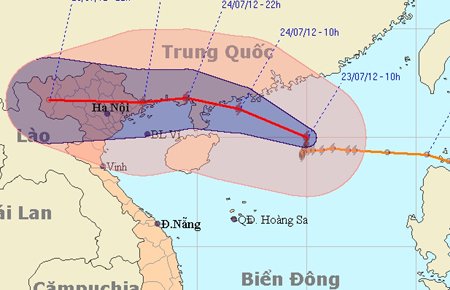 At 10am on July 23, the storm was about 470km northeast of the Hoang Sa archipelago, with winds gusting up to 10th grade (over 100km per hour) near its eye.
Director of the Central Hydro-meteorological Forecast, Mr. Bui Minh Tang, said on July 23 that the storm developed complicatedly and it was moving West-Northwestern.
Tang said the storm was moving to China's Leizhou Peninsula and then would get more powerful. It would move along China's south most coastal provinces. The typhoon is forecast to approach the coast of Quang Ninh and Hai Phong. After that it would become a tropical depression and move to the west to Laos.
Experts said that there would be strong winds in Quang Ninh and Hai Phong. From the afternoon of July 24, northern provinces will have heavy rains, with rainfall averaging 30-50mm.
At an urgent meeting in Hanoi on July 23, chaired by Deputy PM Hoang Trung Hai, he asked northern and central coastal provinces to keep a close watch on the development of the storm, and call in tourism and fishing vessels ashore.
He reminded provinces in the Red Delta and the northern mountain region to reinforce key projects, draw up anti-flooding plans in urban areas, and evacuate local residents out of flash flood prone areas if required.
He stressed the complicated developments of the storm, noting its possibly harmful impacts on the Tonkin Gulf, the Hoang Sa Archipelago, where have many fishing boats.
The Deputy PM assigned two inspection teams to make fact-finding tours of northern coastal provinces and work on storm prevention plans with local administrations.
By July 23, around 50,000 boats and over 200,000 fishermen were informed of the storm to seek shelter.
Meanwhile, Minister of Agriculture and Rural Development Cao Duc Phat expressed his worry over the storm's influence in Quang Ninh and Hai Phong, which have large aquatic breeding areas.
The Minister asked these provinces to call for fishermen to return to the mainland and to ban tourist boats from operating in the sea.
The authorities of Quang Ninh province said they had banned fishing boats from going to the sea from July 22.
Compiled by Na Son