VietNamNet Bridge – Fishermen in An Phu District of the southern province of An Giang on July 21 caught an 86kg giant catfish in the Hau River, a branch of the Mekong River in Vietnam.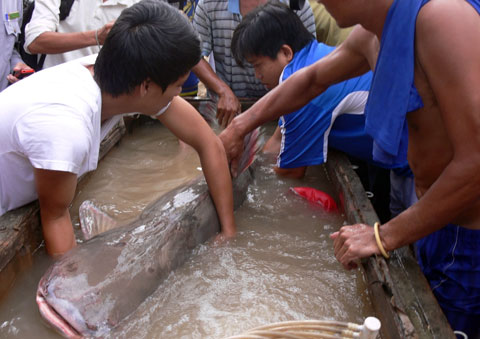 Mr. Huynh Thanh Hong, the chief police officer of Quoc Thai commune, in An Phu district, paid VND15 million ($700) to buy the fish.
Six people carried the giant fish to a delivery tricycle to carry it from the Hau River to Hong's pond. The fish was in good health.
The local fishery resources protection agency was informed of the giant fish. On the afternoon of July 21, experts brought the fish from Hong's pond to a breeding fish farm in Phu Tan district, at the agreement of Hong.
Inspector of the An Giang Department of Agriculture and Rural Development, Mr. Nguyen Huu Hung, said that the fish is nearly 1m wide and 1.7m long.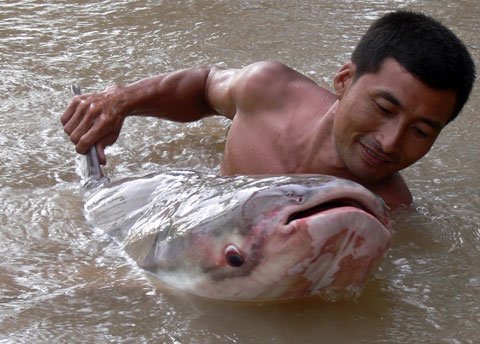 Hung said that the fish would be taken care for several days at the farm before being released to the Hau River.
In two weeks, An Giang fishermen caught two Mekong giant catfish in the Hau River. On July 8, a 70kg catfish was caught, also by fishermen in An Phu district. The fish was released to the river.
The Mekong giant catfish, Pangasianodon gigas, is a species of catfish (order Siluriformes) in the shark catfish family (family Pangasiidae), native to the Mekong basin in Southeast Asia.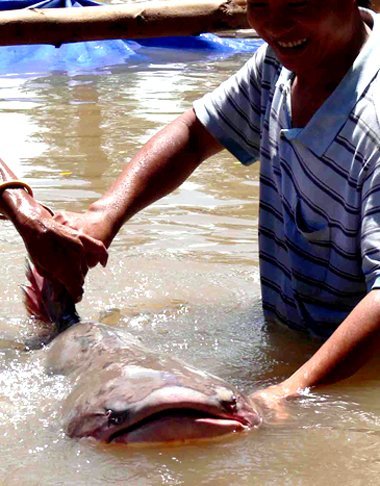 The Mekong giant catfish is perhaps the most interesting and most threatened species in the Mekong River. For this reason conservationists have chosen it as a sort of "flagship" species to promote conservation on the Mekong. With recorded sizes of up to 10.5ft (3.2m) and 660lb (300kg), the Mekong's giant catfish currently holds the Guinness Book of World Records' position for the world's largest freshwater fish.
Endemic to the lower half of the Mekong River, this catfish is in danger of extinction due to over-fishing, as well as the decrease in water quality due to development and upstream damming. The current IUCN Red List for fishes classes the species as Critically Endangered; the number living in the wild is unknown, but catch data indicates the population has fallen by 80 percent in the last 14 years. It is also listed in Appendix I of CITES, banning international trade.
Compiled by P. Lan