VietNamNet Bridge – The Vietnam Fisheries Association has strongly protested China for illegally seizing Vietnamese fishermen and their boats that were operating off Vietnam's Hoang Sa (Paracel) archipelago several days ago.
China seizes 6 Vietnamese boats, then releases 3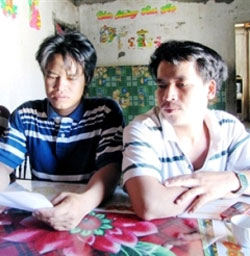 Nguyen Duy Nam (R) and his two brothers fall into great debt after their boat was seized by China. (Photo: TPO)
Vo Van Trac, deputy head of the association, released the protest yesterday, following the cas in which China captured six fishing boats from central Quang Ngai Province with 30 fishermen on board between July 2 and 6.
On July 8, the captors released all the crewmembers and three boats, while continuing to retain three other vessels. Before the release of the boats, the captors confiscated all their fishing tools.
The three boats remaining in captivity are more expensive and have a higher capacity than those that have been released.
The association resolutely objects to the seizure and demands that China release the detained boats and compensate the victims for damage they have suffered, Trac said.
"We also request that China not repeat such captures in the future or prevent fishing operations by Vietnamese boats in Vietnam's territorial seas," he said.
26-year-old Nguyen Duy Nam, of Quang Ngai's Duc Pho District, the captain and owner of one of the boats remaining in China's hands, told Tien Phong Newspaper that he and his relatives have suffered damage of more than VND1.4 billion (US$67,100), including the cost of the boat and tools and equipment thereon.
The Chinese seized his boat, QNg 94411 TS, on July 2. It was built a year ago at a cost of VND850 million, an amount which was contributed by three families, he said.
This was the second journey for the boat, and its first fishing trip in the sea off the Paracel archipelago, Nam added.
Nguyen Duy Trinh, deputy head of the People's Committee of Pho Thanh Commune, where the boats had departed from, said, "The families whose boats are being held by China are falling into huge debts. We have asked concerned agencies to intervene to help them to get their vessels back soon."
VietNamNet/Tuoi Tre