VietNamNet Bridge – A bus with nearly 50 Vietnamese tourists was overturned on its way from Siem Reap to Phnom Penh of Cambodia on July 7, causing one death and nine injuries.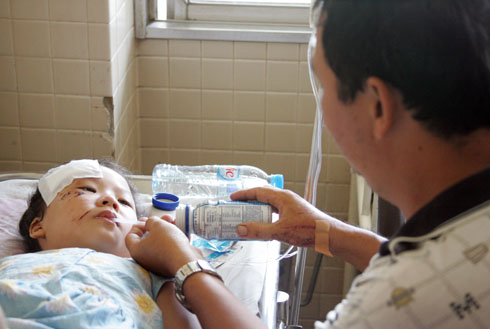 Mr. Vu Van Vu and his daughter at the Cho Ray Hospital.
At 11pm of July 8, these victims were transported to HCM City-based Cho Ray Hospital. Of the nine injured people, four are in the family of Mr. Vu Van Vu, 52, from Phu Nhuan district, HCM City.
Vu and his wife were slightly wounded on their heads, but his two children of 7 and 15 years old are still in hospital.
Vu said his family bought a 4-day tour of the Happy Travel Company to Cambodia. The tour began in the morning of July 5. His family joined other tourists of different travel firms in a 50-seat bus to cross the Moc Bai border-gate in Tay Ninh province to Cambodia.
On July 6, they visited famous destinations in Siem Reap. They left Siem Reap to Phnom Penh at 7am of July 7. The bus ran safely for around 100km to Kampong Thom province when a buffalo suddenly crossed the road.
"The bus was running at high speed so when the buffalo crossed the road. The driver could not stop the car. The bus hit the buffalo and was overturned," Vu recalled.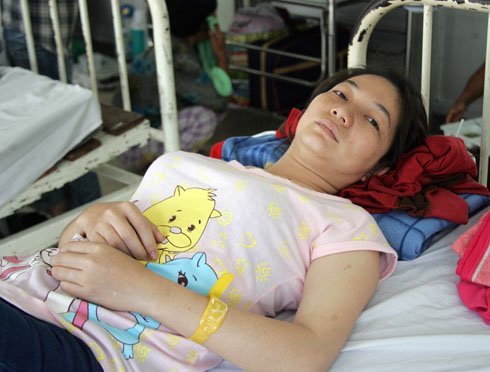 Another victim.
The bus was overturned and driver thrown out for over 10m. Its glass was completely broken. Most of the victims sat in the chairs behind.
"The road was clear. There are no houses along the road. Young people in the front seats who were not injured dragged wounded people out of the bus," Vu said.
Other cars stopped to help. Victims were brought to a nearby hospital. Vu Trong Ha, 38, from Ninh Thuan province, was the most unfortunate passenger. His two legs were ground. The man was dead because of loss of blood.
According to Cho Ray Hospital--of nine victims, five left the hospital. Of the four remaining patients, three were operated on. The most serious cases are a 7-year-old girl whose right arm was crushed and a 53-year-old woman who lost skin on her head and arms.
Compiled by Mai Lan