VietNamNet Bridge – The Chinese side recently illegally seized six Vietnamese fishing boats with 30 fishermen on board while they were operating off Vietnam's Hoang Sa (Paracel) archipelago. On July 8 three of these vessels, along with all the crewmembers, were released.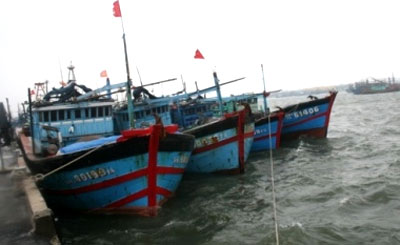 Vietnamese fishing boats (for illustration only). (Photo: Tuoi Tre)
The six boats were seized within a five-day period, said Nguyen Duy Trinh, deputy head of the People's Committee of Pho Thanh Commune, Duc Pho District, Quang Ngai Province, where the boats had departed from.
The committee had submitted an urgent report to the district authorities about the seizure, Trinh said.
Accordingly, two of the boats, QNg 94411TS and QNg 44867TS, with 11 fishermen in total, were captured on July 2, when they urgently landed at China's Hainan island looking for emergency aid for a fishermen who had received a brain injury after being hit by a broken cable.
On July 5, the Chinese side released the QNg 44867TS boat and all the crewmembers, while continuing to hold the other boat.
One day later, China seized four more boats from Quang Ngai, QNg 94484TS, QNg 96845TS, QNg 94779TS and QNg 94096TS, with 19 total crewmembers, while they were catching fish off the archipelago.
On July 8 the Chinese side released all of the fishermen but only two boats – QNg 96845TS and QNg 94096TS.
Before releasing the three boats mentioned above, the Chinese confiscated all their fishing tools.
The three boats remaining in captivity are more expensive and have a higher capacity than those that have been released.
The released boats and fishermen are on the way back to Quang Ngai Province, local authorities said.
Fishermen rescued by Hong Kong authorities
Seventeen Vietnamese fishermen from central Quang Ngai Province injured at sea on July 5 have been rescued by Hong Kong authorities.
This follows instructions from the Ministry of Foreign Affairs to the Vietnamese Embassy in Beijing and the Vietnamese Consul in Hong Kong.
Hong Kong Maritime Rescue Co-ordination Centre used a helicopter to rescue two unconscious, heavily injured fishermen and brought them to a hospital in Hong Kong. They are recovering in hospital.
The Viet Nam Consul in Hong Kong is monitoring the health conditions of the fishermen. They will be later given assistance to return home.
VNN/VNS/Tuoi Tre