VietNamNet Bridge – While people are worrying that elephants will be extinct in Vietnam in the next ten years, this man breeds and helps elephants to reproduce.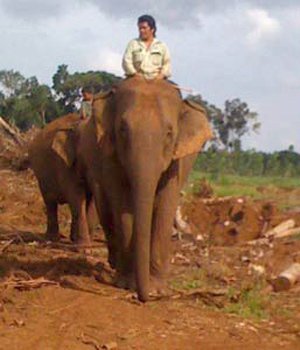 The elephants of Dieu Cuoc that were sold to Dai Nam Tourism Company.
This 'midwife' is Mr. Dieu Cuoc, 55, in Son Lang village, Phu Son commune in Binh Phuoc province. Dieu Cuoc's family used to live in Buon Me Thuot of the Central Highlands province of Dak Lak and was specialized in breeding and training elephants. The family has relocated in Dang Long village in Dak Nong province.
Mr. Dieu Cuoc said that in the past ten years, Ede ethnic people in Dak Lak raised elephants as raising buffaloes. At that time, many families had 5-10 elephants. Human and elephants were good friends. Elephants are very smart and loyal. They know who their masters are.
"Whenever an elephant saw its masters again, after a long trip, it usually raises its trunk and howls. Its eyes are full with tear," Dieu Cuoc said.
According to him, if elephants are lucky to have good masters, they serve them at best. If they have harsh masters, they are still patient. Wild elephants are also very gentle. In the jungle, if they smell humans, they will stay away from them. Elephants only attack humans when they feel that they will be attacked by that human.
Dieu Cuoc's love for elephant is handed down from his grandfather and his father because he used to ride and wash elephants everyday. He always stores favorite food of elephants at his home, such as grass, banana trees, ripen banana, sugarcane and wine dregs.
Living with elephants for many years, Dieu Cuoc knows exactly when an elephant is happy, sad or vexed.
While experts reported that since 1980, tamed elephants have not delivered baby, in Bu Dang, elephants of Dieu Cuoc and his relatives have given birth to four baby elephants.
In 1980, an elephant of Dieu Cuoc's uncle Dieu Mruch gave birth to a male elephant. In 1990, that elephant had another female baby. The two baby elephants have grown up, contributing to the heard of elephants of Dieu Cuoc family.
When Dieu Mruch's elephant gave birth to the second baby, Dieu Cuoc thought of helping his elephant have baby. He borrowed a male elephant of his aunt in Dak Min district and took that elephant and his male elephant to the jungle, where had a lot of grass and a stream. He left the two elephants there for one month.
When he returned to the jungle, the elephant still recognized its master. Seeing their happy mood, Dieu Cuoc knew that they were lovers of each other.
The next month, he saw changes with his elephants. Its stomach developed bigger and bigger. Two years since he took the elephants to the jungle, the elephant delivered a female baby.
Ten years later, Dieu Cuoc was once again successfully in helping his elephant have a male baby.
Dieu Cuoc said that the second time was different from the first time. He waited for two years but his elephant did not give birth yet. She delivered a baby after two and a half years. It turns out that the pregnancy period for a female baby is six month shorter than a male baby.
The male baby elephant developed quickly. At the age of five, its tusks were as big as calves. Dieu Cuoc began training the elephant. When the elephant was completely tamed, Mr. Huynh Uy Dung, Chairman of the Dai Nam Tourism Company in Binh Duong province, came to see Dieu Cuoc to hire two elephants. Finally, Dieu Cuoc agreed to sell the mother and the male baby elephant to this company.
In Vietnam, elephants are listed in 1B group, which must be strictly protected. In 2010, experts warned that Dak Lak, the home of tamed elephants in Vietnam, will not have any elephant in 20 years. The time has been shortened to ten years.
A VND61 billion ($3 million) to preserve elephants in Dak Lak has been approved but six years since it was implemented, no baby elephant has been born, while the number of wild and tamed elephants in the Central Highlands is reducing.
Dieu Cuoc said that when elephants are pregnant, they could not kneel for people to load goods on their back. In Don hamlet, the kingdom of elephants, tourists have to pay VND500,000 (around $25) for one hour of riding elephants. Male elephants will be unable to work for 3-5 years so elephant owners do not want their elephants to have babies.
Forest devastation is another reason preventing tamed elephants from having babies. Once the jungle is narrowed, elephants do not have the space to see their lovers and to copulate.
Even Mr. Dan Nang Nong, who is called the king of elephants, in Dak Lak province, who has four male and five female elephants, said that he has tried a lot of measures since 1992 but his elephants have not had any babies.
Dieu Cuoc said that it is not too difficult to help elephants have a baby. The major reason is elephant owners only want to quickly earn money from elephants. It is too long to wait for an elephant to deliver a baby.
He said that he used to have that thought but he has changed his mind and he would try to help his elephant to have more babies.
Besides four elephants sold to Suoi Tien Park, two to Dam Sen Park, both in HCM City, two others to Dai Nam Tourism Company, Dieu Cuoc currently has three female elephants. He planned to buy the male elephant of his aunt as a breeder.
He hoped that in the next three years, he would have at least two baby elephants.
ANTG