The 11-year old girl from Ho Chi Minh City who paranormal investigators think has a strange ability to burn things around her continued to cause another mysterious fire – after a major incident last week that caught media attention.
Girl capable of burning objects: right brain develops like priests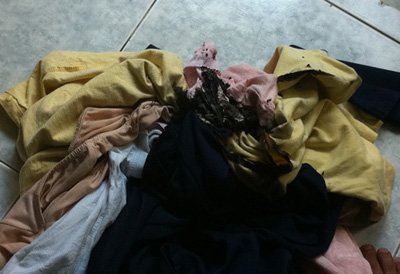 Clothes burnt on May 18.
The latest fire occurred at noon, 12 pm yesterday (May 18) at her house on Bach Dang Street in Tan Binh District.
This surprised a group of six researchers from the Vietnamese Research Center for Potential Human Abilities who were present at the house at that time as they have been visiting her in the past week to learn about her strange ability.
The fire was discovered after T. (the girl with strange ability) smelt a burning smell and warned everybody about a possible fire somewhere in the 3-storey house.
Everybody later found it coming out of the second floor, the same place where the first fire was detected on May 12.
This time, the fire came from a wardrobe and burnt some clothes in it.
When smelling the odor, T. was in another room next to the one with the wardrobe.
The fire was put out soon and the researchers - who were in the house but did not directly witness the event - examined the burnt items.
Meanwhile, T. said she was tired and nervous and felt a burning sensation running over her body.
Three researchers Doan Viet Tien, Nguyen Ngoc Hoai and Pham Dinh Tri are of the opinion that "the girl's biological energy is not stable, since it fluctuates from time to time."
Meanwhile, the chief paranormal investigator Hai said he did not think the fires were psychic scams.
The girl's body is believed to have generated heat hot enough to burn.
In the first incident, at 9 am on May 12, a blaze suddenly broke out from the second floor. It started from the lamp near a bed and then spread to the mattress and closet.
But her mother said she had realized something wrong before when some items like plugs, electrical wires, and clothes suddenly melted as if they had been placed next to a hot object.
When she took her daughter to a relative's house, they found, to their surprise, objects catching fire as soon as the girl passed by, the mother told the media.
The fires break out at any time of the day and are often unpredicted, her relatives say.
Tuoitre