Giant barbs or Siamese giant carps, a freshwater fish in the Mekong River, are found in Laos, Thailand, Cambodia and Vietnam. In Vietnam, they live mostly in Vam Nao, an area linking the Tien and Hau rivers in An Giang Province. The fish are expensive because of their delicious meat and rarity. Now, An Giang residents have begun to raise this fish for commercial purposes.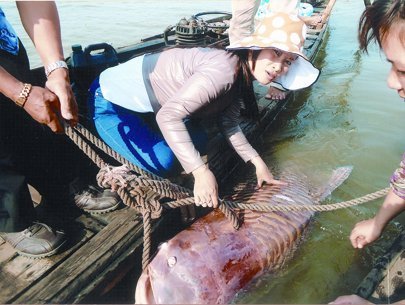 The giant barb caught by Phan Ngoc Phuoc in the Tien River in March this year
On the morning of March 13, Phan Ngoc Phuoc, a 35-year-old fisherman in Cai Tau, a town in Chau Thanh District, Dong Thap Province, caught a giant barb from the Tien River with the help of his companion. The fish weighed 147 kilograms.
While dragging his net near My Thuan Bridge, Phuoc found his net pulled strongly. He guessed a gigantic fish got into his net, so he asked his companion to dive into the river to close the net. He also drove the boat to the fish's direction, provided his companion with rope to wind around the fish and then pulled up the rope when seeing his friend's signal. After more than half an hour, the two men managed to bring the fish to the water surface from the depth of more than 50 meters.
Phuoc has succeeded in catching giant barbs for 10 times. He said fishermen should not pull up their net hurriedly when a giant fish enters the net as it can escape with a wave of its tail capable of breaking the net. He added that they should instead move their boat slightly together with the fish and use the net to roll around many times and lift it to the water surface when it gets exhausted.
This was the biggest giant barb Phuoc had caught in the Tien River. He is proud of his ability to catch the biggest giant barb with a fishing net in the Tien River. He said Siamese giant carps choose to live in deep rivers with strong running water, so people must dive deep to be able to catch them. Five boats from his village hunt for giant barbs in the Tien River, the section near My Thuan Bridge, but seldom encounter them; they can hardly catch them in their nets as the nets are too thin.
Vam Nao fishermen in An Giang Province use nets for catching giant barbs with 45-centimeter meshes and threads nearly as big as the tip of chopsticks but sometimes find the fish tear their nets apart. Unlike them, Phuoc uses smaller nets but has caught 10 big giant barbs over more than 20 years in his career. He can match Vam Nao fish hunters in terms of the number of big giant barbs caught and is probably the only person to catch them with small nets. He is the only person to catch three big Siamese giant carps in the Tien River over the past five years.
Fish of gold
With the help of another fisherman, Phuoc roped the big giant barb through its mouth and gill, tied it to the back of the boat and anchored the boat midstream. The fish created big splashes and hundreds of people hired boats to bring them to the scene to see the biggest ever fish.
Phuoc and his family offered to sell the fish to traders in Long Xuyen (An Giang) and Cao Lanh (Dong Thap), who offered to pay VND1.4 million (US$67) a kilo. One trader came and offered to pay VND1.6 million a kilo but Phuoc did not agree because a trader had previously sold another fish for VND1.8 million a kilo. Finally, through his relative in HCMC, Phuoc sold the fish to a restaurant in the city for VND1.85 million a kilo. The fish earned him more than VND270 million, or more than six taels (225 grams) of gold.
According to Phuoc, this precious fish species becomes scarce and expensive, so catching a big fish is like winning the special prize of a lottery. Pham Van Le, a fisherman in Chau Phu District of An Giang Province, said he caught a 180-kilogram giant barb in 1997, the biggest of its kind caught in the Vam Nao River, and sold it for about two taels of gold. Tran Van Vien, who has more than 40 years of experience in hunting giant barbs, said the sale value of an 80-kilogram giant barb in the period 1980-1990 was just enough for a fisherman to build the roof of his house because the sum equaled to the price of 100 kilos of live pigs. Now, the sale of a 140-kilogram fish enables a fisherman to build a brick house with a metal roof.
Rarity is history
Giant barbs live in the Mekong River and follow this river to Laos, Thailand, Cambodia and Vietnam. In Vietnam, they are abundant in the Tien and Hau rivers, two affluents of the Mekong River, and some of them may grow as big as 300 kilograms. Big mature fishes become rare today as they are excessively hunted.
Howerver, many giant barbs of 10 to tens of kilograms are now raised in the Mekong Delta. To take advantage of this source of fish, Nguyen Thanh Tung, who works for An Giang Farmers Tourism Center, has cooperated with many farmers breeding giant barbs to serve this fish to tourists. Tung and his partners now have nearly 100 fishes in ponds, which sell for lower prices compared with natural big fishes. They sell fishes of 5-20 kilograms for VND250,000-450,000 a kilogram. Raised fish and natural fish have the same quality, according to Tung.
In An Giang, many households that raise giant barbs from natural fries said it is encouraging to breed this fish together with other fish species in ponds as they seldom get sick and grow fast. Since 2005, the National Breeding Center for Southern Freshwater Aquaculture, a division of Research Institute for Aquaculture No. 2, has carried out the project to recreate and develop giant barb genes for preservation and cultivation purposes. The center now has nearly 100,000 giant barb fries.
Meanwhile, An Giang Aquaculture Breeding Center, the second agency in the Mekong Delta to succeed in implementing artificial propagation for giant barbs, will also supply about 100,000 fries to the market.
According to experts, giant barbs grow by only 0.5-1 kilogram every year and can reach 6-8 kilograms within three years. When the process of breeder fish reproduction and commercial fish cultivation is perfect, there will be a new job for farmers, and consumers will also have an opportunity to enjoy this delicious fish, whose prices will certainly no longer be as high as those of the giant barbs caught in the river.
SGT