VietNamNet Bridge – Doctors at the Hanoi-based Central Dermatology Hospital are curing a little girl who suffers from the so-called "vampire" disease.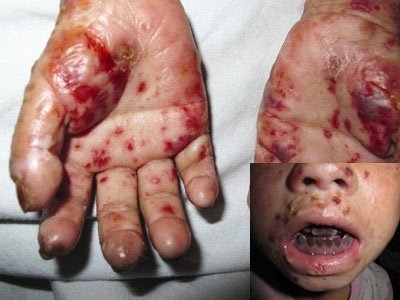 Dr. Nguyen Duy Hung, Secretary General of the Vietnam Dermatology Association, told VietNamNet that the patient is only five years old and she comes from Soc Son district, Hanoi.
The patient was hospitalized over a month ago, with acute wounds on her skin. There are hundreds of blisters, with liquid inside, and scars on the girl's body, particularly on exposed parts like face, neck, arms and legs. The skin that is covered by clothing looks normal.
These scars have deformed the girl's face, arms and legs. Her fingernails and toes are atrophied because of scars.
The patient is also very hairy and she does not develop normally. She is only 13 kilos in weight and has anemia.
Doctors made a lot of tests and diagnosed that the girl contracted a rare innate disease called Porphyrin syndrome. This is a genetic disease.
According to Dr. Hung, this disease is uncommon in the world, with around 200 cases recorded worldwide so far.
The doctor says that this disease is also called "vampire" disease because the skin of patients gets injured when it touches sunlight, leaving terrifying scars and atrophied limbs.
Dr. Hung adds that there is no measure to treat this disease to the very roots. Doctors can help deal with anemia and skin wounds, and in some cases they can perform bone marrow transplant.
The doctor says that this is the first "vampire" patient treated at the Central Dermatology Hospital, or perhaps the first in Vietnam.
The patient is the youngest child in a family with four children. The patient's second brother had similar symptoms but he died at the age of seven.
The patient has left hospital but the family and the hospital has maintained communications. The patient will be examined periodically.
This disease can be detected very early, during pregnancy.
This disease can be mistaken with other skin diseases.

Ngoc Anh