VietNamNet Bridge – The High Command of Chemistry's experts made a field-trip to Ba To district in the central province of Quang Ngai to learn about the strange skin disease on April 20-21.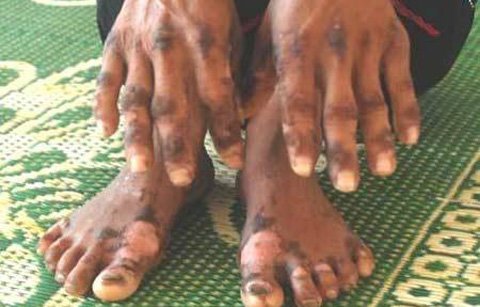 They collected water and soil samples for testing to consider whether environmental impacts cause the disease or not.
Meanwhile, the Ministry of Health has asked for a hand from the World Health Organization (WHO) and the US Disease Control Agency.
According to local residents, the disease appeared around five years ago, when they found out an unknown chemical in the region. They buried the chemical.
Experts from the High Command of Chemistry searched for the chemical under the assistance of local people.
The Health Department of Quang Ngai province reported that from April 19, 2011 to April 15, 2012, there were 171 patients in six communes of Ba To district. Ba Dien commune had the highest number of patients, with 161 people, including 8 fatal cases.
The number of patients is increasing, causing worry among local people. Some families left their home to avoid the bizarre disease.
Duc Tam