VietNamNet Bridge – With a population of 1.5 million people and area of over 1 million hectares, Quang Nam province in central Vietnam is the home to 47 hydro-power plants. Scientists are worrying that the rampant development of hydro-power will ruin the province's environment.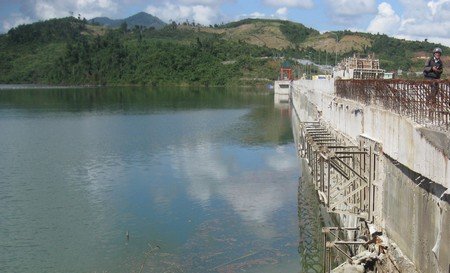 A hydro-power work in Quang Nam.
Quang Nam takes the lead for the number of hydro-power works in central Vietnam, with 62 ratified projects totaling 1.6 million MW in capacity. Fifteen projects had their licenses withdrawn recently.
Of the remaining 47 projects, ten are categorized as large scale and 37 are listed as small and medium sized. Three large plants have put into operation, including Song Tranh 2 with a reservoir of nearly 740 million cubic meters and 180m high dam; A Vuong with 343 million cubic meter reservoir and 384m dam; and DaMil 4 with 310 million cubic meter reservoir and 262m dam.
A representative of the International Centre for Environment Management, an independent research institution funded by the Asian Development Bank, says that the rapid development of hydro-power plants in Quang Nam may cause the alarming rise of deposits in rivers in this province, particularly the Vu Gia River.
According to the center, huge volume of deposits will firstly affect the ancient town of Hoi An, with floods. When the Bung 4 hydro-power plant stock water (490 million cubic meters), the Bung river will get dried, causing drought in the downstream area.
Dr. Pham Hong Giang, Chair of the Vietnam Association for Big Dams and Water Resource Development, says that developing hydro power is a right policy but hydro-power plant management is not strict.
Dr. Giang says that the lives of tens of thousands of residents, their assets and national infrastructure in the downstream area of hydro-power plants cannot be given to hydro-power developers because their top priority is interest.
Dr. Dao Trong Tu, advisor of the Vietnam River Network, former Vice Secretary General of the Mekong River Association, says it is costly to build multi-purpose hydro power works. "The rampant development of hydro power is betting with the nature, increasing drought in the dry season and flood in the rainy season," he adds.
After the leakage at the Song Tranh 2 plant, Quang Nam is checking all hydro-power works in the project to prevent future disasters for the downstream area.
Son Lam