Dang Nang Long is now director of the Lak Lake Travel Co., an affiliate of the Tourism Company of the Central Highlands province of Dak Lak. He owns eight elephants, the largest number of tamed elephants throughout the country.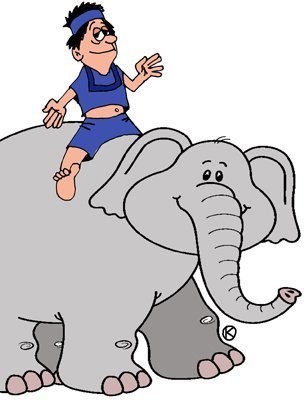 Long told Tien Phong newspaper that in the early 20th century, his grandfather moved from the central coastal region to the highlands. He tamed dozens of elephants and supplied some for King Bao Dai, the last emperor of Vietnam. Long's father, Dang Nang Nhay, followed this job, and of Nhay's 11 children, only Long continues taming elephants.
Long said that he used to do different jobs but finally he decided to pursue his family's traditional career. He learnt the experience in taking care of elephants from veteran mahouts. Each mahout is responsible for looking after one elephant day in, day out. Phong also holds traditional rituals such as naming and wedding for his elephants.
The riding elephant service attracts more and more tourists. When in Dak Lak, visitors often hire Long's elephants to take sightseeing tours of the beautiful Lak Lake.
Hero in normal life
In late 2011, passers-by in Ca Mau City in the Mekong Delta province of Ca Mau witnessed a high-speed motorbike chase like in action films between the "street hero" Mai Thanh Phong and two robbers.
The chase started on Ca Mau City's Le Khac Xuong Street. When Mai Thanh Phong, who lives in Tan Phong Commune, Gia Rai District, Bac Lieu Province, was riding his motorbike, he heard a shout from a woman whose bag had been snatched by two robbers. Phong immediately sped up to chase them. These criminals rode into the downtown of Ca Mau City. After riding through many streets in the city but still being chased by Phong, they decided to ride toward Phung Hiep Street, which leads to Can Tho City.
Based on his experience, Phong rode into this street's left side and accelerated to overtake the robbers. Aware of Phong's idea, one of the two robbers quickly kicked at Phong's motorbike that made him fall down. Although he was injured, he continued to pursue them.
Believing that Phong could not follow them, the robbers stopped under Cai Nhuc Bridge to check the bag. At that time, Phong appeared to snatch their motorbike's key and shouted for help. Local people helped him arrest the two robbers.
Phong, 38, is famous for catching criminals. When he was asked to tell about his heroic deeds, he simply said that he hates criminals, so whenever he sees them, he is determined to manage to arrest them, reported Phap Luat TPHCM newspaper.
Disciplined motorbike taxi drivers
Phuoc Son in the central province of Quang Nam has a natural goldfield and many gold hunters rush there to try their luck. Because of rough roads, gold diggers often have to take a motorbike taxi. Although motorbike taxi drivers are not rich, they are always ready to help everyone in need. Therefore, local people call them kind drivers.
One special thing is that these motorbike taxi drivers are well-organized. They never compete with each other for customers but are patient enough to wait for their turn. If someone is in dear need of money, other drivers will let that driver serve guests first.
On every 16th day of the 12th lunar month, these motorbike taxi drivers contribute money to buy offerings to worship ill-fated gold searchers who died there. The drivers will also repaint such graves with hope that they can give warmth to unfortunate victims, reported Tuoi Tre newspaper.
SGT