VietNamNet Bridge – Dr. Pham Minh Tuan, Chairman of TOPICA Education, is the sole Vietnamese among 192 people who are recognized as Young Global Leaders in 2012, by the World Economic Forum (WEF).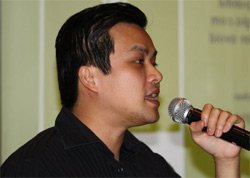 The WEF's list of young global leaders this year include the CEO of Puma, high-ranking officials of Google, Facebook, Nike, banks, investment fund, young ministers of Australia, Sweden, Chile and especially, Salman Khan--the founder of Khan Academy, the online training organization which has created a "fever" in the education sector, with the support of Bill Gates and Google.
Vietnam's Dr. Pham Minh Tuan has made contribution in applying technology to raising training quality, to nurture hi-tech firms and transfer experience to a network of 20 countries in Asia-Pacific. These activities were highly appreciated by the Microsoft President Bill Gates, CEO of Qualcomm Paul Jacobs Jr., Vice Chair of the World Bank Devan Janamitra and many Vietnamese leaders.
The WEF's Chairman Klaus Schwab said that the 192 Young Global Leaders 2012 were selected from thousands of nominees from all over the world. These people are honored for their specialized achievements, their contribution to the society and their potential in contributing and orienting the world future through their enthusiastic leadership, said Mr. Schwab.
Young Global Leaders is the WEF's annual program to honor and connect young leaders who are less than 40 years old throughout the world.
Previously, CEO of Facebook Mark Zuckerberg, Google's Larry Page, British PM David Cameron and Vietnam's Professor of Maths Ngo Bao Chau received this title.
Le Ha