VietNamNet Bridge – Vietnam has had only two H5N1 influenza patients in the last two years and both of them are dead. Thus, the H5N1 epidemic has returned, remarked Deputy Minister of Health Nguyen Thanh Long at a meeting on February 7.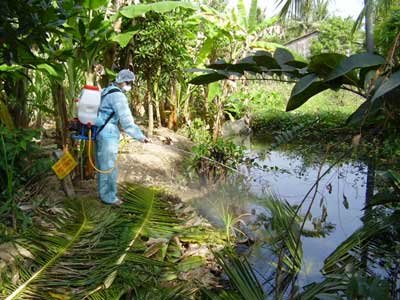 On January 10, an 18-year-old man in the southern province of Kien Giang began having symptoms of flu and he bought and took medicines by himself. Four days ago, he was brought to a local hospital when the disease was very serious. The man died two days later.
The second patient, a 26-year-old woman in the Mekong Delta province of Soc Trang died on January 28.
The patient was brought to the local hospital on January 23 after showing fever symptoms. She was then transferred to Bac Lieu Province General Hospital on January 25, with viral pneumonia diagnosis since the illness still persisted. She died in the hospital three days later.
Test conducted by Pasteur Institute in Ho Chi Minh City has showed that both patients were infected with Influenza A virus subtype H5N1, also known as "bird flu."
The first patient was a duck tender, while the second patient slaughtered and ate infected meat.
Dr. Nguyen Van Kinh, Director of the Hanoi-based Hospital of Tropical Diseases, said that the second patient was treated by Tamiflu late so she could not recover.
Kinh recommended doctors to treat patients by Tamiflu early. "We do not lack medicines. It is important to detect the disease early to avoid fatalness," he added.
Kinh proposed to hold training courses for health workers on diagnosis and treatment of H5N1 influenza because after two years, people now lack vigilance of the fatal flu.
Nguyen Trong Khoa, chief of the Ministry of Health's Examination and Treatment Management Department, agreed with Kinh. He said that both above patients were only treated with Tamiflu four days after the first symptoms appeared and they were dead 5-6 days later. The second patient was a pregnant woman.
"Vietnam did not have any H5N1 cases in a long time so health workers possibly do not think of H5N1. People should go to hospital immediately when they have flu symptoms and have contact with poultry," Khoa said.
Dr. Nguyen Tran Hien, Director of the Central Institute of Epidemic Prevention, said that the source of bird flu disease is still around but people forget it because the bird flu epidemic did not happen for a long time.
Deputy Minister of Health Nguyen Thanh Long asked relevant agencies to quickly organize training courses in H5N1 treatment for health workers and remind them to be watchful over the disease.
According to the World Health Organization (WHO), two laboratories in the Netherlands and Japan tested and defined that type A/H5N1 virus can change to spread to mammal animals. However, the tests were only conducted on weasels in laboratories.
S. Tung