VietNamNet Bridge – One who used to carry a nearly 90kg tumor, one whose face was covered by a tumor and one with thousands of tumors on her body are recovering well after their surgeries.
Nguyen Duy Hai, 32, from Da Lat city, Lam Dong province, carried a tumor of 1.17m
long and over 80kg in weight on his right leg for 10 years. Doctors said that
 Hai suffered from a rare genetic disease called von Reckling hausen, which
affects one out of every 3,500 people worldwide.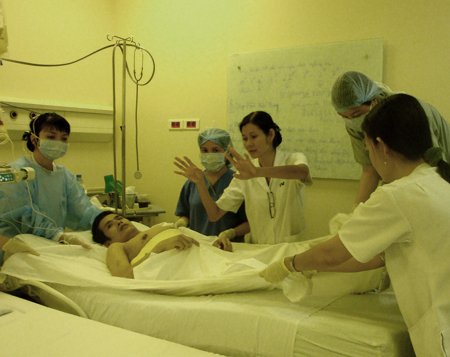 During his time at the HCM City Oncology Hospital, waiting for a surgery,
the tumor weighted up to 90kg. An American doctor - McKay McKinnon - was expected
 to lead a Vietnamese- American surgeon team with doctors from the HCM City Oncology
Hospital to carry out the operation for Hai on November 18, 2011. However, the procedure
 was cancelled after the hospital discovered that Hai had a pleural effusion, which is a buildup
of fluid around the lungs, further weakening his health condition and making it too
 dangerous to perform the surgery.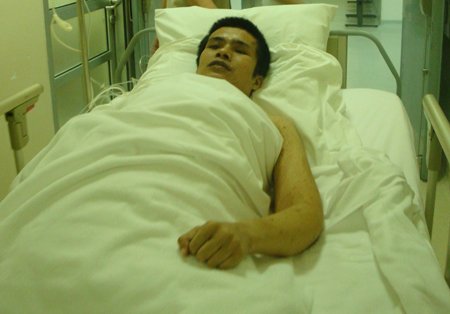 On January 5, 2012, doctor McKinnon and his colleagues at the France-Vietnam Hospital in HCM City
 conducted a surgery to cut the tumor. The operation was successful after ten hours.
The patient was expected to restore consciousness in 15 days but he actually regained
his consciousness after just two days. He has been recovering quickly.Doctors are not sure whether the tumor will grow again but at present, Hai is
very happy to escape from his 90kg tumor.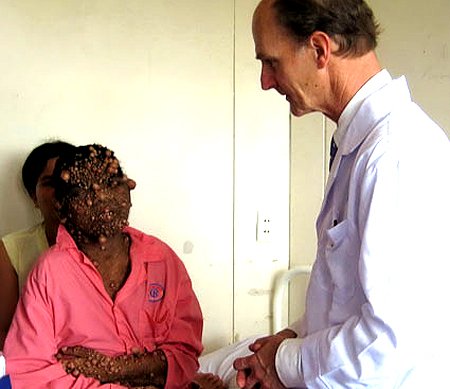 Thach Thi Sa Ly, 36, from the southern province of Soc Trang whose body was covered
with thousands of pimples and Kieu Thi My Dung, 23, from Da Lat city whose face was
covered by a big tumor are recovering very well after being recently operated on by
American surgeon McKinnon to remove their tumors. In photo: Thach Thi Sa Ly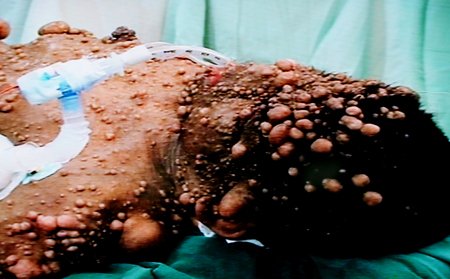 Both patients were diagnosed with neurofibromatosis (human genetic disorder).
After removing Dung's tumor on January 6, the 20-member surgical team led
by Dr. McKinnon then used a part of the patient's skull bone to recreate her right
eye socket which was seriously damaged by the tumor. The team also repositioned her
right cheekbone into a more symmetrical position with her left one and recreated the ciliary
 muscle of her right eye. Her right ear would be also recreated.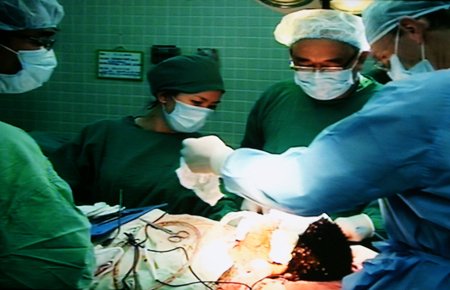 Sa Ly, who had plenty of bubble-like lumps covering her body from toe to face,
is also recovering and could undergo more surgeries to remove the remaining tumors in the future.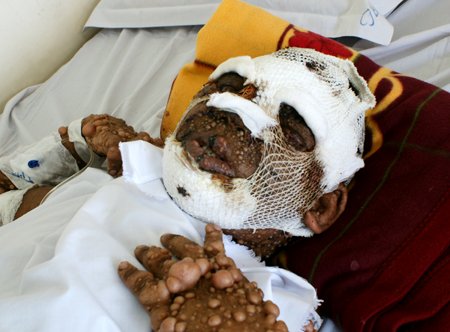 Dr. McKinnon, with assistance from a team of doctors and nurses of Cho Ray Hospital,
 on January 7, removed a total of 10 kilos of lumps mostly from her forehead, chin,
 hands, buttocks and around her eyes. Ly's surgery is the third consecutive
operation that Dr. McKinnon performed in Vietnam.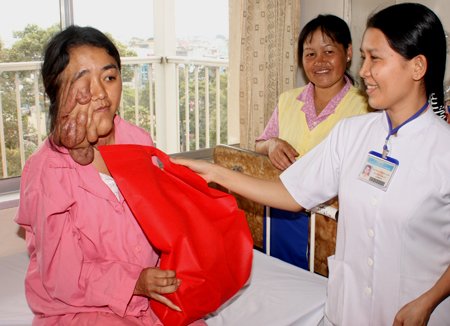 Kieu Thi My Dung
.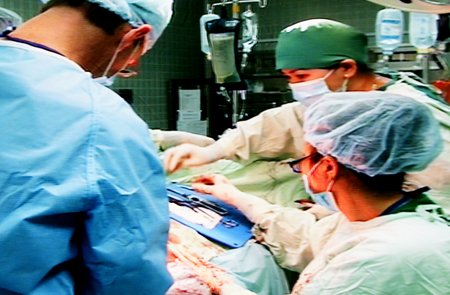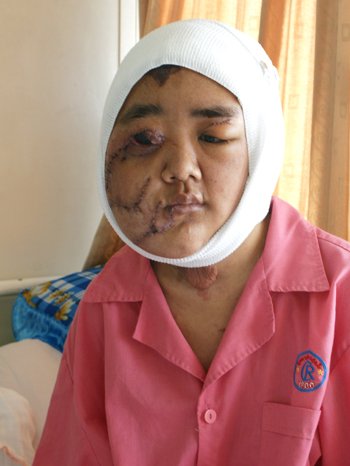 Kieu Thi My Dung
.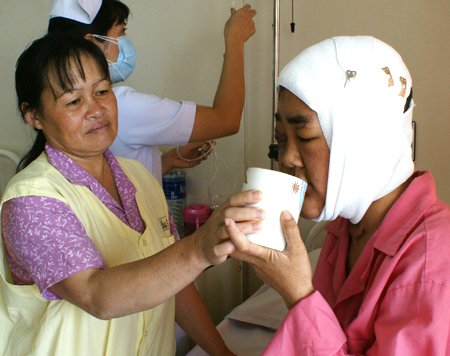 According to the France-Vietnam Hospital and Cho Ray Hospital, the three patients
may be allowed to return home during the Tet holiday and return to the hospitals
after Tet for further treatment.
VNE