VietNamNet Bridge – Lai Son village in Soc Son district has 400 families and over 200 brick kilns, which smoke out everyday. Three people recently died because of toxic smoke.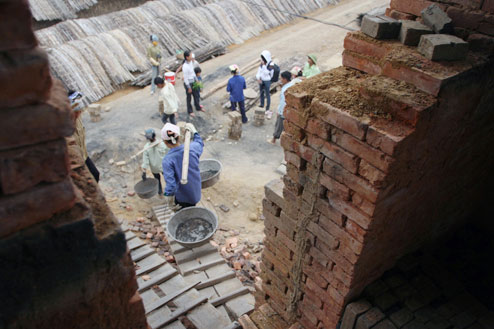 The local government is seeking methods to deal with the situation.
Hundreds of people are working at these brick kilns. Most of them don't use safety clothing. They even don't use masks.
"I don't know how toxic the smoke is from brick kilns but if we don't work here we will not have enough rice to eat," said a worker named Nguyen Van Xuan, 20.
A woman named Tinh said she has worked for brick kilns for several years. She can earn nearly 100,000 dong ($5) a day.
"This job is hard but I have money. I can't afford my children's studies if we only plant rice," Tinh said.
Many workers said the previously worked for the Nam Son rubbish dump, Hanoi's largest waste dump.
Nguyen Van Hien, who runs a brick kiln, said: "Our people are very poor. Their monthly income averages only 200,000 dong ($10). Frankly, they can't live without brick kilns and the Nam Son garbage dump".
Lai Son village chief Dang Quoc Hung said there are around 200 private brick kilns in the village. Kilns are located around one kilometer from the residential area. During days with strong wind, smoke and dust from the kilns flew to the village.
Before the recent incident in which three people died because of smoke from a brick kiln, many cattle and poultries died suddenly, Hung said.
A local official said many brick kilns were fined for causing pollution. Local authorities asked kiln owners to stop using old kilns that use coal to use modern kilns but most of them didn't obey.
Brick kilns in Lai Son:

PV