Police in Ho Chi Minh City Monday noon arrested Tuoi Tre newspaper's journalist Hoang Khuong on charges he indirectly gave bribes to a police officer. Mr. Khuong is a prize-winning journalist famous for exposé articles into police corruption.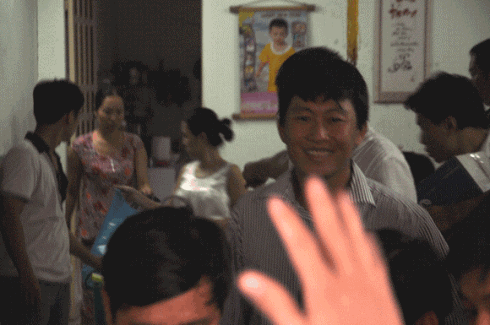 Journalist Hoang Khuong smiled while police were searching his house (Photo: ANTD)
The receiver of the bribe is Huynh Minh Duc, former traffic officer in Binh Thanh District who had been arrested earlier.
The police also searched Mr. Khuong's house and work office.
Mr. Khuong will be detained for four months pending investigation
According to the police, 39-year-old Nguyen Van Khuong (the journalist's real name) was indicted since he, through Ton That Hoa, gave VND15 million (US$713) to former police cop Duc in exchange for Duc's help in releasing a motorbike that had been impounded in a traffic violation case.
Ton That Hoa is director of Duy Nguyen Private Enterprise and has been detained for brokering the bribe.
In early 2011, amidst the serious traffic violation situation causing concerns among the public, Tuoi Tre newspaper's Editorial Board, in line with the Government's orientation, published a series of articles on the topic "preventing traffic accidents."
Many of Tuoi Tre's reporters and contributors wrote a number of articles under the topic to show the traffic reality and possible solutions to reduce traffic accidents.
Hoang Khuong also wrote many investigative articles, including "F..k you, pay the road bribes", "Where road accidents are settled off the records" and "Traffic cop takes bribe to return bike," which were  published on Tuoi Tre's Vietnamese-language daily newspaper.
As shown in the latter article, the Binh Thanh district police, during their crack-down on a large scale illegal motorbike race in April 2011, temporarily impounded the motorbike of Tran Van Hoa, a young man who had ridden the vehicle in dangerous manner.
Traffic police officer Huynh Minh Duc captured receiving bribes. This photo was shot by  journalist Hoang Khuong
At that time, Ton That Hoa suggested Duc help release the motorbike of Tran Van Hoa and Duc agreed.
The then traffic police officer Duc later received the VND15 million bribe and returned the bike to Tran Van Hoa.
On November 28, the HCMC investigation police requested Tuoi Tre and the Press Department "to review the case and revoke the press card of reporter Nguyen Van Khuong".
According to Khuong's report to the Editorial Board, he had committed "professional shortcomings" when he was involved in indirectly giving the bribe money to Duc.
After reviewing Khuong's acts, Tuoi Tre Editorial Board has given him a reprimand and suspended him.
The Editorial Board and Khuong's family have invited lawyer Phan Trung Hoai, head of the Phan Trung Hoai Law Office, and lawyer Phan Duc Linh, of the HCMC Bar Association, to defend Khuong's rights and interests.
Lawyer Hoai was at the scene when police searched Khuong' house.
In 2010, Mr. Khuong won second prize at the city Press Award for an article about bribery at customs checkpoints.
Tuoitre