VietNamNet Bridge – The HCM City People's Court on August 10, 2011 sentenced Pham Minh Hoang, former lecturer of the HCM City University of Technology, to three years in prison for "activities aimed at overthrowing the people's government".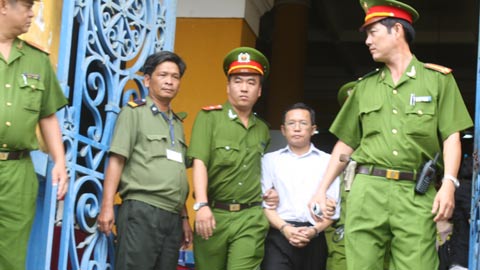 Pham Minh Hoang at the court
Hoang, 56, was also sentenced to three years on probation after serving the jail term.
According to indictment, Hoang went to France to study in 1973 and was naturalized in France. In 1988, Hoang was admitted to the Viet Tan party.
In 2000, Viet Tan assigned Hoang to return to Vietnam to work as a lecturer at the HCM City University of Technology.
From July 2002 to May 2010, Hoang made regular contacts with the overseas Viet Tan party. He wrote 33 articles for Viet Tan to distort and smear policies of the Communist Party of Vietnam and the Vietnamese State. These articles were published on the Internet.
In November 2009, Hoang, his wife – Le Thi Kieu Oanh and Nguyen Thanh Hung went to Malaysia to attend a training course on "non-violence struggling" and "information security", held by members of Viet Tan party, to apply in Vietnam.
From late 2009 to early 2010, Hoang, his brother – Pham Duy Khanh, Jolie Trang Quynh (Vietnamese American) and Huynh Chau (Vietnamese Australian) organized two courses to teach "soft skills" for students, in order to propaganda and recruit members for Viet Tan in Vietnam.
Hoang and Hung were arrested in August 2010. Police detected many documents that smear and distort policies of the Party and State of Vietnam.
At the court, Hoang admitted the indictment. He told the court that while studying in France, he made acquaintance of Nguyen Ngoc Duc, a member of Viet Tan, and he joined Viet Tan in 1998. Hoang said that he did not understand the guideline of this organization.
Hoang said he wrote 33 articles only to express his individual ideas and not by the order of Viet Tan. "If I had known the stories could affect the prestige of the State, the Communist Party and could result in charges, I would never have done it," he said.
Hoang admitted to making mistakes and asked for the state's leniency so that he will have more time to take care of his parents and raise his children.
The court ruled that Hoang's criminal activities are especially serious, encroaching on national security. His activities are premeditated and carefully planned in collusion with reactionary organizations of Vietnamese communities abroad and hostile forces aimed at carrying out the "peaceful evolution" plot. But the court also took into consideration Hoang's confession, cooperation and repentance.
The court sentenced Hoang to three years in jail.

M. Phuong