VietNamNet Bridge – It is highly possible that the Ministry of Labor, War Invalids and Social Affairs (MoLISA) will not consider telepathy as a method to search for remains of martyrs, said a senior official from the MoLISA.
Believing in telepaths, falling in miserableness
Reality and myth about Phan Thi Bich Hang
Nguyen Thi Nguyen's "supernatural" ability
Portraits of famous Vietnamese telepaths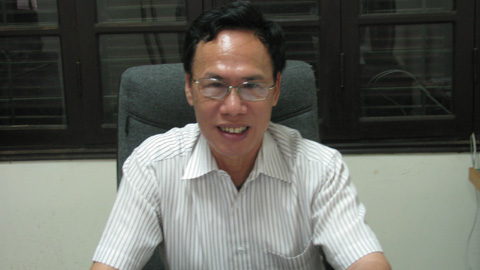 Le Hong Son, Vice chief of the MoLISA's Department for Accredited People.
The MoLISA recently organized a workshop to discuss the project to search for lost remains of martyrs, including the use of telepathy. VietNamNet talks with Le Hong Son, Vice chief of the MoLISA's Department for Accredited People, about this issue.
Many families have spent a lot of money and efforts to search for lost remains of their relatives, at the guidance of telepaths. But most of found remains are not verified by scientific methods. Do you think that it is time to control the service to search lost remains by telepathy?
Provincial government is responsible to explain to their people to not place high hopes on telepathy centers and to supervise and punish telepathy centers that cheat people to make money.
Some telepaths say they have found thousands of lost remains. What do you think about the statement?
It is wonderful if the statement is true but there statement is not verified yet. In many cases, telepaths found wrong remains. For conscience and responsibility to people who sacrificed to the country, it is a must to combine telepathy with scientific methods.
Have genetic testing centers in Vietnam performed DNA test to remains found out by telepathy? How is the accurate rate?
Yes, they have. The true remains found out by telepaths are only less than 10 percent.
Each province has a board to search for lost remains of martyrs, but people still see telepaths to seek lost tombs, why?
Seeking lost remains of martyrs is a highly meaningful task that shows the humane tradition and the moral standards of Vietnamese people – to be grateful to their benefactor. It is also the responsibility of the Party, the State and the entire society. It is also a big policy of the Party and the State. The government has a special working board for seeking lost remains of martyrs and many provinces also have their boards.
The State encourages people, including telepaths, to supply information about martyr tombs to competent agencies.
As of August 2011, the MoLISA will combine with other agencies to verify lost remains of martyrs by DNA tests in a pilot program, including remains searched by telepaths. If the tests find out wrong remains, what will the ministry do?
First of all, we will make tests of newly-founded remains, remains of disputes and remains that are founded by telepathy. We will choose remains for tests randomly.
In case remains found by telepaths are defined to be wrong, they will be solved two ways. If the remains are founded at martyr cemeteries, they will be re-buried at the closest martyr cemeteries as unknown martyrs.
If the remains are discovered outside cemeteries, we will define whether they are remains of martyrs or not, based on information supplied by local authorities. If they are not, it will depend on each related family because this is the matter of spirit and responsibility.
If martyr families detect that the remains found out by telepaths are not the remains of their relatives, they can sue against the telepath?
Yes, of course.
Will the State cover testing fees for martyr families because the fees are expensive?
The State will cover the whole fee, which are between VND7.5 to VND9 million ($320-450). Only State-owned testing centers are permitted to provide the service.
Senior lieutenant Vu Anh Tuan, from the Testing Ward of the Army Forensic Science Institute said that since 2004, the institute began using biotechnology to identify remains of martyrs. According to the testing results, the rate of true remains found out by telepaths is less than 10 percent.
Minh Anh