VietNamNet Bridge – It is said that Phan Thi Bich Hang's special ability appeared after she died and came alive again. She is now the most renowned telepath in Vietnam. Besides successes, there are bad rumors about this special woman.


Portraits of famous Vietnamese telepaths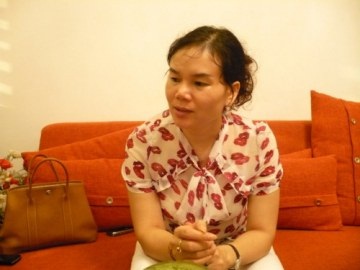 Telepath Phan Thi Bich Hang.
Most Vietnamese telepaths develop their strange abilities after experiencing great upheavals in their lives. There is one who became a telepath after getting an electric shock, one after a temperature, and another after a serious sickness. The most extraordinary case is the story of telepath Phan Thi Bich Hang, who has been able to talk with the dead since she nearly died because of a mad dog's bite.

According to Cong An Nhan Dan newspaper, Hang was born and grew up in a small, needy village in Khanh Hoa commune, Yen Khanh district, the northern province of Ninh Binh. In 1990, at the age of 17, after returning from her university entrance exam, Hang and a female friend were bitten by a dog while they were walking.

It is very normal for rural people to be bitten by dogs, so Hang and her friend quickly forgot the event. Several days after that, Hang received the news that she had passed the university entrance exam.

Around one month later, Hang's friend suddenly lost her voice and her jaw became rigid. Dentists said that this was not the symptom of toothache. Hang and her friend went to Ninh Binh Military Hospital 5.

Doctors at Ninh Binh Military Hospital 5 said that Hang's friend had the symptoms of rabies. After that Hang lost consciousness and her friend died.

Hang's family brought her everywhere to seek treatment, using both Oriental and Western medicines, but all doctors and healers said that this disease couldn't be treated.

Finally, Hang was brought to a healer who is a Catholic. The healer carefully checked her body and said: "God will protect you".

The healer told his son to go to a cemetery to collect a piece of coffin that had been exhumed the day before to use as a medicament, mixed with some other medicines. There was no choice; Hang's family fed the girl this terrible medicine.

After taking this medicine, the healer told Hang's parents that after three hours the girl would have a temperature, she could speak in her sleep and even could have a fit of madness. If those symptoms ended after three days, she would live, otherwise she would die.

Like what the healer said, Hang had a fit of madness three hours later, and nothing on the first and the second days thereafter. On the third day, while walking with the elder brother of her friend who had died because of rabies, to the girl's tomb, Hang suddenly felt a jet of cold air running along her spine. She immediately told the man to take her back home as she knew that she was about to have a fit of madness. She lost consciences then.

At 1am the next day, Hang's family lost their hope because Hang breathed her last breath. Normally, in Hang's home area, young people are often quickly enshrouded and buried, without funeral ceremonies. However, an old man in Hang's village who is very good at horoscopes came to Hang's house and told the family to not enshroud and bury her as the good hour hadn't come yet and to not burn incense as well.

At that time, a doctor asked the old man why he advised the family to do strange things like this, and the old man answered: "You have modern medical technology while I have only incense and holy water, but I'm sure that she won't die."

The family was very confused but they still prepared a coffin while waiting to find out whether the old man's words were true or not.

At the time when Hang was waiting for death, she asked her father, who was a soldier, why people shoot seven battery salvos when a leader dies. The father said that it was to help the leader's soul quickly be free. Hang told her father: "When I die, please shoot seven battery salvos to help my soul quickly be free and return to our family."

Hang's father returned home at 7am the next day. Looking at his dead daughter, the father cried and suddenly remembered his promise to the girl. He pulled out his short gun and fired seven times. Hang suddenly sat up like a spring, ran to her father and called, "Daddy".

She tripped on bullet casings and fell down to the ground. After 30 minutes, she regained her senses. At that time, a strange feeling came to the girl. She felt she had lost all her weight, was flying and looking at others from a different world. Hang came to life against and it is considered a legend in her home town.

Several months later, she totally regained her strength and often wandered everywhere. It is very strange that looking into the face of anybody, Hang knows whether they will live long or are about to die. Some people have been very healthy but she knew they were about to die. Hang told them that they were about to die. Sometimes she was beaten for being 'viperish-tongued'. But what Hang told them became the truth, which scared the villagers.

They believed that Hang was possessed by ghosts and they kept a safe distance from her. Hang tried to persuade the villagers that she was not mad and she could foresee the dead in advance but nobody believed in her. Hang's father brought her to many hospitals and sorcerers.

Though at that time Hang could foresee the health and even the thinking of others, she was very pained and only wanted to lose that ability.

She said that one day, in desperation; she wished to see her paternal and maternal grandmothers, whom she loved very much. Very strangely, on the death anniversary of her paternal grandmother, she saw the paternal grandmother (who died when Hang was 10 years old) holding another child and leading another.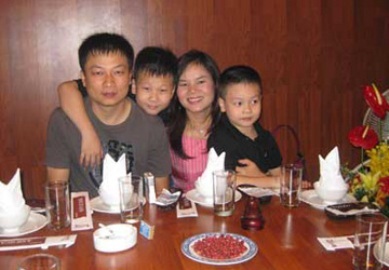 Bich Hang and her family.


Hang related her meeting with the dead to her family. Hang's paternal grandfather said that the children that Hang saw were his children who died at the age of 8 months old and 3 years old. At that time, people knew that Hang had a special ability.

The village where Hang lives has a very old pagoda. Hang's uncle is located near the pagoda. One day Hang visited her uncle and told him that there was human being in his garden. Hang and her uncle dug up the garden and found a wooden coffin with the body of a man. According to archaeologists, the tomb was 700 years old.

Hang's family lost the tomb of their ancestors of four generations ago. They had tried to find the tomb for years but they couldn't. On the death anniversary of the ancestors, Hang attempted to find the tomb and she saw the tomb on a road. Hang told her brothers to dig up the road to find the tomb.

Some local guards prevented them from digging up the road but Hang confirmed that there was a tomb under the road bed. They continued digging and finally found the tomb.

At that time Hang's special ability was proved. However, her father, a soldier, still didn't believe in her. He quit his job to stay at home to take care of his daughter. To prove to her father that she was not mad and not under a delusion, Hang committed to pass the university entrance exam.

To make her father completely believe that she was normal, Hang registered for the National Economics University, where she had to attend math, physics and chemistry exams while she previously registered to attend literature, history and geography exams. After only 15 days of reviewing lessons, she passed the university entrance exams with high points.

At that time, Hang was a collaborator of the Sports and Physical Training Institute. Some experts of the Ministry of Culture and Information researched her special ability in seeking lost tombs. Hang asked those experts to help her survey the history of the ancient pagoda in her village, which has existed for centuries.

Hang talked with the pagoda builders, who of course died 700 years ago, to know about the construction of the pagoda, which was then verified to be true by related State agencies. The pagoda was then recognized as a historical site.

Hang has also helped thousands of families find the lost tombs of their family members, including thousands of remains of martyrs.

According to kynguyentamlinh.com, Hang has had the following abilities: when she looked to the face of some acquaintances, she knew how long they could live (this ability has disappeared); looking through the earth, seeing and talking with the souls of dead people.

One of the most famous cases that was reported by the local media is Hang's successfully search of the lost tomb of the sister of Prof. Tran Phuong, director of the Hanoi College for Business and Technology.

Prof. Phuong's sister is Vu Thi Kinh (born in 1929), the leader of the famous Hoang Ngan female guerilla team in the war of resistance against the French colonialists. In June 1950, she was arrested and killed. Through an old photo of Kinh, Hang "talked" with her to ask for information about her tomb. Thanks to Hang, Prof. Phuong's family found out the lost tomb after dozens of years.

Hang is also known for searching for the tomb of General Hoang Cong Chat, the leader of an uprising against the Le-Trinh dynasty in 1739 through talking with the soul of the general.

In addition, Hang is famous for seeking the lost remains of 400 martyrs in K'Nac forest in the Central Highlands province of Gia Lai.

Bad rumors

There was a time the name Phan Thi Bich Hang was linked with rumors about the collapse of the Bai Chay Bridge in Ha long city, Quang Ninh province and the Thang Long and Long Bien bridges in Hanoi. It was also rumored that Hang was arrested after foretelling about the collapse of bridges.

Hang was angry and she told some local media that she never released such predictions and her only job is seeking lost tombs.

After that Hang involved in another "scandal": wrongly telling about the position of a coach which was swept away by flood in Nghi Xuan district, the central province of Ha Tinh last year. The public questioned whether Hang lost her telepathic ability? Some people wrote on online forums that Hang lost her ability after she had the second child.

Most recently, the Phap Luat Viet Nam newspaper published an article in which some doubted Hang's ability. In that article, Ngo Thi Thuy Hang, director of the Center for Management of Database of Martyrs, cited a case in which telepath Hang found out the remains of a martyr but DNA test show that she was wrong.

Hang suddenly stated to leave her career as a telepath to become a real estate investor, reasoning that her health was not good enough and she wanted to devote her time to family, etc. The public guessed that perhaps Hang has lost her telepathic capability.

Lan Chau