VietNamNet Bridge – Responding to the idea that Vietnam should legalize prostitution, a senior official confirmed on July 15, that Vietnamese law does not consider prostitution as a job and this social evil must be combated.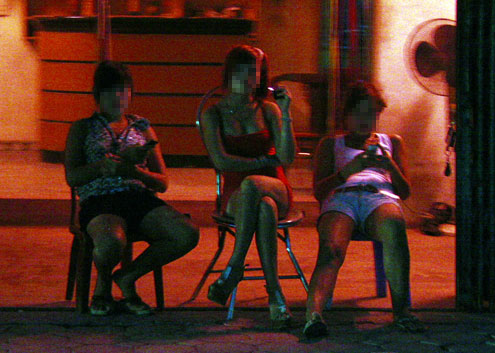 Disguised coffee shops on Phan Dang Luu Street, Hanoi.
Le Thi Ha, vice chief of the Ministry of Labor, War Invalids and Social Affairs' (MoLISA), said that Vietnam would continue fighting prostitution.
"In the 2011-2015, based on the traditional culture, customs and habits of Vietnam… once again the Vietnamese law confirms to not consider prostitution as a job and combating prostitution is still the mission of all agencies and the entire society," Ha emphasized.
According to this official, it is needed to control the harmful effects of prostitution because it highly affects health, families and the society. Prostitution and unsafe sex has been and will be among factors that spread HIV/AIDS, she stressed.
"On June 28, at a workshop in Quang Ninh province, Minister of Labor, War Invalids and Social Affairs Nguyen Thi Kim Ngan said that many women became prostitutes because of difficult situations, so they need assistance to have access to social services and to be relieved from wounds. That is the only idea that the Minister emphasized and she did not mean seeing prostitution as a job," Ha added.
The official said that Vietnam is struggling against prostitution in favorable conditions: the determination of the Party, the Government and the MoLISA's experience in combating prostitution and learning from other countries.
In the first half of 2011, the prostitution prevention forces detected nearly 10,000 businesses committing prostitution, collected VND7 billion of fines and revoked business licenses of 251 businesses. Police also detected 380 prostitution cases, arrested nearly 750 prostitutes, over 470 whoremasters and 300 pimps. Relevant agencies make files of over 14,800 prostitutes. Around 1,300 prostitutes are being treated and educated at rehabilitation centers.
Le Duc Hien, also a vice chief from the MoLISA's Department for Social Evil Prevention, said that prostitution is still complicated since it is disguised under the name of legal services like massages, karaoke, etc., the appearance of online prostitution and prostitution at the border.
Hien said that the anti-prostitution forces in provinces are weak and lack of funding. On average, each province spends VND200 million ($9,700) on fighting prostitution annually. Some local governments do not pay attention to this task, he added.
Regarding the idea of legalizing prostitution, Hien said that this is a new way of thinking but Vietnam's current ability cannot manage it. "If we are careless, prostitution will book," Hien said.

PV