VietNamNet Bridge – "In our waters, where our fishermen are, there our sovereignty is represented, confirmed and defended. Therefore, we need to quickly implement a sea strategy. First of all, we must quickly issue the law on the sea," said former Fishery Minister Ta Quang Ngoc in an interview with Tien Phong.
What do you think about the two incidents caused by Chinese boats in Vietnam's waters (Chinese ships cut cables of two Vietnamese oil exploration ships - Binh Minh 02 and Viking 2)?
It is quite common to see clashes between Chinese and Vietnamese ships, especially fishing boats. Such clashes occur sometimes, particularly in recent years. However, the Binh Minh 02 and Viking 2 incidents are very serious because that was intrusion and sabotage in Vietnam's waters.
I think that these incidents were intentionally caused by China. We must have counter-measures.
As you know, the East Sea is surrounded by eight Southest Asian countries and China. These countries have agreed to obey common principles of conduct in this area. The recent incidents show China's disrespect to these principles, making tensions in the region. Moreover, the incidents caused by Chinese ships are violations to the 1982 UN Convention on the Law of the Sea.
For Vietnam, our supreme and immutable priority is sovereignty. For that reason, we need to take strong response. At the government level, Vietnam made strong and clear statements on sovereignty at many events of the recent Sea and Islands Week in Nha Trang. We have shown our determination to defend our sovereignty.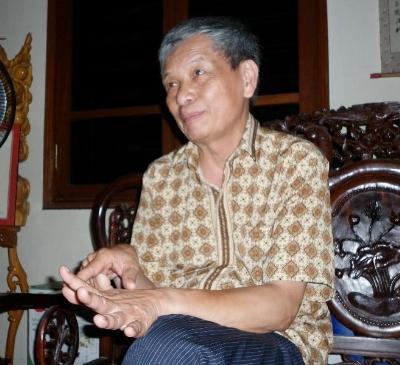 Former Fishery Minister Ta Quang Ngoc


It is clear that China's words and acts are different. What is your opinion?
Actually, China's acts are very different from the commitments between leaders of Vietnam and China. I think it is a worrying issue because it affects trust. In international relations, trust is always very important in solving disagreements.
How should we behave?
This is a big issue that cannot be solved overnight. We have to implement a long-term and suitable strategy, while cleverly solve the current incidents in the way that is appropriate to the long-run strategy. Briefly, it is "resolutely, no compromise, defending sovereignty in connection with maintaining peace, stability and cooperation".
We have dealt with the issue quite well. We have made public information to let our people know, struggled through diplomatic channels and made timely statements on sovereignty.
We have to be patient but we can't be tardy. In defense, we have to defend our sea, protect our fishermen and our economic activities in the sea.
Our policy, as I know, in solving these incidents is closely combining forms and methods of political, legal, diplomatic, economic and defense struggling in controlling our sea and sky.
We have compiled the Strategy on Marine Economic Development, but it seems that this strategy is implemented slowly, isn't it?
Yes, it is implemented slowly, I think. We have the Party's Resolution on Developing Marine Economy to 2020, but many related issues are not legalized yet. We need to have the law on the sea early. This law must be a priority. The law needs to cover the appropriate use of our sea, rules on foreign relations and security in the sea.
Therefore, we need to quickly implement the sea strategy. First of all, we must early issue the law on the sea
In Vietnam, for each 100 square kilometers of land, we have 1 square kilometer of sea (the world average is 600 sq.km of land/1 sq.km of sea). The East Sea's potential is great. In the mainland, with 1 million hectares of water surface for aquaculture, we have created two great brands of shrimp and tra fish, but in the sea, we have not created any brand.

Vietnamese fishermen are facing many risks in the sea. What do you suggest to help our fishermen?
The resolution on sea strategy says that Vietnam will develop marine economy before 2020, focusing on five fields: oil and gas, maritime, seafood processing, tourism and coastal industrial zones. After 2020, maritime economics will be the top priority, followed by oil and gas and seafood processing.
That is the economic angle. In general, I think that seafood catching and processing is extremely important. Because in our waters, where our fishermen are, there our sovereignty is represented, confirmed and defended.
The fishery sector is based on renewable resources. If we use the resources properly and don't harm the environment, the sea resources will be sustainable and it can support our fishermen for many years. In the long term, fishery and fishermen are abreast with the East Sea.
We currently have around 600,000 fishermen out of around 4 million fishery workers. Offshore fishing is the means of support of at least 40 percent of Vietnam's one third population. Fishermen have had their community and cultural characteristics. Fishery, as I think, is the most important in the sea strategy.

What do you think when marine economy contributes highly to gross national income but investment in this sector is modest?
For other sectors, we only need to form economic groups to invest in but for fishery sector; we have 4 million workers and around 130,000 fishing boats. In what way we invest in it? This is a big issue.
The offshore fishing program is a very good project. The government has granted soft loans to fishermen totaling around VND1.3 trillion to build offshore fishing ships of 250 CV upwards. However, this program is not very effective because our investment in related areas (survey of resources, catching technology, restructuring fishing organization, administrative issues).
Moreover, it is better to go to the sea in associations. In the past, we had fishing crews which were monitored by state-owned fishing firms. I think we must do something to change it. Fishing ships cannot go to the sea one by one.
Policies for fishermen and fisheries must be based on the interest and responsibility of fishermen. We need long-term assistance policies for fishermen, not temporary policies which are issued when the oil prices surge or when there are natural calamities.
TP