VietNamNet Bridge - A US senator on June 13 urged condemnation of China's behavior in maritime rifts with its neighbors, saying Washington has been too weak-kneed as tensions rise in the East Sea.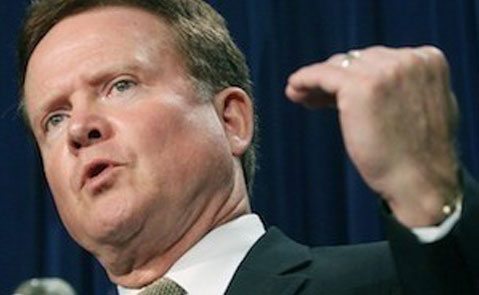 Senator Jim Webb
Jim Webb, who heads the Senate Foreign Relations subcommittee on East Asia, introduced a bill that would denounce China for the use of force and urge it to seek a peaceful resolution to disputes.
"I think we in our government have taken too weak of a position on this," Webb, a member of President Barack Obama's Democratic Party from Virginia, said at the Council on Foreign Relations.
"When we say the United States government doesn't have a position on sovereignty issues, not taking a position is taking a position," Webb said.
The bill introduced by Webb and Senator James Inhofe, the subcommittee's top Republican, "condemns the use of force" by China and affirms that the US military will "assert and defend freedom of navigation rights" in the East Sea.
Webb did not call for an explicit stand on territorial disputes, but said that the United States needed to send "a clear signal" and to work multilaterally for a solution.
"Officials at the Department of State and U.S. Pacific Command have indicated that on June 9 three Chinese maritime security vessels ran into and disabled the cables of a Vietnamese exploration ship, the Viking 2, in an area within 200 nautical miles of Vietnam's continental shelf," said Senator Webb. "This followed similar incidents on May 26 near Vietnam and in March near the Philippines, as well as incidents at sea last year in the Senkaku Islands, which are under the Administration of Japan.
"China's pattern of intimidation is a grave concern. The U.S. has a clear strategic interest in facilitating a multilateral, peaceful approach toward resolving these disputes and ensuring open access for commerce and adherence to international law."
Senator Webb has expressed concerns over sovereignty issues in this region for more than fifteen years in and out of office. His first hearing upon assuming chairmanship of the Senate Foreign Relations East Asian and Pacific Affairs Subcommittee was on maritime territorial disputes and sovereignty issues in Asia in July 2009.
Thai An