VietNamNet Bridge – The Foreign Ministry's spokeswoman, Nguyen Phuong Nga has confirmed that Vietnam's naval forces will hold military exercises in the central province of Quang Nam on June 13.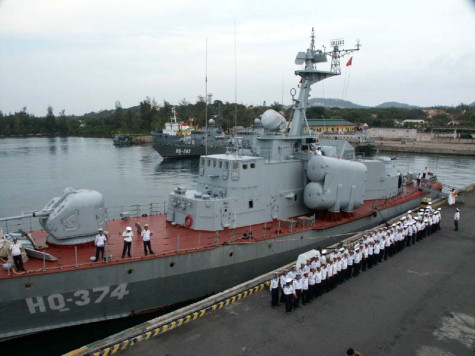 On June 10, answering reporters' questions about the news that Vietnam's navy will organize drilling with live ammunition in the sea of Hon Ong in Quang Nam province on June 13, Nga said that this is "a routine annual training activity of the Vietnam navy in the area where the Vietnam navy regularly conducts training (activities) that are programed and planned annually for units of the Vietnam People's Military."
The drilling on June 13 will take place for six hours, from 6-12 pm, near Hon Ong island, around 40 km from the coast of Quang Nam province. Boats have been informed to be far from the sea off central Vietnam during the drilling.
The spokeswoman also strongly protested China for intentionally distorting the truth, as it said that Vietnam "seriously violated China's sovereignty" and "threatening national security and the lives of Chinese fishermen".
The fact is--a Chinese fishing boat intruded deep into Vietnam's waters and cut cables of Vietnam's Viking II oil exploration ship, ignoring warnings by loudspeakers, flare, hooters from Vietnamese ships.
This is the second incident caused by Chinese ships, after the first on May 26, when the cables of Vietnam's Binh Minh 02 ship were cut by three Chinese patrol ships.
These are intentional and systematic acts by China to materialize its claim in the East Sea.
The world media commented that the drilling on June 13 is Vietnam's response to China's intrusion and its distortion of the truth in the East Sea.
However, the Vietnamese Foreign Ministry stated that these are normal annual maneuvers of the navy.
Asked about a possible role for the United States or others in resolving the disputes, Nga said in separate remarks late on June 10: "Maintaining maritime peace, stability, security and safety in the Eastern Sea is in the common interests of all nations within and outside the region."
"Every effort by the international community toward maintaining peace and stability in the East Sea is welcomed," she said.
VTCnews